Crocodile Bridge – Costa Rica's Most Bizarre Tourist Attraction
February 25, 2020
A boat ride on a crocodile-infested river may sound like the ultimate nightmare to some but, for others, it can be an exhilarating highlight when visiting Costa Rica!
Crocodile Bridge crosses the brackish Tarcoles River in the Puntarenas Province of Costa Rica (just over half-way between San Jose and the Pacific seaside hub of Jaco) and is one of the country's most bizarre tourist attractions. On any given day, dozens of crocodiles and dozens of tourists converge on this very spot, the ensuing popularity giving rise to an entire crocodile-themed tourism scene complete with cheesy souvenir stalls selling stuffed crocodiles and T-shirts and even a safari company offering up-close boat trips for the more adventurous visitor.
Up until recently, Crocodile Bridge had remained a bizarre hidden secret in Puntarenas, known only to locals and intrepid explorers. Yet the rise of social media platforms like YouTube and Instagram has shattered the bridge's anonymity and, in turn, has forced the government to step in and intervene.
For the safekeeping of visitors and protection of the crocodiles, The Ministry for Public Works and Transport is undertaking a project in March 2020, that will see the bridge widened and the additions of a 4-foot sidewalk, metal railing to prevent accidental falls and a concrete barrier to protect walkers from passing traffic.
Although a visit to this crocodile hot-spot isn't as death-defying as it once was (when the bridge had nothing more than a flimsy railing) we can all breathe a collective sigh of relief for this latest turn of events. Dare-devils filming themselves feeding and getting dangerously close to the crocodiles in recent years have placed both themselves and the crocodiles at great risk and it's a relief to know that the attraction – itself an incredible pit-stop on the way to the country's most popular beaches – is being made much safer for both visitor and animal.
Where is the Crocodile Bridge?
Just north of the town of Tarcoles and on the western edge of the Carara National Park, Crocodile Bridge is an unmissable stop for anyone travelling down the Carretera Pacifica 34 Road that heads south from the Alajuela Province and hugs the coast from Jaco all the way down past Manuel Antonio National Park, Uvita and the Corcovado National Park in the Osa Peninsula.
Right here.
About the Tarcoles River & Its Fearsome Crocs
Considered one of the most crocodile-infested rivers in the world (75 crocodiles per square mile) the Rio Grande de Tarcoles is formed at the convergence of the San Ramon and Virilla Rivers on the southern slopes of the Cordillera Central, and runs for about 70 miles west to the Pacific Ocean. Despite the unfortunate pollution in the river, the region is still home to an impressive array of birds, amphibians and reptiles.
The American crocodiles that live here are tamer than their Australian counterparts yet are still apex predators by all accounts. Safety, when visiting, is of the utmost importance. The Tarcoles crocs number in their thousands, the largest can weigh over 1,400 pounds and the oldest is believed to be around 70 years of age.
Seeing one of the largest congregations of crocodiles in the world at Crocodile Bridge is an exhilarating experience, let alone taking (very safe) boat trips along the river for even closer looks.
No matter where in Puntarenas you are headed, make sure you take some time out to visit Costa Rica's most bizarre tourist attraction.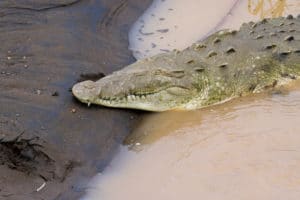 Nearby Attractions – North of Crocodile Bridge
Punta Arenas Town – The seaside town of Punta Arenas is the capital of the province and easily reached from Crocodile Bridge along Route 27. Home to the largest concentration of tourist infrastructure, hotels, resorts and restaurants, the stretch north of Tarcoles is the most visited in Costa Rica and also the closest to the capital, San Jose, so it sees a huge influx of locals on weekends and all public holidays. From here, you can head off on a live-aboard diving adventure to world-famous Coco Island, feast on what is widely considered the best seafood in the whole country, soak up the rays on one of the many nearby beaches and shop, dine and party to your heart's content. Here's a Beginner's Guide to Puntarenas to whet your appetite!
Monteverde Cloud Forest – The magical cloud forests of Monteverde are set apart from the country's more tropical reserves and make for an ethereal travel experience. Soak up the splendor of the cloud-drenched forests on suspended bridge walks, take night-time guided walks to spot the more elusive wildlife and enjoy a thrilling array of adventure sports. Discover more about Monteverde and come see all the thrilling Activity Options we have in store for you.
Nicoya Peninsula – The most visited of Costa Rica's three exquisite peninsulas, Nicoya is easy to reach which means you can get lost in its wilderness even if you only have a long weekend in Costa Rica. Oodles of accommodation and adventure choices, a superb array of surfing beaches, prime wilderness brimming with exotic creatures and a thrilling choice of exceptional adventure sports is what awaits you here. Read this comparison on Costa Rica's Stunning Peninsulas to see if the Nicoya is just right for your next Costa Rica vacation.
Nearby Attractions south of Crocodile Bridge
Carara National Park – The Tarcoles River forms the natural northern border of the Carara National Park, one of Costa Rica's best birding destinations and the largest known Costa Rican habitat for scarlet macaws. Unusually bio-diverse and boasting both dry and tropical rain-forests, attracting a huge array of insects and, in turn, huge numbers of exotic birds. Known as a transition zone given its differing flora, Carara is one of the most unique and lesser-visited national parks in the country. Our favorite lodge for visits to Carara is the aptly-named Macaw Lodge, a stunning off-grid eco-resort that doubles as a conservation centre.
Jaco & nearby beaches – A hub of watersports and a town centre that offers a vibrant nightlife and everything you need for an enjoyable and active beach vacation in Costa Rica, Jaco is one of the most popular seaside stops in Puntarenas. Just north of Playa Hermosa and a great springboard for visiting the family-friendly beaches of Manuel Antonio, this whole stretch is home to some of the most spectacular beaches in Costa Rica.
Manuel Antonio National Park – One of the top 2 most visited national parks of all, Manuel Antonio is revered for its luscious rain forest that tumbles straight into the sapphire seas of the Pacific, for its drop-dead-gorgeous beaches, high concentration of wildlife, arresting volcanoes and amazing array of active adventures like canopy tours, zip-lining, boat trips, hiking, mountain biking, snorkeling, white water rafting and more. Learn more about Manuel Antonio – Costa Rica's Crown Jewel, see our extensive Day-trip Activity Options and you'll soon realize why this is Costa Rica's must-visit reserve.
Uvita – Just an hour and a half's drive south of Crocodile Bridge will see you reach Uvita, one of the best-placed springboards for visits to the Osa Peninsula if you don't have enough time for a multi-day adventure there. The hub of the Marino Ballena National Park, one of the country's best whale-watching destinations, Uvita offers an impressive array of adventure choices. From here, you can head off on an unforgettable day of snorkeling or scuba diving Caño Island (a mecca for whales and dolphins), tackling a day-long hike in Corcovado National Park or Marino Ballena or staying close to the shore and enjoying a fantastic day of surfing. These are our most popular Uvita Activity Options and our favorite Uvita Hotels.
The Osa Peninsula & Corcovado National Park – If you have a little more time up your sleeve, then you can also include a few days' explorations of what is unarguably one of the country's remotest and most isolated destinations. Corcovado National Park, which covers over two-thirds of the Osa Peninsula, boasts 50% of the total flora and fauna of Costa Rica and is widely considered one of the world's most bio-diverse regions. Visits here usually require more time and effort, given the isolation, although you'd be hard-pressed to choose a more rewarding destination. If you're a love of pristine wilderness, this place is simply unparalleled. Your Guide to Corcovado details the highlights and logistics of a visit and an in=depth overview of the Osa Peninsula's best offerings.
A stop-over at Crocodile Bridge is easily done, whether you're planning to include the northern or southern Pacific coastlines on your next adventure vacation in Costa Rica. At Costa Rica Rios, we offer fully-guided and bespoke adventure tours through this magnificent country.
Want to know more?
Here's where you'll find us

US & Canada: 888 434-0776 | UK: 0800 612 8718 | International: +1 920 434-7485