A Beginner's Guide to Puntarenas
March 08, 2017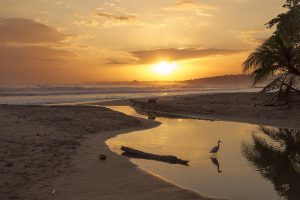 The closest beach destination to Costa Rica's capital of San Jose, the Puntarenas Province is as popular with locals as it is with foreign tourists. And what's not to love?
As the country's largest province, covering almost two-thirds of the entire Pacific coastline, this incredibly diverse region boasts stunning stretches of pristine beaches, unspoilt islands, and protected reserves brimming with waterfalls and rivers; striking mountains offering infinite hiking possibilities and, as the epitome cherry on the cake, it is the gateway to the splendid Nicoya Peninsula. Our Insider's Guide to Puntarenas brings you the very best highlights of this region and how best to enjoy them.
Best Time to Visit
With its extensive borders, tropical climate and diverse geography, Puntarenas offers an eclectic mix of weather patterns. Generally speaking, however, the best months to visit are between December and April, which is during the dry season. Rains, which typically occur during the northern summer, can play havoc with mountain hiking and beach combing, although rains are usually concentrated in just a couple of afternoon hours.
Overview of the Province
Up until a few years ago, this was Costa Rica's wild side, with little in terms of tourist infrastructure outside of the main seaside town, also called Puntarenas. Yet as popularity for the region increases so do all the services, and nowadays there is much in terms of attractions and destinations which can easily be reached by boat, or by road. From Puntarenas town, you can take boat rides to visit small villages dotting the coast of the Nicoya Peninsula, like Montezuma and Malpais. The town of Puntarenas is only 60 miles from San Juan International Airport.
Best Starting Point
Puntarenas town is the best starting point for explorations of the region, boasting the highest concentrations of hotels and restaurants. The aptly named Tourist Walk, which runs along the town's seaside front, is chock-full of art and craft stalls, as well as food stands selling typical Tico fair. The freshly squeezed fruit juices (batidos) are particularly recommended, as are shrimp and lobsters. This town is particularly revered for its selection of fresh seafood, which is the best in the country! While here, visit the historic Marine Museum located inside the Puntarenas Barracks. Overlooked by a great many visitors, this small yet interesting museum showcases the maritime history of the town as well as the ecological origins of the regions. If you're looking for something a little different, you may find a visit here quite rewarding.
What to See and Do
The beaches of Puntarenas are by far the most popular and visited in Costa Rica, thanks to them being just an hour away from the capital city. Luckily, the sheer choice of beaches means that crowds are dispersed, so whether you want to worship the sun and surf the waves in company, or just stroll on a desolate stretch with your beloved, there is a corner of this province's coastline that'll be perfect for you.
Playa Hermosa and Pavones offer the best surf breaks, as does Dominical, especially if you're an experienced surfer. From Hermosa, you can hop on a boat to laze along the sandy shores of Isla Tortuga, or Turtle Island, which also offers exceptional snorkeling. Nearby at the Manuel Antonio National Park, you'll discover what is arguably the most pristine stretch of beach in the whole country, which snorkelers and swimmers spend entire days exploring.
If you're an active traveler, you won't be disappointed. In Puntarenas you'll find all the outdoor pursuits for which Costa Rica is so revered, like hiking, ziplining, horseback riding, mountain biking, kayaking, snorkeling, wildlife watching and so much more.
Shoppers who happen to visit when a cruise liner is in town will find the whole esplanade filled with vendors selling all sorts of hand-made souvenirs and fresh produce.
Puntarenas is also the most popular stopover for those heading to the Monteverde cloud forest, and a wonderfully relaxing place to end an action-packed tour of the rest of the country.
At Costa Rica Rios, we offer a comprehensive array of fantastic adventure tour vacations, perfect for honeymooning couples and families. Contact us for more info and let us show you the best this incredible country has to offer.