All You Need to Know About Costa Rica's Sensational Rivers
Among a wealth of fun outdoor adventures offered in Costa Rica, river-based activities are undoubtedly the most coveted. Whether it's wild rafting or gentle paddling you're after, there's sensational rivers in the country with your name all over it!
Costa Rica's Amazing Rivers: that's where all the fun is at!
Costa Rica's mountains feed 14 sensational rivers that traverse the country in almost every direction, flowing out towards Nicaragua in the north, the Pacific to the west and the Caribbean to the east. Given the country receives an abundance of rain every year (up to 200 inches in many places!) it comes as no surprise that 80% of Costa Rica's energy needs are met by hydro-electric power plants. It is even less surprising to know that river-based activities have now becomes an inherent part of Costa Rica's enticement for active travelers.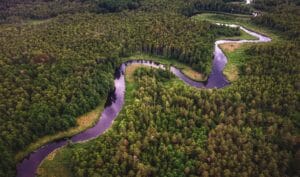 There isn't a single visitor who would ever dream of planning an adventure vacation in Costa Rica and not include a jaunt down one of the countries sensational rivers or another.
And you shouldn't either!
The fabulous thing? There's a river in Costa Rica suitable for just about every activity and adrenaline-pumping level: from full-on Class V rafting and kayaking to gentle SUP boarding and even leisurely wildlife-watching canoeing. What's more, the sheer number of major rivers and their many tributaries means no matter where in Costa Rica you roam, you will find a stunning river to explore nearby.
Ready for inject some amazing adventure on your Costa Rica vacation?
Here's where to start!
Book Your River-Based Active Adventure Vacation in Costa Rica Today!
Costa Rica's Sensational Rivers for Whitewater Adventures
Revered as one of the world's best whitewater rafting and kayaking destinations, Costa Rica boasts several epic rivers for extreme adventure lovers. The best time to visit for the most turbulent fun is just after the rains, when rivers are at peak-levels – which is between September and late January. However, it's wise to remember that Costa Rica enjoys different rainy seasons in different areas, so you can enjoy whitewater activities all year long.
The most sensational rivers for whitewater activities in Costa Rica are:
Pacuare
The Pacuare River runs from the Cartago to the Limon province and is often dubbed the most unmissable whitewater river in all of Costa Rica.
It's not only that Pacuare offers over 17 miles of unbelievable rapids ranging from Class II to Class IV (over 5, all up!) but the Pacuare meanders through breathtaking canyons framed by pristine wilderness, a region of Costa Rica where wildlife is abundant.
The Pacuare is rated the world's best whitewater river, having single-handedly put Costa Rica on the adventure-seekers' radar decades ago. Adventure options abound along this sensational stretch of turbulent water: from short and sweet day-long excursions to multi-day adventures that will see you raft to your heart's delight by day and camp out at gorgeous riverside lodges along the way. The Pacuare can be rafted and kayaked all year long and offers stretches that are suitable for both dare-devils and families with intrepid kids in tow.
This is why we call the Pacuare, Costa Rica's Best Adrenalin Rush!
Savegre
The Savegre starts its wild ride on the Talamanca Mountains and flow out on the site of the Manuel Antonio National Park in Puntarenas. This is a stunning ride that sees paddlers experience a variety of ecosystems, starting deep inside an unspoiled rain forest and exploring coastal mangroves and the edges of one of Costa Rica's most prized national parks. Offering gentle Class II and III rapids, the Savegre boasts over 6 miles of explorable river and is perfect for families or anyone trying whitewater activities for the first time. The best part is that day-long excursions also offer you the chance to alight your boat and head off into the rain forest in search of wildlife and waterfalls.
The perfect all-rounder and an ideal intro to Costa Rica's whitewater fun, the Savegre is one of the most reliable destinations for adventure vacations in Costa Rica. Check out these awesome itinerary ideas.
Book Your River-Based Active Adventure Vacation in Costa Rica Today!
Tenorio
Guanacaste most prominent river, the Tenorio, offers thrilling and challenging Class III-V rapids for true adventure seekers, with one specific rapid dropping a heart-stopping 12 feet! Unsurprisingly, this wild gem comes with an age-limit (13yo) but if it's an unforgettable thrill you're after, Tenorio will certainly deliver!
This is one of our favorite rivers for whitewater kayaking adventures in Costa Rica.
Sarapiqui
Flowing for almost 14 miles from San Miguel in Alajuela all the way to Puntarena's El Roble, the Sarapiqui is coveted for its awesome rapids and impressive length. This is also a little off the usual tourist trail and boasts breathtaking scenery and ample chances for wildlife spotting. On paper, the Sarapiqui sounds like a major challenge but intrepid and fit beginners who are in the mood for a memorable adventure will absolutely love riding the Class III and IV rapids here. Moreover, there are also gentler sections that even suitable for Costa Rica family adventures.
Balsa
The Balsa is the river everyone loves: not only because it's ridiculously close to Arenal and Manuel Antonio (the country's top 2 highlights) but also because it offers the kind of gentle rolling whitewater that actually lets you really soak up the surrounding wilderness. Consider this the best and most enjoyable 'gentle float' in central Costa Rica and the ideal way to kick off an adventure vacation in the country, no matter how little whitewater experience you have.
Discover more about our Whitewater Rafting Adventures in Costa Rica
Costa Rica's Sensational Rivers: The Best of the Rest!
Tempisque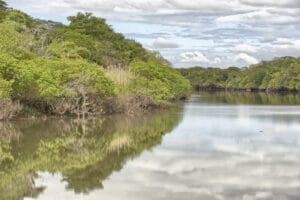 The Tempisque might not be the most famous river in Guanacaste but it is inarguably the region's most important. The river starts its 90-mile-long journey at the foothills of the Orosi Volcano, just south of the border with Nicaragua, and flows south to the Gulf of Nicoya.
Tempisque is framed by an arid tropical rain forest home to an array of aquatic birds (attracting plenty of migratory birds), as well as iguanas, crocodiles, monkeys and more. If that's not enough, the river passes through several distinct freshwater and salt water lagoons and the prized lagoons of the Palo Verde National Park. Despite there being so many rivers ion Costa Rica, there are surprisingly few chances to 'leisurely float' through the heart of one so wildlife-enriched. Not to be missed!
Reventazon
Cutting through some of the most arresting wilderness of the Cartago Province, Reventazon is not for the faint-hearted. Considered one of the wildest Costa Rica whitewater rivers, this river runs for just under four miles, but that's four miles of uninterrupted, heart-in-your-throat rapids. The Reventazon runs alongside the Pacuare and although it offers an excellent thrill it doesn't quite live up to the breathtaking beauty of the Pacuare, both in terms of breathtaking scenery and wildlife-spotting chances. If visiting Costa Rica for the very first time, it's a good idea to opt for a river-based adventures that delivers on multiple fronts!
Toro
The Rio Toro, or Bull River in Spanish, is set amidst a protected wilderness zone just west of San Jose, covering an expansive area of 10,500 acres surrounding the Toro hydroelectric plant. The project has been in operation since the mid-1990s.
Although the Rio Toro is an exceptional (and challenging) whitewater rafting river, the main highlight is its namesake waterfall – the Toro Waterfall is framed by stunning rocky cliffs and dives almost 300ft into an extinct volcano crater. The river and waterfalls are found northwest of the outstanding Poas Volcano National Park, about half-way between San Jose and La Fortuna.
This is one of Costa Rica's magical hidden waterfalls and makes for an easy side-trip on your way north!
Book Your River-Based Active Adventure Vacation in Costa Rica Today!
Naranjo
Like the Savegre, the Naranjo is also set in the Talamanca Mountains and likewise traverses swaths of untamed Puntarenas wilderness. Raft your way along jungle-covered canyons and traditional plantations, while also having chances to stop for a refreshing swim along the way. If you're looking to inject more adrenaline on your trip, note that the Naranjo also boasts a thrilling section of Class IV and V rapids (a stretch called El Chorro), which offers plenty of challenging thrills and spills if you visit from October onwards.
Celeste
The Rio Celeste winds its way through the magical rain forest of Tenorio Volcano National Park and, at the point where two tributaries meet, its color turns into an iridescent shade of turquoise. The famed Rio Celeste waterfall is the main highlight of this river and you can experience both on a somewhat challenging 5-mile hike through the park.
This is one of Costa Rica's unique attractions!
Tarcoles
The Tarcoles is one of Costa Rica's longest rivers, originating in the country's central mountains and flowing south-west all the way to the Nicoya Gulf. The upper reaches are a natural habitat for crocodiles and, in fact, the river is considered one of the most croc-infested bodies of water on the planet. Enticed to see it? Though you might be! Then head to the now famous Crocodile Bridge and discover what is, by far, one of Costa Rica's most bizarre tourist attractions!
Corobici
Guanacaste is a hive of river-based activity and here is where you'll find the Corobici, another tranquil Costa Rica river (Class II and III rapids) that edges alongside the boundaries of beautiful Palo Verde National Park. This bird-lover's haven is home to more than 300 bird species and you'll likely see an abundance of ibis, herons, kingfishers and more.
A family favorite in Costa Rica!
Penas Blancas
If a leisurely wildlife-watching river float is more up your alley, then the tranquil crystal-clear waters of Penas Blanca are for you. This Costa Rican river traverses the ethereal cloud forests of Monteverde and the quietude of safari floats here allows you to hear the cacophony of howler monkeys and frogs, whilst also keeping a look out for sloths, crocs and various big lizards. Penas Blancas stretches for about 4 miles from La Fortuna (the base for Arenal adventures) all the way to Chachaqua. Rapids range from Class I to class IV, with different stretches offering a different kind of experience. Most people opt for calm rides on inflatables but there are options for more thrilling adventures as well.
Colorado
Super fun but not so thrilling that you risk spending more time out of the raft than in, the Colorado is nestled at the foothills of famous Rincon de La Vieja Volcano. This means you're in a quiet part of the country and immersed in stunning wilderness, floating through an impressively steep canyon whilst keeping your eyes and ears out for capuchin monkeys. Another epic river for beginners to explore, Colorado boasts gentle rapids and short but very sweet ride that lasts just under two hours.
Frio
Remote and uncrowded, calm and pristine, the Rio Frio is the heart and soul of the Cano Negro Wildlife Refuge in northern Costa Rica. Take a riverboat safari in this sensational part of the country and you'll see a variety of unique wildlife species, including caimans, several types of elusive monkeys and an insane number of bird species. The Rio Frio serves up river-based activities that puts visitors at the heart of Costa Rica's incredible biodiversity.
Learn more about Costa Rica's Magical Mangroves.
Sensational rivers are one of the most important cornerstones of our Costa Rica adventure vacations. Our Week of Rivers all-inclusive vacation package sees intrepid explorers take in the sights and excitement of three major rivers (the Pacuare, Turrialba and Sarapiqui) yet there's no limit to what you can include on a tailor-made bespoke adventure in Costa Rica. No matter which side of the country you wish to explore (usually determined by the time of year you visit), we'll find an exceptional river for rafting, kayaking, wildlife-spotting, hiking, tubing and more.
Want to know just how easy it is to plan a fantastic river-based adventure vacation in this astonishing country? Drop us a line and we'll contact you pronto!
Book Your Sensational Rivers-Based Active Adventure Vacation in Costa Rica Today!