The Best Adventures in Costa Rica During the Rainy Season
June 15, 2021
Costa Rica may be ready to farewell its driest months of the year but adventures in Costa Rica Rios are just beginning! The rainy season – known as the Green Season because of the incredible nourishment the rains bring to the vegetation – is a wonderful time to visit our little corner of tropical paradise, for innumerable reasons.
This is the time of year when our adventure-filled experiences are at their very best!
Book Your Unique Costa Rica Vacation Today!
What's Costa Rica like in the rainy season?
In a country that relies and thrives on thirst-quenching downpours, the next few months will see both wilderness and wildlife burst to life.  Rain forest excursions and river-based adventures will be at their absolute prime and, if that's not enough, there are also select areas in the country that will remain relatively dry. If you wish to enjoy an adrenaline-pumping adventure for a week and cap off your visit with a few days of R&R on a stellar beach, all you need to do is look to the Caribbean Coast.
In this geographically eclectic nation that boasts a wealth of micro-climates, finding a dry spot is easy, at any time of year. Yet nourishing rains add a unique dimension to Costa Rica adventures so trust us when we say: dodging rain really shouldn't be a priority.
If anything, a Costa Rica adventure during Green Season can be an extraordinary experience.
Book Your Unique Costa Rica Vacation Today!
The benefits of adventure vacations in Costa Rica during the rainy season
Aside from the fact that Costa Rica is verdantly transformed during rainy season, there's a host of practical benefits to visiting during the next few months. Tourist crowds will quickly dissipate, leaving you to enjoy uncrowded attractions and national parks, and wonderfully deserted beaches.
This is what Playa Conchal looks us in rainy season…
Fewer visitors also mean cheaper prices so you can either spend between 10 and 50% less on flights, accommodation and excursions than during the high season or, do what many do, and plan a longer vacation instead. This is a genial way to get the best of both worlds.
It's also worth noting that the rainy season is not the same all over. Every month is different, and every destination is different, too. When you come and where you go will determine just how much (or how little) rain you experience.
Tourists who specifically dream of spending days on end soaking the rays on a glorious beach would do better visiting during the dry months, between January and April. Yet if thrilling adventures, extreme sports and outdoor pursuits make your heart sing, there's no denying that this is the best time of year to visit.
Book Your Unique Costa Rica Vacation Today!
What adventures can you enjoy in Costa Rica during the rainy season?
Here at Costa Rica Rios, we're renowned for offering the most comprehensive multi-sport adventure vacations in the country and can honestly say that our rainy season tours are perhaps the most rewarding of all the tours we run.
Whether on group or bespoke tours, you'll enjoy an exhilarating and immersive experience, in the heart of Costa Rica's pristine wilderness.
All-inclusive group tour itineraries – We still have a few spots left on our Week of Adventures tours in June, July and August departures. This amazing 8-day itinerary is run out of our Turrialba base, where gentle kayaking rapids (class II and III) make for an ideal introduction to our whitewater adventures. We then tackle a sensational 3-day rafting trip down the Lower Pacuare River, where you have the chance to hike, swim, relax and raft one of the world's most epic rivers.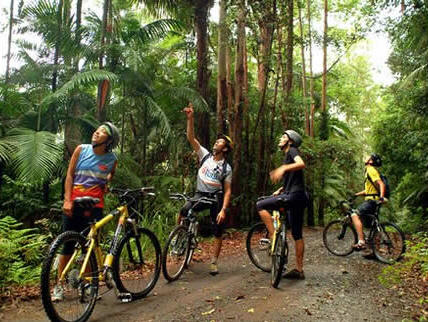 Staying in remote eco-lodges every night means you can truly immerse yourself in resplendent wilderness and enjoy a jaw-dropping 'wild' experience in the utmost safety and comfort.
Our week of adventure tour combines all the best fun Costa Rica offers, so expect loads of unique activities like canopy tours, zip lining, wildlife spotting, waterfall chasing, mountain biking, canyoning, and jungle hiking.
Book Your Unique Costa Rica Vacation Today!
We always include a wonderful day of adventures and relaxation on the Caribbean coast, where you can go snorkeling or wildlife-spotting in remote coastal jungles. During the rainy season, this is the driest part of the country, so if you have a few more days up your sleeve, you might like to return to the beach once our group adventure is over. We'd be more than happy to organize your private transfers back to the Caribbean coast at the end of your tour.
If you'd love to experience something truly special, head to the Tortuguero National Park in the north-eastern Caribbean coast. Between July and October, the park enjoys its most prolific turtle nesting season. Yes, you will experience some rain during your visit because this is one of the country's most luscious (i.e. wettest) corners but it matters very little when you get to cast your eyes on the amazing spectacles afforded by turtle-spotting tours.
We run our Week of Adventure tours all year long and find our Green Season tours to be especially rewarding. We cherish bringing together a bunch of like-minded adventure-seekers, creating what so many call 'the best holiday they've ever had'. Whether you're traveling solo, with friends or as a family, our group tours always guarantee an extraordinarily fun adventure.
Book Your Unique Costa Rica Vacation Today!
Bespoke all-inclusive itineraries – If you prefer to travel only with your loved ones, then our tailor-made itinerary packages are perfect. We cater to adventure-seekers of all ages and fitness levels and can perfectly blend thrilling adventures with romance, relaxation, family-fun and off the beaten path explorations.
Yes, even (and especially) during the rainy season!
The top 4 most popular options are:
Every one of these tour itineraries is customizable – we simply offer inspiration for those who might not even know where to start exploring in Costa Rica and then tailor it to specific wishes. Activities are interchangeable and there are always several options to choose from every day. This means that if you and your partner want to go extreme canyoning but your parents wish to spend the day soaking in a natural hot spring, we can organize both with separate guides. With our bespoke all-inclusive tours, everyone gets to enjoy the Costa Rica adventure of their dreams.
At Costa Rica Rios, we make adventures easy so all you have to do is choose, book, pack and come enjoy the travel experience of a lifetime. Don't let a few rain drops ruin your plan – there's never been a better time to plan an unforgettable adventure in paradise!