Playa Cocles – Costa Rica's Dreamy Caribbean Gem
Regarded as one of Costa Rica's most stunning beaches, Playa Cocles is a picture-perfect Caribbean paradise. The beach and its namesake village are two miles south of Puerto Viejo, the most established beach town on Costa Rica's eastern coast, in the wilderness-drenched Limon province.
The most spectacular beach in this entire southern Caribbean coast, Cocles is a mile-long sandy beach framed by swaying palm trees and boasts arguably the best surfing waves on Costa Rica's eastern coast so attracts beach lovers and surfers from every corner of the globe. Given the remoteness and lack of excessive commercialization, however, Playa Cocles, Puerto Viejo and the whole nearby region remain blissfully uncrowded and authentic. Add an infusion of eclectic cultures, thanks to the coast's Afro-Caribbean influence and indigenous Bribri roots, and what you'll discover is a totally unique side to Costa Rica.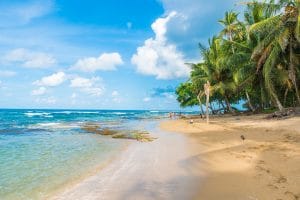 What makes Cocles such an idyllic beach?
Although 'Caribbean' and 'idyllic' usually go hand in hand, many first-time visitors to the eastern coast of Costa Rica will be surprised to learn that much of the coast is not all that fabulous for swimming. This is especially true of the very north, where dark-sand beaches are set among mangroves and, therefore, not suitable beach-vacation destination.
Of course, the southern half of the coast is another matter although even here, surfers have a difficult time finding suitably wicked waves. Cocles, in this regard, seems to really have it all: glistening sandy shores for sunbathing, crystal-clear shallows for swimming and outstanding waves for surfing. The mix of calm and wavy seas also facilitating an abundance of water-sports galore.
Laid-back and enjoyable with turquoise waters, tropical surroundings and a surprisingly vibrant vibe thanks to the offerings of water sports, bars, stalls and restaurants nearby, Cocles is as relaxing as it is sociable and invigorating, and makes the ideal spot in which spend a few glorious days either at the start or end of your adventure-packed Costa Rica vacation.
For couples, families and anyone looking for a superbly convenient Caribbean beach destination, then Playa Cocles is unsurpassed.
How to get there?
Playa Cocles is just north of the border with Panama, on the north-eastern side of the spectacular Talamanca Mountains. To reach it, take the National Road 32 from San Jose to Puerto Limon, the capital and largest city of the Limon province, and continue south along the coastal road 36 for another 35 miles or so. All up, it takes about 4 hours to cover the distance, on a drive that is exceptionally enjoyable and chock-full of sensational scenery.
What to do on Playa Cocles
Surfing is the #1 water sport on Cocles and you'll find a bunch of surf shops offering board rentals and classes for novices
Swimming is a lot more enjoyable on Playa Cocles, mostly because it's the only beach in the region to boast lifeguards. Still, currents can be strong if you venture out so keep away from the big waves (and the surfers) and enjoy your frolic closer to shore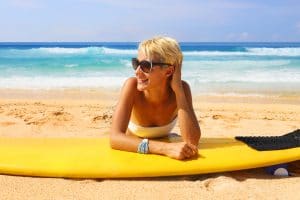 Horseback riding is also immensely popular with local guides taking guests on the beach itself and into the neighboring luscious jungles where you can spot toucans, sloths, monkeys and a crazy array of exotic and colorful birds
Wellness spa treatments, because physical and mental relaxation go hand-in-hand with dreamy Caribbean beaches
Beach volleyball & football are almost a given on any Costa Rican beach but especially on Cocles
Los Guardianes Wildlife Refuge, a privately-run sanctuary home to an array of rescues of many endangered Costa Rican species, including ocelot and a variety of monkeys, amphibians, reptiles and a ton of obscure creatures you didn't even know existed. Los Guardianes covers an expansive chunk of superbly biodiverse wilderness comprising very rare coastal rainforest. The great thing about this place is that, whilst you can take a professionally guided night or day walk (perfect for seeing a greater concentration of wildlife) can also simply visit and walk the trails independently
Farm visits in this luscious region of Costa Rica are very rewarding and here you'll find one of the bestest chocolate tours in the country (Chocorart) and a very fascinating permaculture farm (Finca Tierra) that is spearheading sustainable farming in the region.
Visit the Manzanillo Nature Observatory, an amazing hiking, animal-spotting and accommodation option just a few miles from Playa Cocles. The crowning jewel here is an 82ft-high viewing platform overlooking the verdant wilderness of the Gandoca wildlife sanctuary
Tasty Waves is the social hub of Cocles beach, offering fantastic lunch specials and a variety of social events in the evening like community movie, trivia and live-music nights.
Best Time to visit Playa Cocles
Inherently tropical, Playa Cocles enjoys a hot and humid climate, all year long. Due to the proximity of high mountains, this side of the country sees opposing rainy months to the Pacific although, overall, sees a lot more rain all year long. The months with the least rain are between February and April and again between August and October, a time when the western Pacific coast is suffering its heaviest rainfalls. Playa Cocles, Puerto Viejo and the whole Caribbean side is the ideal Green Season destination as, during the rainiest months in Costa Rica, these hubs are enjoying their driest season.
Cocles can get quite busy on weekends so, if you can, choose to spend your days here during the week if you're looking for a quieter and more contemplative stint of seaside R&R.
Where to stay
Given that Cocles is nothing more than a handful of huts and food stalls, the village itself doesn't offer many accommodation options. However, there's a handful of amazing eco-lodges and guesthouses nearby that are set in superb wilderness so you need to stay in the heart of bustling Puerto Viejo if you don't wish to. From rustic seaside bungalows to indulgent luxury lodges, your accommodation options are varied. Our favorite in these parts is the Sloth Sanctuary Inn, which isn't all that flash BUT boasts a resident sloth, named Buttercup, who makes the whole experience absolutely magical.
See our guide to Puerto Viejo for more accommodation, nightlife and dining options nearby
Adventure activities around Playa Cocles
Playa Cocles is one of our favorite spots for relaxation given its proximity to two of our most popular whitewater touring rivers, namely the Pacuare and the Reventazón. Exhilarating kayaking and rafting tours are run about half-way between San Jose and Cocles and take advantage of two of the world's most formidable whitewater rivers; adrenaline-filled hubs that attract outdoor adventure lovers from every corner of the globe.
We run our popular organised and bespoke tours out of Turrialba, an immensely charming town that acts as the ideal base for multi-day adventures. From here, after your weeklong adrenaline rush, it is much easier to reach the Caribbean coast, and Playa Cocles, for a few days of delightful relaxation and, if you still have bundles of energy, more exhilarating surfing.
At Costa Rica Rios, we cater to adventurous couples, families and whitewater-river lovers of all ages, planning group and bespoke itineraries to suit your time and budget constraints and, more importantly, your favorite sports. Check out our Turrialba adventures or fill in our bespoke-tour form and contact us to know more.

US & Canada: 888 434-0776 | UK: 0800 612 8718 | International: +1 920 434-7485