Costa Rica Honeymoon Package – There's a Perfect Package For You!
August 08, 2017
Planning a wedding is one of the most unforgettable experiences a couple will ever share.  Actually, no…planning a wedding can be quite stressful…honeymoons, however, are most definitely not! A Costa Rica honeymoon package is that unforgettable couple experience everyone would surely cherish and makes for a fitting post-wedding-stress reward.
Why?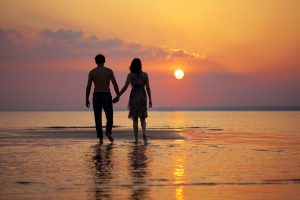 Because Costa Rica is one of the world's most sought-after honeymoon destinations, and with a Costa Rica honeymoon package, you can enjoy everything the country has to offer. Also, because between 800 miles of pristine sandy beaches, dreamy honeymoon eco-lodges, a wealth of adventure sports, couple spa-treatments and sunset nightcap spots, this country oozes romance at every turn. Naturally tailored to the honeymooning couple who shares curiosity, cultural interests and a love of the great outdoors, Costa Rica delivers more for your honeymoon-dollar than any other country. And what's not to love about that?
Yet when all is said and done, the primary reason Costa Rica honeymoons rock is because there's a unique kind diversity here – in everything – that allows couples to soak up whatever it is they love most. Beaches, volcanoes, rainforests, unique wildlife, exotic culture, tropical feasts, an idyllic climate and adventure activities both in and out of the crystalline waters: no matter what you dream, there's a Costa Rica honeymoon that's perfect for you.
Adventure Honeymoon
The rise in popularity of the adventure honeymoon in Costa Rica is testament to the fact that young couples nowadays want more from their once-in-a-lifetime vacation than only pure relaxation. They want to get their married life off to a thrilling start and Costa Rica is their ultimate springboard. From ziplining to kayaking, canyoning, white water rafting, rappelling, horseback riding, mountain bike riding, surfing, diving and more, Cosa Rica is the adventure hub all active couples dream. All of this in offer in almost every corner of the country. Travel just a couple of hours from the capital of San Jose and you can immerse yourself in pristine nature AND have a world of adrenalin-pumping activities right at your doorstep.
Short & Sweet Honeymoons
Sure, we'd all love a 3-month long honeymoon, but that's not always an option. Part of the beauty of Costa Rica is undoubtedly its proximity to the US. Short flights and splendid deals mean a honeymoon in Costa Rica can be thoroughly enjoyed in just an inexpensive week, without the burdens of  jet lag, long flights and painfully slow transfers eating up your precious travel time. Leaving you to enjoy your honeymooning spoils from the first moment to the very last.
Luxury Adventure Honeymoon
You want the thrills but also the luxury? Costa Rica's got you covered. This is the world's eco-lodge capital, a superbly biodiverse nation that cares for its natural treasures and takes great measures to disturb it as little as possible. The result is a wonderful collection of superb lodges set in nature, offering varying degrees of luxury and opulence. From adults-only resorts to boutique lodges, yoga retreats, thermal spa hotels and more: you can choose your level of desired luxury without compromising on any of your activity options.
Romance Honeymoon
The 'luna de miel' is a big deal in Costa Rica, a country that delivers romance in spades. Amazing sunset catamaran cruises are very popular with honeymooning couples, as are private snorkeling trips and couple retreats in wellness spas where the pools are thermally heated and massages flowing. Plus, there's the famed Costa Rica chocolate (the world's best aphrodisiac, perhaps?) and oodles of romantic dining options, all over the country.
Costa Rica Loves LOVE
If there's one place on earth you need not worry about indulging in PDA (public displays of affection) then Costa Rica would surely be it. Honeymooning couples love the fact that Ticos are demonstrative of their love for one another, and you're bound to see couple hugging, holding hands and being all smoochy-cute with one another in public. Apparently, even they're not immune to their country's romantic vibe.
Costa Rica's Relaxing Honeymoon Packages
You'll no doubt want some time to relax and unwind during your Costa Rica honeymoon package, and Costa Rica's array of glorious beach side destinations offer that ideal R&R experience you'll need. Whether at the end or beginning of your vacation, a few days spent indulging in some sun and surf on one of the country's best beaches will make your experience a comprehensive and very rewarding one.
Want to know more? Then contact us! We can design a Costa Rica honeymoon package that's unique and enticing revitalizing your soul, shake your boots and get your married life off to an exhilarating start.