Locating the Most Decadent Costa Rica Desserts
July 26, 2016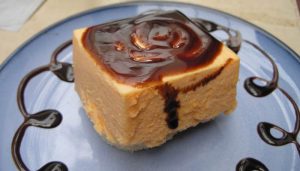 Indulging in an abundance of sweet delights would have to be one of the best parts of taking an adventure vacation in Costa Rica. Along with amazing seafood and mouth-watering fruits, desserts are rated the best part of Tico cuisine.
And who'd dare argue with that?
Whether covered in chocolate, smothered in caramel or stewed with milk, the most decadent Costa Rica desserts will leave you swooning for more.
Here are the best desserts to look out for when visiting Costa Rica.
Tres leche
Tres leche – which literally translates to 'three milks' – is more than a dessert in Costa Rica, it's a bona fide culinary institution. National Geographic even went as far as to name this the country's 'national dessert' due to it being ubiquitous and insanely delicious. Dreamy when served alongside a cup of strong Costa Rican coffee, tres leche is a sponge cake that is made with three different kinds of milk: fresh full-fat, condensed, and evaporated. Light, fluffy and flavorsome, tres leche is usually topped with a thin layer of whipped cream and a sprinkling of crushed nuts.
Coconut flan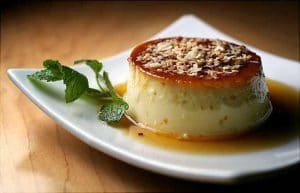 Custard tarts are the most famous of all desserts in Latin America, with each country competing to be awarded the 'best of the best' prize. Well, no surprises here: Costa Rica's coconut flan is the bomb by which all others should be measured.
Velvety, smooth and delectably sweet, coconut flan is usually served topped with fruits, chocolate shavings or whipped cream. Go for all three!
Fruit-filled empanadas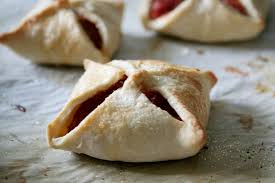 Empanadas are either fried of baked dough pockets filled with either savory or sweet ingredients. They're found sold from street food stands all over the country and are about as popular as hot-dog stands are at home.
The most popular sweet versions of empanadas are filled with either pineapple jam, or chiverre, a type of locally-grown gourd that's stewed with sugar and spices and made into honey.
Both are totally delightful.
Arroz con leche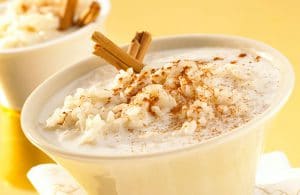 There's rice pudding…and then there's arroz con leche, a totally superior take on an internationally revered dessert. Starchy rice is cooked with milk and infused with the aromas and flavors of locally grown cloves, nutmeg, cinnamon and raisins, to create a smooth and comforting dessert you'll no doubt want to replicate at home.
You can with this very easy to follow recipe.
Torta Chilena
The Costa Rican version of the renowned French mille-feuille is a moorish layer cake made with gooey dulce de leche, the cake caramel filling that's beloved all over Latin America. Why this cake is called 'Chilean' is anyone's guess but we're certainly not about to get lost in semantics. Why do that, when you can get lost in 7 layers of thin cake, each smothered in dulce the leche, the whole concoction so delicate it just crumbles in your mouth? Thought so…
Chocolate covered fruits, nuts & coffee beans
Costa Rica's love affair with chocolate is legendary. So much so, that here it's often referred to as 'the food of the gods'. In Costa Rica, you can visit quite a few great cacao farms where you can learn all about the farming of this heavenly bean and – best part of all – get to taste a few of the delectable treats. Now, interestingly enough, you won't find a huge variety of home-grown and made chocolate bars for sale in Costa Rica (most of it is for export) but what you will find is plenty of sellers who offer chocolate-covered fruit, nuts and coffee beans. Not only a perfect snack for that mid-afternoon energy slump, but the sealed packets also make for fantastic and very much appreciated souvenirs. You know…if they make it home uneaten, that is!
Café Rica
Who says a dessert needs to be eaten? With Café Rica…you can drink it! This absolutely delicious coffee liqueur is ideal for when you want a sweet treat at the end of your dinner, but can't quite fit in a whole serving of dessert. Thick, creamy and rich like Kahlua, only more flavorsome and with a higher degree of alcohol, Café Rica is made from locally-harvested coffee and even exported abroad. You can even buy it online before you visit Costa Rica to get you in that holiday mood.
Granizados
Costa Rica's obsession with condensed milk is comparable to that of chocolate, and we're all much happier people for it. On a hot day spent chilling out on one of Costa Rica's best beaches, don't miss your chance to cool off with a serve of granizado (or copo), the local version of a snow cone drenched in flavored sweet syrup and condensed milk. Ask for a Churchill, a variety that's topped with a generous serve of vanilla ice cream, and you'll be in dessert heaven. If the beaches of Costa Rica could be said to have a flavor, it would be granizado.
What is your favorite costa rican dessert recipes?
Costa Rica adventure vacations are all about squeezing life out of every minute in the land of Pura Vida. And there's no better way to end a day filled with exhilarating fun, than by indulging in the most decadent desserts the local cuisine has to offer.
Book Now Contact Us