Most Indulgent Costa Rica Spa Treatments
July 11, 2017
Adventure and pleasure go hand in hand on a Costa Rica vacation and, to help you on your merry way, we've scoured high and low to find the best Costa Rica spa treatments on offer, so you don't have to. You're welcome. Whether you're heading to Costa Rica on a unique honeymoon adventure, planning a destination wedding or looking forward to a fantastic family fun vacation, we're certain you could always find some time to indulge in a little 'me' time.
Costa Rica Spa Treatments
Brown Sugar & Orange Soufflé Scrub, at Tabacon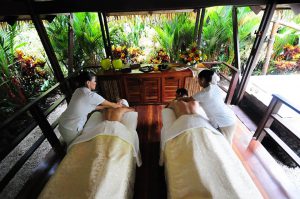 If you're looking for the best and most revered, award-winning spa resort then you shouldn't float past the Tabacon Grand Spa Thermal Resort, the country's premier mecca for relaxation and rejuvenation.
Between the volcanic mud wrap, coffee exfoliation and milk baths – all treatments that sound good enough to eat – you can soak in the steaming thermal pools or your private mineral-enriched Jacuzzi, to unleash any leftover stress. There probably won't be much chance of there being any, to be honest. Set in splendidly wild surroundings near Arenal and offering luxury along with plenty of Costa Rica's authenticity, this place is an absolute stress-free choice.
Green Clay Detox and Sugar Cane Therapy at Andaz ONDA Spa
If you're feeling like you've been transported literally in the heart of the jungle during your sumptuous aromatherapy massage at ONDA, that's because you have. With 9 exotic rooms to choose from, all set in open air terraces and surrounded by unspoilt Papagayo wilderness, the treatments at this resort offer a complete sensory rejuvenation.
Part of the international Hyatt group, Andaz ONDA Spa tailors treatments to guest's needs and desires, and offers a plethora of treatments which incorporate the country's ancestral wellness treatments and organic, local botanical ingredients.
Hot & Cold Stone Couple Massage at Nayara Spa & Gardens
Honeymooners wishing to relax together should make a point of visiting the Nayara Spa & Gardens in Arenal, where his & hers treatments include hot stone massage and facials.
Nayara also offers classes for couples who wish to learn how to massage each other. As they say: if it's good enough for Conde Naste Traveler to swoon over, it's good enough for us.
At Spa Sha, Kura Design Villas
We love this place and named it one of our favorite honeymoon sundowner spots in the whole country. Well, now you'll have yet another reason to visit.
Kura Design Villas' in-house spa offers a full-service spa that includes massages, facials, deep tub soaks, rubs, wraps and even a couple therapy aptly named Kura Paradise that'll have you both floating on cloud 9 for hours afterwards.
Four-Hand Deep Tissue Massage at Harmony
At the Harmony Hotel in Nosara they call it the Octopus Massage but we call PURELY.DIVINE. Revered by discerning holidaymakers, this gorgeous ecoresort certainly offers many indulgences, including a 2-therapist massage that'll rub all those stresses right out of your back and shoulders. The Harmony Healing Centre is exactly as it's named, and after a full day tackling the Nosara waves on a surfboard, that could be precisely what you crave.
Looking for a spa destination?  Costa Rica Spa Treatment's are swiftly becoming one of the world's leading spa vacation destinations, testament to the sheer concentration and diversity of wellness retreats and resorts. And that just goes to show what an all-encompassing travel destination this is: a place where you can set off on a week of incredible adventures and cap your vacation off with a sublime spa treatment or two. And we can help with both. Contact us for more info.