Best Costa Rica Honeymoon Resorts for 2018
February 21, 2018
Results are in! Fabulous resorts, gorgeous boutique hotels and some of the best eco-lodges on the planet: discover the best Costa Rica honeymoon resorts for 2018.
It's not surprising to learn that Costa Rica, arguably THE best adventure honeymoon destination on the planet, is home to some pretty fabulous resorts that cater for adventurous, nature-loving newlyweds looking for a totally unique way to start their married life. Even if you're not traveling here on honeymoon, the sheer romance, fun and beauty of the place will surely make you feel like you are! With inexpensive short flights from just about anywhere in the US and a ton of totally cool stuff to see and do, this small but stunning country is just purrrfect for adventurous couples looking for a unique and unforgettable way to celebrate their incredible life-step.
From all-inclusive luxury resorts to boutique hotels and exceptional eco-lodges, here are the best Costa Rica honeymoon resorts for 2018.
Top Honeymoon Resorts
Four Seasons Resort, Papagayo Peninsula
With its own world-class golf-course and a standard of luxury you'd be hard-pressed to find anywhere else, the Four Seasons Resort continues to lead the honeymoon resort pack in Costa Rica. Revered by couples looking for a perfectly located honeymoon resort (one they don't need to leave if they don't want to) the Four Seasons really does offer the best of all this glorious country has to offer.
With the spectacular Papagayo Peninsula at your suite- door, however, you may just want to peak your head outside the resort and indulge in amazing diving, snorkeling and wildlife-spotting day-trips whilst you're there. In-house, you'll have several private beaches to enjoy, a blissful health and beauty spa and gourmet feasting in abundance. If you're looking for a super romantic luxury honeymoon with adventure options on the side then the Papagayo Peninsula, and the Four Seasons Resort, are ideal. What's more, this heavenly honeymoon resort is only a 20-minute drive from the Liberia Airport.
Nayara Springs Resort, Arenal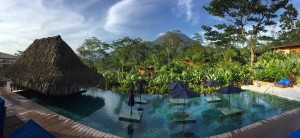 The adults-only twin of the Arenal Nayara Resort literally serves up the best of the country's most popular destination on your luxury villa patio. With your own private thermal plunge pool, you'd needn't brave the crowds of Arenal's famous hot springs and can enjoy all the privacy and romance you crave.
The villas are immersed in pristine wilderness at Nayara Springs and feel immensely secluded although you'll still be close to all the Arenal action…if you can drag yourself away, that is. Recently named one of the country's top resorts by Forbes Magazine, Nayara Springs is set to continue wowing honeymooners for many years to come.
Hotel Makanda by the Sea, Manuel Antonio
Much like Nayara Springs, Makanda by the Sea also offers adults-only seclusion in one of the country's most popular (and visited) destinations. Manuel Antonio, with its incredible biodiversity, wildlife, hiking and zip-lining, is only a few minutes away by car, so you can spend hours enjoying the active side of your honeymoon whilst having a private rainforest paradise await your return. Breathtaking views, personalized service and oozing more romance than you could ever desire, Makanda, with its mesmerizing sunset dinners over the Pacific, is pure honeymoon magic.
Westin Playa Conchal, Guanacaste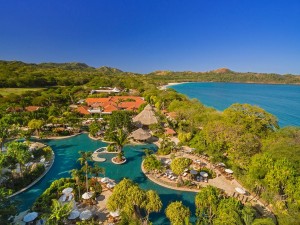 All-inclusive resorts are very popular with families hence the reason you may find it difficult to locate a honeymoon, adults-only resort that offers full-package vacations. Westin Playa Conchal to the rescue! Adding a much-loved 'adults-only' section to their resort has certainly paid back ten-fold, with the popular option snapped up by adventurous couples who want a hassle-free and all-inclusive honeymoon without having to contend with splashing kiddies, poolside. A wonderful compromise and, might we add, a gorgeous resort to boot, the Westin offers private pool and beach club access in splendid Guanacaste, just an hour's drive from the Liberia Airport.
Occidental, Papagayo
This adults-only resort sits at a startling promontory on the Gulf of Papagayo in northwest Costa Rica and offers amazing value for its 5* service. A small private beach, pool with swim-up bar, a ton of adventures on offer, great food and plenty of wildlife to spot in the property's perfectly maintained tropical gardens, as well as an in-house disco, offer that perfect balance of romance, adventure, fun and beautiful relaxation. Popular with honeymooners, bachelor and bachelorette getaways and couple retreats, the Occidental is just a short drive away from Playa Coco.
Pacuare Lodge, Limon
Honeymoon and destination wedding vacations are what Pacuare Lodge does best, offering privacy, tranquility and fun among some of the most spectacular tropical wilderness you'll ever set eyes on. Immersed in the heart of the Limon Province, right on the shores of the exhilarating Pacuare River (arguably the country's top kayaking and white water rafting destination) this sensational lodge appeals to true adventurers who crave some adrenaline-pumping fun on their dreamy honeymoon, whilst still luxuriating in comfort and indulgence. Craving some luxury in the wilds of Costa Rica? Then this lodge is for you. Spend your days swinging through the forest canopy, rafting the thrilling river and hiking through prime rain forest brimming with creatures, and your evenings delighting your taste buds on delectable meals with organic local produce and listening to the sounds of the wild. For animal and nature lovers, this lodge is unmatched.
Your own hanging bridge outside your luxury rain forest suite? Yes, please!
Need some help planning your very own unforgettable Cost Rica honeymoon adventure vacation in 2018? We're here to help! We offer an exceptional array of honeymoon itineraries that include excitement, amazement, romance and adventure and endeavor to showcase all the magnificent traits of this phenomenal destination. For more info and help, contact us today and start planning a truly remarkable start to your own wedded bliss.