A Foodie's Guide to Costa Rica
April 16, 2019
Whilst Costa Rica wasn't always renowned for being a foodie's paradise, the last decade has seen the country undergo a culinary revolution of sorts. The luscious forests that have attracted adventure-seekers for decades have become hot-spots for exceptional, unique, indigenous ingredients, helping spawn a new wave of gastronomic experiences that are seriously out of this world. True to its essence, Costa Rica's food scene is immensely eclectic yet no matter where you go – be it cheap & cheerful local sodas, 5* haute-cuisine restaurants or small vegan joints, you'll discover there's one aspect that seems to run through the veins of them all: food in Costa Rica is organic, uncomplicated, healthy and very, very delicious. The national dish, gallo pinto, remains as it's always been: a local's absolute favorite. People still feast on exotic fruits and down fresh shakes and smoothies like there's no tomorrow. If you're a lover of great food, amazing wilderness and crazy adventures, travel to Costa Rica and you'll discover a country that ticks all your favorite boxes.
Here's your ultimate Foodie's Guide to Costa Rica.
Overview of Costa Rican cuisine – One of the world's healthiest
Costa Rican cuisine is one of the main reasons the country is rated as one of the healthiest on earth. Terms like 'nutrient-rich and super foods' seem to be thrown about all over the place but, right here, they've always have been a part of daily life. Local cuisine abounds with nutritious fruits and vegetables, with pure cacao, delicious coconuts, fresh fish, pulses and – the biggest benefit of all – only a moderate consumption of meat and animal products like dairy and butter. The staple Costa Rica diet is uncomplicated and chock-full of super-healthy proteins like beans, eggs, chicken and fish. Rice and plantain (a cooking banana that's rich in Vitamin B6, C, Magnesium and Potassium) are the main starches used in local meals and even though dishes may seem to be carb-heavy, the lack of animal fats makes them satisfying, filling yet easily digestible, just the ticket when spending a day whitewater rafting, kayaking, zip-lining or mountain biking.
Costa Rican cuisine is also perfect if you're travelling with children as they really enjoy the simplicity of the food and lack of spiciness usually found in other Central American countries.
Savory dishes to try – Every adventure vacation in Costa Rica is bound to become a foodie adventure to boot, local regional specialties ensuring your diet is eclectic and delicious. The main national culinary specialties you should try are the gallo pinto 'breakfast of kings' (rice fried up with beans, veggies and egg), sensational ceviche along the coast (raw fish marinated in lime juice until cooked) the rather addictive chicarrones (fried pieces of pork – the fast food of choice!) and an abundance of seafood chowders stewed in rich coconut milk. Read more about these dishes and more on Costa Rica Culinary Delights.
Sweet treats to discover – With the abundance of fresh exotic fruits in Costa Rica – not to mention local's love of condensed milk – it's fair to say Ticos have a most definite sweet tooth. Join the club (resistance is futile!) and treat your taste buds to Costa Rica's best desserts like pastel de tres leches, home-made ice cream and, of course, a stunning array of chocolaty goodness. We've actually collected a few of our favorite dessert places you should try, so go on and pin a few gems on your map before you arrive.
Foodies take note – the best Costa Rica culinary experiences of all
Now that you know the kind of foodie delights that await you in Costa Rica, it's time to share out tips for ensuring your adventure vacation is filled to the brim with exceptional culinary experiences.
Here are a few tips you (and your taste buds) will surely appreciate.
The Best Farmers Markets
From the largest city to the smallest village, every single inhabited spot in Costa Rica hosts a fabulous farmers' market every week (called 'feria') where locally-grown goodies are sold at incredibly low prices. Farmers markets in Costa Rica are undoubtedly some of the best highlights for visiting foodies, amazing places where they can learn all about the exotic produce grown in a specific region and taste a few traditional specialties. We recommend everyone find at least one local fresh market to visit during their trip, no matter where they go. We've listed a few of the best known and most rewarding, right here.
The Costa Rica 'Soda' Experience
If it's your first time delving into the Costa Rica foodie scene, you may not know that a soda, in our neck of the woods, is the name of a traditional food joint which is locally-owned and run, laid-back and inexpensive. Many of us think that sodas offer the most authentic foodie experiences of all in Costa Rica, ones not influenced by imported trends and tourist wishes. Sodas are for Ticos, first and foremost, so here you'll be served an array of regional fare you normally won't find in more upmarket restaurants. Read our Costa Rica guide to a typical soda experience to know more about this very unique gastronomic delight, what you should be looking for and discover a few of the best sodas in the country.
Vegetarians and Vegans…rejoice!
We've had an increasing number of vegetarian and vegan dietary requests on our adventure vacation tours in the last couple of years and we continue to welcome them wholeheartedly. Costa Rica has been a vegan and vegetarian paradise longer than the health-conscious trend has been around, given its cuisine is just so heavy on plant-based ingredients. Much like the Mediterranean diet, the Costa Rican diet is – in reality – mostly vegetarian, with the consumption of dairy and meat being only minimal for most locals. Nevertheless, and considering vegans need a few more pointers, the vegan and vegetarian scene in Costa Rica is huge and growing by the day – local restaurateurs understanding the need to specifically identify their dishes. For more on this subject, read our guide written specifically for vegetarians and vegans visiting Costa Rica.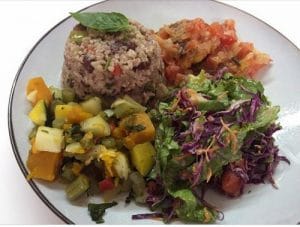 Organised Food Tours (more food + less time= win/win!)
Now here's a growing trend we can all get behind: food tours! Dedicated food tours are absolutely booming in Costa Rica and for very good reasons. Walk and feast with a knowledgeable local and you'll get to savor some of the best meals prepared with some of the freshest ingredients in the world.  From cheese-making to chocolate-gorging, farm-to-table tours and even hands-on gourmand cooking classes, Costa Rica's best food tours offer something for every visiting foodie, bar none. Check out this tried-and-tested food tours selection we sussed out just last year.
Where You Can Enjoy Excellent Culinary Discoveries
San Jose – Costa Rica's capital is, perhaps unsurprisingly, the epicenter of the new-wave food scene in the country. International chefs hail from every corner of the globe, competing with one another to offer unique dishes using local, once-forgotten ingredients. Fusion cuisine is all the rage here and, aside from these fancy joints, you'll also find a host of fantastic food experiences. Read more about the Best Dining Experiences in San Jose.
Tamarindo – The most popular seaside destination on the Pacific, Tamarindo, is home to perhaps the most eclectic foodie scene in the country. Locals and expats alike converge here to offer – and feast on – the most diverse food in the country. It's not shocking to know that Tamarindo offers the most comprehensive culinary experiences of all. Although the choice is gargantuan and can be overwhelming, we've listed a few of the best restaurants in Tamarindo for you to try.
Manuel Antonio – Without a doubt the most popular tourist destination in Costa Rica, Manuel Antonio offers foodies a crazy array of options. From budget-friendly sodas to 5* gems and all that is in-between, the culinary options here are absolutely huge. Here's a list of our top 10 Manuel Antonio foodie faves, including that gorgeous 'plane' restaurant that's all the Instagram rage.
Taste the real Costa Rica
Exploring a foreign cuisine is surely one of the very best benefits of travel and we think it's one of Costa Rica's most underrated highlights. Here, you can feast like a local no matter where you go, discover amazing new food and understand the basis of one of the world's healthiest cultures. Fresh air, unspoiled nature, loads of outdoor active fun, wholesome food, family and friends: these are the key ingredients for a truly happy and healthy life.
Want to have a taste?
Then come join us! We run some of the country's most popular adventure vacations and rated one of the Best Adventure Travel Companies on Earth by National Geographic. Your safety and rewarding enjoyment are our absolute priorities, coupled with our commitment to showing you the very best Costa Rica has to offer. See our full collection of Costa Rica Adventure Vacation Packages and contact us to know more.