Visit La Sabana Stadium – Costa Rica's Loving Ode to Football
February 18, 2020
The first truly world-class arena built in Central America, La Sabana is one of the most iconic buildings in all of Costa Rica. In a country where football is so much more than just sport, a football stadium of this calibre likewise represents more than mere entertainment. La Sabana's prominence is a huge source of pride for Ticos and a visit, to either tour the impressive park or attend a soccer match or concert, is an unforgettable experience for visitors.
Offering a glimpse into a side of the local culture most tourists never get to see, a visit to La Sabana, Costa Rica's loving ode to football, is one of the most rewarding things you can do in San Jose.
Out With The Old And In With The State-Of-The-Art New – The Building Of La Sabana Stadium
Costa Rica's old national football stadium, on the same site as the current one, was built back in the 1920s and accommodated about 25,000 soccer-mad spectators. The idea for a much-improved replacement first emerged in 2007, when then-President Sanchez, inspired by China's recent constructions for their upcoming Olympic Games, set up bilateral relations with the Asian country to secure some experienced help in the building of a futuristic stadium.
With China's invaluable help and complete funding (to the tune of an estimated USD 100 million) the first foundations for the astonishing La Sabana Football Stadium were laid in 2009. Construction took less than two years and the stadium was inaugurated, with a friendly between Costa Rica and China, on March 26th, 2011. The celebrations carried on in the Costa Rican capital for almost two consecutive weeks.
The building and gifting of La Sabana Stadium by China to Costa Rica is said to have been of tremendous benefit to the two country's relations, with Costa Rica making the Asian nation its second-biggest free trading partner soon after. Here's an interesting Business Insider piece on what these strengthened diplomatic relations have meant for the two countries.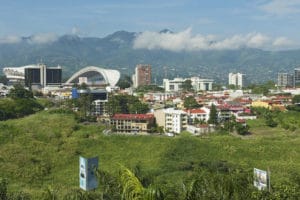 La Sabana Metropolitan Park & The Jewel of the Prairie
To locals, Costa Rica's national football stadium is known as the "Jewel of the Prairie" in reference to the expansive metropolitan park where it resides. The stadium, in fact, is the crown jewel of La Sabana, an impressive sport and entertainment quarter in downtown San Jose that offers sport, recreation and relaxation.
Up until the 1950s, La Sabana Metropolitan Park hosted the country's international airport. Once the new one was built elsewhere, the whole area was declared a heritage site and reverted to a haven of nature-filled recreation. In the park, adjacent to La Sabana Stadium, you'll find jogging and walking trails, a gorgeous lake, the city's municipal swimming pool and national skating rink, the offices of the National Cycling Federation, a shooting range and, perhaps more importantly for tourists, the Costa Rica National Art Museum (which used to be the old airport's main building).
Dubbed 'The Lungs of San Jose", La Sabana Metropolitan Park is a wonderful place in which to spend an entire day.
La Sabana Football Stadium Today
The new football stadium is located in the north-western corner of La Sabana Metropolitan Park and is the official home of the country's national football team. Aside from national and international football matches, the stadium holds all major sporting and entertainment events, including music concerts attracting international stars from all over the globe.
Although the size of the stadium couldn't be enlarged very much and had to stay in line with the space of the old stadium, the designers still managed to include 10,000 more seats and La Sabana now accommodates 35,000 spectators on a three-tiered seating area. With two over-sized high-tech screens and amazing lighting, catching a match (or concert) here is a truly incredible experience.
Considered a true architectural masterpiece, La Sabana Football Stadium hosts a small but interesting sports' history museum, various office buildings and an events hall. Today, La Sabana is the biggest and most technologically-advanced arena built, not only in Costa Rica but in the entire Central American region. San Jose's most iconic and revered building, with a roof designed to resemble a Costa Rican coffee bean and a seating design that means everyone gets exceptional views no matter where they are, this is an event arena you shouldn't miss visiting when in town.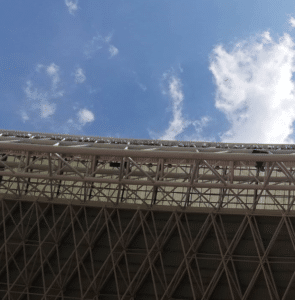 Upcoming events @ La Sabana Football Stadium
The English-language Estadio Nacional Website keeps an updated list of all upcoming events so you can see if there's an event happening during your tour of Costa Rica. You'll find the stadium in the Sabana neighborhood, about 2 miles northwest of the city center. The best way to reach the stadium during an event is with public transport as, funnily enough, the architects forgot to include sufficient parking spaces in the stadium grounds!
The Metropolitan Park of La Sabana is, in itself, a beautiful place to visit and is a favored Sunday spot with locals and visitors alike. On weekends, expect to see groups of locals playing friendly matches of football and volleyball, enjoying picnics and gentle strolls. This is an especially wonderful spot to visit if you love a morning job – stay nearby to have the park at your doorstep and we bet it'll leave you with a great impression of San Jose.
In 2020, the local council is undertaking a massive regeneration program to replace the once-imported Australian gum trees with native Costa Rican species, which local birds prefer. Despite this minor disruption (which is actually a very impressive task) the park is still immensely enjoyable to visit.
Nearby attractions
San Jose has always been regarded as a mere springboard for adventures in Costa Rica and we find many guests have the impression they need to spend as little time as possible in the big and bustling capital. Granted, the country's National Parks, Cloud Forests, Peninsulas and Top Wilderness Experiences are certainly the main highlights yet you need not shy away from spending a few days in the capital.
San Jose's bustling dining scene is reason enough to visit although the capital, being the most prominent city in the whole country, also offers an array of awesome attractions, including The Museum of Per-Colombian Gold, The National Museum and National Theatre of Costa Rica as well as outdoor markets, family-friendly amusement parks, craft breweries and plenty of shopping opportunities. You'll also find an array of hotels directly bordering La Sabana Park, in case you'd love to stay nearby.
From here, those who are short on time can also tackle memorable road trips to popular spots like Arenal, Monteverde and the beaches of Tamarindo.
The Best Adventure Vacations in Costa Rica
At Costa Rica Rios, we run award-winning adventure tours in this magnificent country, taking active and thrill-seeking explorers both on and way off the beaten path. We cater to adventure-seeking families, couples and singles alike and offer both fully and partly guided tours. What's more, we create bespoke itineraries that allow you to Build Your Own Tour, to include only those activities and destinations you love most.
Contact us when you're ready to plan your unforgettable adventure in Costa Rica!
US & Canada: 888 434-0776 | UK: 0800 612 8718 | International: +1 920 434-7485