Costa Rica's Best Amusement Parks For Family Fun
October 17, 2018
Costa Rica's best amusement parks for family fun are a fabulous way to inject some exciting quality time into your adventure vacation. Whether it's water slides, zip lines or theme park visits that your family loves, you'll find the ideal fun day out destination, no matter where in Costa Rica you travel.
Here are the best spots you shouldn't miss:
Parque National de Diversiones, San Jose
A wonderful way to get your family adventure vacation in Costa Rica off to a relaxing start, the capital city's amusement park may not be as insane as some of those in the US but it is immensely entertaining, nonetheless.
Especially if you have tweenies and younger kids in your tribe who get bored easily. The rides are numerous, varied and fun and there are plenty suitable for parents who want to go along for some stomach-churning ride as well. Parque Diversiones is just off the General Canas Highway, in La Uruca, and is usually only open from Friday to Sunday but check the website for opening times during local school vacations. This isn't the bestest amusement park in Costa Rica but for a 1st-day of holiday thrill, it's more than worthwhile. Plus, proceeds go towards the city's children's hospital so by visiting you'll be supporting a worthy cause to boot!
Kalambu Hot Springs Water Park, Arenal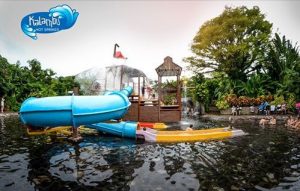 What do you get when you combine thermal springs with a bunch of super fun water rides? Kalambu! A swim-up bar and plenty of thermal pool soaking delights for adults, thrilling water slides and a kid's play area that's ideal for younger tots
All in all, La Fortunas' Kalambu combines the best of both worlds: offering the hot spring pleasures for which Costa Rica is world-renowned AND plenty of adrenaline-pumping water rides to entertain. With such names as Cyclone, Avalanche and Tornado, the water slides at Kalambu are incredibly fun and, considering this is the only amusement park in the area, it's an unmissable highlight if you love your family vacation in Costa Rica to be fun and relaxing. You can spend an entire day here as the restaurant serves some great fare as well. A wonderful alternative to the nearby stunning but more sedate Tabacon Hot Springs Resort.
Rainforest Adventures, Jaco
Ideal if you're traveling with kids of all ages, Rainforest Adventures offers your family the chance to explore hanging gardens and verdant tropical forests, both in a thrilling and a more sedate way.
An open-air aerial tram lets you and younger children slide through the forest canopy in comfort whilst, for the more adventurous teens, there are canopy zip line rides that'll blow their socks off. This wonderful eco-tourism project is just a few minutes' drive from Jaco Beach and covers an area of over 90 hectares of pristine primary and secondary forests, home to a flurry of wildlife including monkeys, birds and so much more. A café and plenty of walking trails (don't miss the beautiful butterfly garden) means spending a whole day here is both easy and rewarding. The naturalist guides are knowledgeable and friendly and are a much-needed necessity as spotting wildlife, in a forest, can be tricky business!
Dino Park Blue River, Rincon de la Vieja
With glorious views of Volcano Rincon and a dinosaur-theme that's set to thrill younger kids and anyone who loved Jurassic Park, Dino Park Blue River is brimming with fantastical animatronic dinosaurs which move and growl as you meander through the park – something all kids absolutely love.
Educational and wildlife-enriched (the forest is home to sloths, monkeys, hawks and more) the one-hour guided walk through the park is interesting for adults, as they learn about the unique flora and fauna of the forest, and great fun for young kids. Dip your toes in the waterfall, enjoy the leisurely and safe trail through the forest and, why not, giggle at the cheesy dinosaurs! A wonderful inclusion on any family adventure vacation in Costa Rica. Dino Park is part of the Blue River Resort and Hot Springs.
Black Stallion Eco Park, Tamarindo
Thrilling zip lining, horseback riding and ranch-style cuisine are the main drawcards of Black Stallion, an eco-park just a 10-minute drive away from the beach at Tamarindo. This family-owned adventure park is set in an expansive private ranch, whose glorious forests are inhabited by a myriad of wildlife.
On half-day visits, you can do it all: enjoy an adrenalin-packed adventure on a new 10-platform zipline course, enjoy a thrilling horseback ride and cap your day off with a delectable BBQ feast, Tico-style. If you're travelling in a larger group, the guys at Black Stallion can organize a private fiesta. Wonderful walking trails to elevated viewpoints serve up sensational views over the Pacific coast and the valley below and mountain bike trails let you explore the property at your leisure. Just a beautiful place in which to spend a day and an enthralling day of fun and amusement for the whole family.
Ponderosa Adventure Park, Liberia
Just a short drive out of the Liberia Airport in northern Costa Rica, the Ponderosa Adventure Park is a multi-sport amusement heaven, offering canopy zip lining, kayaking, horseback riding, hiking and – the best part – an African wildlife safari!
Offering great value for money, Ponderosa makes for a fun-filled day out and offers so much to kids and adults of all ages. Children luuurve feeding the giraffes and parents always enjoy the day too, especially as day passes include a delicious lunch. If you can, avoid the busy weekend period and come during a weekday instead: you could just about have the place (and all the animals) to yourselves.
At Costa Rica Rios, we offer adventure family vacations that combine the best fun activities the country has to offer, over multi-day tours. Experience Costa Rica's incredible wilderness with us and you won't just be visiting an amusement park for a day…you'll be living one instead! We organize group tours for honeymooners, solo travelers and families and can create a bespoke itinerary for your group alone, to include all the activities you love best. Choose from kayaking, whitewater rafting, canyoning, mountain biking, horseback riding, hiking…and so much more!
Visit our Costa Rica adventure tours page and contact us to know more.