How Much Fun Can You Squeeze in a Week? In Costa Rica…Endless!
May 10, 2016
We like to pride ourselves in offering the most comprehensive week-long adventure vacation packages in all of Costa Rica. Because we believe that if you work hard you also like to play hard. We dig that! Although to be fair, we probably shouldn't take all the credit for concocting adrenaline-pumping itineraries that blow the socks off our guests, time and again. After all, coming up with dozens of ways to totally enjoy the country's dramatic landscapes, like kayaking, zip-lining, mountain biking, canyoning, whitewater rafting, snorkeling, surfing, and trekking, is child's play. But offering up such phenomenal backdrops? That's the real skill.
And Costa Rica does that with unabashed abandon.
The most exhilarating, varied and enticing country in Central America is a playground the likes of which you simply won't see anywhere else. In any other region of the world, you'd have to travel thousands of miles, and rack up multiple passport stamps, in order to do all THAT, in a single vacation.
So fine, let's call it a draw. Costa Rica provides the breathtaking wilderness, and we'll pack the gear.
Now the only thing that's missing is you.
Rafting, Kayaking, and Canoeing Fun
Enjoying the kaleidoscope of Costa Rica's whitewater rivers is about as much fun as you can have in the water, without actually drowning. But don't worry, there are rapids and waters to suit all skills and death-wishes, so if you have neither nor, you could always opt to explore a secluded mangrove or pristine seaside inlet instead.
No matter where you go, you'll always be accompanied by pristine rain forests teeming with wildlife, although perhaps only on the more sedate outings will you have the steel nerves to actually take a pause, and spot the sloth. Seriously, this is the most enthralling adventure activity in the country, absolute bucket-loads of fun in a group, and arguably the main reason why we'd include three days in your week-long vacation to Costa Rica dedicated to these water-based extreme sports. And we were just kidding about the death wish! Believe it or not, we'll have you conquering grade IV rapids even if you have absolutely no prior experience at all. Now doesn't that sound like a tempting challenge?
Canyoning
If you thought that rapids and waterfalls are scary enough to face on a raft, wait till we politely coerce you to jump off them! Canyoning is the term used to describe an insanely fun 'hike' through a canyon. Except the hiking is replaced by rappelling, scrambling over rocks, and jumping down waterfalls. And said canyon is filled with raging crystalline waters. But aside that, it's really just a walk through a remote and remarkable canyon. Nothing more, nothing less. Wear water shoes and quick dry clothing and you'll be totally fine. Promise. Who wouldn't be, sliding headfirst down a vertiginous waterfall?
Zip-lining
Think your pulse will stop racing once you're out of the water? Think again! As soon as you're dry and have caught your breath, we'll tie you safe, hoist you up the tree tops and send you flying at breakneck speed through some of the world's most ancient rain forest.
Your challenge will be to see how many toucans, hornbills, monkeys and sloths you can spot as you zoom above and beside them all. With a collection of zip-lines and suspension bridges, you can explore the Costa Rican wilderness from a totally different angle. This is the most famous zip-lining destination in the world, a place where you could almost fly from one side of the country to another, Spiderman-style, without ever touching the ground. With its impeccable safety record and outstanding scream-value (yes, you will scream like a 12yo girl at a Justin Bieber concert and it's ok, everybody does) zip-lining is your ultimate adrenaline-packed adventure in paradise.
Mountain Biking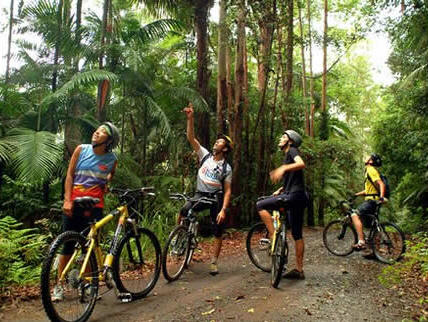 Perhaps you'll feel more comfortable on two wheels. Then how about some mountain biking? That would be gravity-assisted downhill biking, on a speedy descent over 9,000 feet long, from the top of Irazu Volcano to the luscious depths of the cloud forest below.
Past verdant valleys teeming with gorgeous villages and outstanding scenery of wild-flower covered hills. This one doesn't even hurt the legs (due to the lack of pedaling needed) so it can almost be considered a very relaxing pursuit. Almost.
Snorkeling & Surfin'
Just when you thought it was safe to get back in the water…
Ending your adventure-filled week in Costa Rica and indulging in a few relaxing days on a simply perfect beach is heaven on earth. No, really. We won't be feeding you to sharks or anything! Snorkeling and surfing are the favored pursuits for beach bums who can't sit still. There is really no better way to work on the tan and enjoy the water than by picking up a new skill, whether that be to stand on a surf or paddle board, or gaining a deeper understanding of the endemic sea life that inhabits the country's premier reefs. Stunning seaside resorts and eco-lodges allow you the luxury of indulging in incredible comforts while still feeling immensely close to nature.
From single adventurers to groups of friends, extended families, and honeymooners: our week-long adventure vacation packages can be tweaked to suit all tastes, ages and fitness levels. So if you think it's impossible to fit in that much fun in a single week…we really do need to have a chat.