15 Incredible Reasons to Visit Costa Rica in January!
January is one of the best and busiest months to visit Costa Rica in January. The weather plays along with adventure seekers, the rain forests are at their most luscious best and all those marvelous beaches are dreamy beyond words.
Yet there are SO many more reasons to visit Costa Rica in January! After the colossal downpours of the wet season, the whole country reverberates to life, with cultural events, wildlife spotting, and outdoor adventures galore.
Need just one reason to leave the cold of the north behind and come play in this tropical paradise?
We'll give you 15!
1.    The weather in January is perfect almost everywhere in Costa Rica
Costa Rica's rainy season tends to run into the first two weeks of January but rains taper off dramatically as the month progresses, before eventually coming to an end in late February. This means that you will likely get some rain if you visit Costa Rica in early January, but they'll just provide relief for the summer heat. Overall, this is the ideal month that sees most of the country transition from drenched to parched, so you do get the best of both weather worlds.
In January, the rain season shifts from the west to the east: this is the wettest month on the Caribbean side of the country but the start of the outdoor adventures on the Pacific.
2.    The Costa Rica wilderness is insanely verdant in January
Some parts of Costa Rica are incredibly dry by the time the hot summer season is over (middle of the year) so if it's verdant and luscious wilderness you want to see, visit in January. By then, all those tropical rain forests will have received an abundance of nourishment and will be exceptionally green, although typically drier areas (like the northern Guanacaste Pacific region) will showcase a mix of colors.
3.    Road travel is back in business!
The rainy season can play havoc on Costa Rica's roads, especially in remote areas, like Corcovado, that can easily get flooded and cut off by heavy rain. By January, however, road travel becomes easier and transfers are less likely to get disrupted.
If you wish to visit multiple regions, this is the first month where you'd be advised to opt for a road transfer (because road trips are always epic in Costa Rica!)  rather than a domestic flight.
4.    January falls between peak and high season
In January, the country farewells the end-of-year tourist crowds and is getting ready to welcome high-season visitors. Typically, the last two weeks of January are the calm in-between the tourist storms so everything is open and all regions are accessible, albeit with slightly lower visitor numbers.
The most visited tourist destinations (like Arenal and Manuel Antonio) still receive high tourist numbers this month, although with a bespoke guided adventure tour in Costa Rica, dodging crowds is insanely easy.
BOOK YOUR BESPOKE ADVENTURE TOUR IN COSTA RICA TODAY!
5.    January is an amazing month to go wildlife spotting in Costa Rica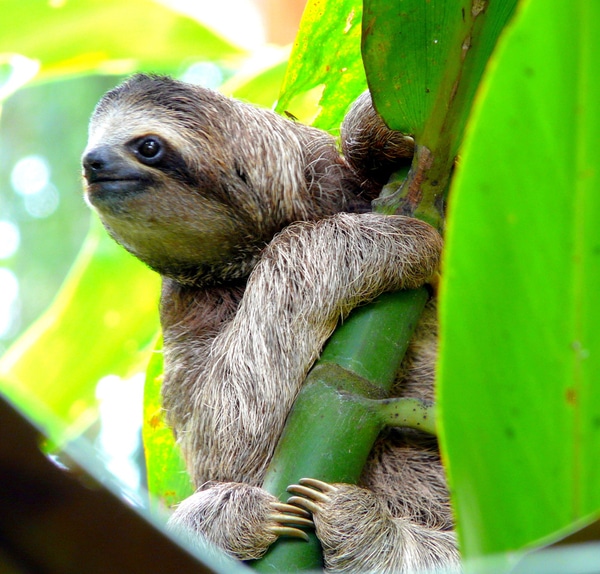 As waters recede in most of the country, Costa Rica's most iconic animals emerge from impenetrable forests looking to quench their thirst. This is a fantastic month for wildlife spotting in Costa Rica and that also rings true for marine life. The lack of storms means visibility is great for SCUBA diving and snorkeling, as well as boat trips off the Pacific coast.
Whether at sea or on land, ensure you include a few specialized wildlife spotting excursions on your January adventure tour if visiting in January.
6.    Whitewater rafting and kayaking in January is perfect for families and first-timers
As the heavy rains recede, so does the water level in Costa Rica's best rivers. This translates into tamer rafting and kayaking excursions – perfect if you wish to try the sport for the very first time or are traveling as a family!
Naturally, you can expect to find a host of variables in such an eclectic country. At Costa Rica Rios, we plan the bespoke whitewater rafting and kayaking trip to suit your needs, skill levels, and desires for thrills: no matter your skill level, we can always find a challenging run just for you.
Read this guide to whitewater rafting and kayaking in Costa Rica and you'll have a better idea of what it's all about.
7.    There's a host of fun cultural fiestas throughout January
The holiday fiesta vibe is well and truly kicking in January and you'll find cultural festivals held in just about every province. Traditional festivals always involve plenty of delicious food, as well as music, dances, and parades to boot.
Fun, sociable, and unforgettable, Costa Rica's fiestas and parades are reason alone to visit in January!
8.    January is the perfect beach-bumming month in Costa Rica
If relaxing on a sublime tropical beach is what you're dreaming to kick off the new year, then consider Costa Rica your dream destination. As the dry season starts, the sky is resplendently clear, the sea is calm and the beaches unspoiled. Hit the far north Pacific coast for uncrowded beaches and sensational verano vibes.
Beach conditions along the Pacific coast are also ideal if you want to take some beginner surfing lessons so if you do find some energy to expend, you'll find plenty of fun activities to enjoy.
9.    It's leatherback sea turtle nesting month on Playa Grande!
Sea turtles nest along both coastlines in Costa Rica all year long, with different species focusing on distinct months. This is what makes the country such a rewarding hot spot for international sea turtle conservation work.
In January, it's the turn of Eastern Pacific leatherbacks around the Las Baulas National Marine Park. In Playa Grande, the next beach up from famous Tamarindo is the start of what is essentially a marine reserve created specifically to protect nesting turtles. Head to the main reserve station when you arrive and you can put your name down for a guided night-time tour during nesting season. January is the best month to spot them! The best part is that you only pay if there is a sighting, so you can be assured of a rewarding experience – if they are running a tour, you know chances are super high that you'll get to see these amazing creatures.
Learn more about the Eastern Pacific Leatherback from EarthWatch.
10. January is a fantastic month for hiking in Costa Rica
Drier trails and verdant wilderness make for awesome hiking in January!
Rarely, trails are still closed due to flooding this month, so you're likely to be among the first visitors of the year leaving footprints on trails. Viewpoints along trails offer breathtaking vistas this month, with the lack of extensive cloud cover making for outstanding photography.
11. January is a popular month for destination weddings & honeymoons in Costa Rica
Want to start the new year as a newly-married couple? Yes, you guessed it: January is one of the most popular months for destination weddings down our shores. It's a no-brainer, in many ways: the weather is fabulous and, especially for North Americans, the chance to dodge the winter cold and enjoy a wedding and honeymoon in a tropical paradise like Costa Rica is immensely enticing!
Read our Ultimate Costa Rica Honeymoon Guide to know more.
BOOK YOUR BESPOKE ADVENTURE TOUR IN COSTA RICA TODAY!
12. You can spot giant manta rays on the Catalinas Island
Diving with giant manta rays is one of the best reasons to visit Costa Rica in January. The beasts of the seas, which are the largest ray species in the world, measure an astonishing 23 feet in width and can weigh as much as 3,000 pounds. They are docile, slow-moving yet acrobatic and are majestic to see on a diving trip.
Giant mantas (and other pelagic species) love to feed off the nutrient-enriched waters of the Pacific between November and May. January is considered an ideal month as this month sees the largest concentration of this marine wonder in various spots off the western coast of the country. The very best spot, however, is off the coast of the Catalinas Islands.
Learn more about diving with manta rays in Costa Rica.
13. You'll see an abundance of migratory birds in Cano Negro & Palo Verde
Costa Rica is one of the world's most extraordinary birding destinations, home to about 10% of the species found on our planet. Alongside over 100 endemic species, the country also welcomes untold numbers of migratory birds at the start of the dry season.
January is the perfect month to get an eyeful of outstanding bird species, especially in the Palo Verde and Cano Negro reserves, where you might easily spot up to 100 distinct species in just a single day.
If you're a birding fanatic, ask us about bespoke private tours and we can organize a specialist guide who'll help you make the best of your visit.
14. You can literally pick your ideal temps!
Costa Rica's eclectic geography means you can pick and choose your ideal temperature. Yes, even in January!
The Pacific Northwest is the driest part of the country this month, with temps in the low 90s and very minimal rainfall (sometimes, it's days between brief afternoon showers).
Down along the coast, in the Central Pacific Region, there is a chance of a little more rain, but also slightly cooler temperatures (around the high 80s). In the southernmost Pacific coast, around the Osa Peninsula, this is as dry as it gets all year. Temps are around the mid-90s and you can expect brief showers, say, every other afternoon.
The Central Valley region is blissful in January, with temps in the high 70s and a few afternoon showers to keep things cool. This is undoubtedly the best spot for hiking excursions around Arenal and La Fortuna.
The Caribbean side sees heavy downpours that can sometimes last for a whole day. This is arguably not a good time to visit if you wish to fill your itinerary with a lot of outdoor excursions. On the other hand, crowd numbers are super low on this side so if you wish to retreat to a gorgeous remote lodge and enjoy a few days of downtime, January is ideal.
15.  January is the best month to join a group adventure tour as a solo traveler
Solo travelers are apprehensive, at times, about booking a group adventure tour in Costa Rica. They worry that there won't be enough participants so the tour will be canceled, or they simply think they'll feel isolated and lonely. Although this is NEVER the case on our Costa Rica adventure tours, January is a reliably super-busy month so you can bank on joining a jovial group of like-minded adventurers to share in on the fun!
Costa Rica is a wonderful place to celebrate the start of the New Year: the whole country is in holiday mode; celebrations abound and the dry season is at the door. This is a busy, exciting, and sociable month but getting away from hectic touristed spots is very easy. Enjoy a thrilling adventure-filled week and then indulge in a stint of R&R on a yoga or wellness retreat, away from the partying crowds. That's Costa Rica adventure perfection, right there!
We still have a few spots available on our Adventure Vacation Package Tours in January but we can always plan a bespoke private itinerary if you prefer. Check out our Top 4 CRR Tours for inspiration or simply contact us today. We'll create a tailor-made itinerary to suit your budget and desires – it's bound to be the best decision you'll make all year!