The Ultimate Costa Rica Honeymoon Guide – What to Do, Where to Stay and What to Avoid
With its idyllic year-round climate, array of fun outdoor activities, gorgeous eco-resorts and more dreamy beaches, rain forests and wildlife than you could even imagine, Costa Rica is an unrivaled honeymoon destination. Offering superb value-for-money, a laid-back and welcoming vibe and excellent tourist infrastructure, the land of sloths and unforgettable sunsets is a dreamy choice no matter your budget or desires.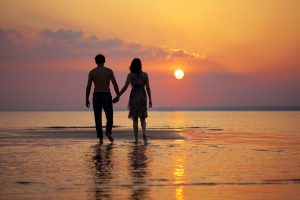 Why is Costa Rica rated among the best honeymoon destinations on earth? Because this is a country where nature reigns supreme – a dreamy land that screams adventure, romance and relaxation, with plenty of unique experiences to create that 'once in a lifetime' memory you no-doubt crave.
Costa Rica has it all. And so does this guide!
Here's your Ultimate Costa Rica Honeymoon Guide – What to Do, Where to Go and What to Avoid when planning your trip.
Plan Your Ultimate Costa Rica Honeymoon Adventure!
What to Budget for a Costa Rica Honeymoon
While it's true that Costa Rica is not the 'cheap as chips' destination it once was, it is still one of the world's most affordable honeymoon choices. Mostly, because it offers incredible value for what you get – think of it as a 5* resort for the price of a 3* one, rather than a 2*-priced motel with dubious quality to match.
As with any travel option, your Costa Rica honeymoon can be as expensive or affordable as you'd like it to be. The country boasts as many exquisite world-leading resorts as it does gorgeous family-run lodges, plus an abundance of activities/excursion. Your Costa Rica adventure honeymoon budget will really depend on how much you want to do and where you want to sleep.
Most couples spend between $3,000 and $5,000 – the difference dictated by choice of accommodation, a few delightful splurges and the time of year they visit. Visiting at prime tourist season and booking at the last minute are perhaps the biggest drivers of honeymoon budgets! Read our Honeymoon Budgeting Tips Guide to know more.
Plan Your Ultimate Costa Rica Honeymoon Adventure!
How Many Days Should You Plan for a Costa Rica Honeymoon?
To truly enjoy your Costa Rica honeymoon, we recommend planning a 7–10-day adventure vacation. This is a perfect time-frame and in-arguably the most popular option, regardless of where in the country you'd like to explore.
If you're visiting for the very first time, this allows for a varied itinerary that includes the most famous highlights. If you wish to explore more remote areas, this will also be enough time to reach highlights that are way off the beaten path. The only caveat? You arguably cannot do both (see the most famous AND remotest highlights) in just 7-10 days and still keep the relaxing travel pace that makes honeymoons enjoyable. We'd recommend planning a 2-week honeymoon if you wish to see and do it all.
You'll want to aim for two distinct destinations per week on a Costa Rica honeymoon. Simply choose your two favorite hot-spots and use them as you base, and you'll find a bevy of adventures and indulgences to enjoy every day.
Find out more about Planning Your Costa Rica Honeymoon.
The Best Months for a Costa Rica Honeymoon
High tourist season runs between mid-December and the end of April, a time of year when Costa Rica enjoys brilliant blue skies and little rain. These are the busiest and most expensive months for honeymoon adventure vacations, although the former is not an issue if you plan to explore more remote areas of the country.
A brilliant aspect of this country, however, is that there is always room for compromise! As an example: when rains start pouring on the western (Pacific) coast in September, they dissipate on the eastern (Caribbean) coast. Plus, the entire country enjoys what's known as a 'mini summer' in June and July, a blissful dry spell between the brief rains and the BIG rains.
Essentially, this means that you could just about plan to visit at any time of year (especially as some rain is always to be expected in such a tropical country), with consideration only given to where, in the country, you should head to.
Plan Your Ultimate Costa Rica Honeymoon Adventure!
Top Things to Do on a Costa Rica Honeymoon
Nature-obsessed newlyweds have an absolute field-day in Costa Rica, the country's pristine wilderness and abundance of outdoor activities creating postcard-perfect backdrops for unforgettable adventures. One-third of the country is set aside as protected reserves, encompassing rain forests, endless miles of unspoiled tropical beaches, volcanoes and cloud forests, all inhabited by a kaleidoscope of iconic wildlife.
The most popular activities in Costa Rica that make for a well-rounded honeymoon itinerary include:
Spending a day at one of the country's best natural thermal spring resorts
Rafting or kayaking world-famous white-water rivers
Keeping your eyes peeled for sloths, toucans, monkeys, tapirs, coatis and so much more, every time you head outdoors
Staying at a remote eco-lodge to unplug from the rest of the world
Chasing waterfalls!
Going on a night-time wildlife spotting excursion
Tackling a canopy zip line and hanging bridge tour
Hiking up a famous volcano (and mountain biking down!)
Snorkeling, surfing or relaxing on a gorgeous beach (so many to choose from!)
Meeting locals and enjoying cultural experiences (visit remote villages and tour working coffee and cocoa plantations)
Hiking at every chance
Horseback riding in some of the most magnificent national parks in the world
Indulging in romantic escapades like sunset catamaran tours, candle-lit dinners, wellness treatments for 2 and overnight stays in adults-only honeymoon lodges
Plan Your Ultimate Costa Rica Honeymoon Adventure!
The Best Regions to Discover on a Costa Rica Honeymoon
Every corner of Costa Rica is a delight to discover, yet a select few make for particularly rewarding honeymoons. These are the regions that boast a range of exquisite lodges and an array of activities that make itinerary-planning so easy.
Arenal & Manuel Antonio National Park – The top choice for honeymooning couples visiting for the first time, Costa Rica's two most famous highlights make for a fantastic itinerary. Arenal is where you can enjoy hot thermal springs, zip line tours, hiking and rural excursions and, in Manuel Antonio, is where you'll discover the best national park for wildlife spotting – here, the luscious rain forest literally tumbles on a sublimely white sandy beach. Pure honeymoon perfection!
Guanacaste – Comprising Costa Rica's north-western side (including most of the Nicoya Peninsula), Guanacaste offers a little of everything that makes the country so idyllic. On the mainland coast is where you'll find the most luxurious resorts and best-equipped beaches, while the southern peninsula is all about remote seaside villages and luscious national parks dotted with isolated eco-lodges.
The Osa Peninsula – For lovers of remote getaways who are craving some alone time on their honeymoon, the Osa is ridiculously perfect. The single most bio-diverse and lesser-developed corner of Costa Rica offers unique wildlife and wilderness experiences for those who want to get away off the beaten path. A smattering of high-end lodges means you can still enjoy some honeymoon luxury, which is marvelous given the extreme wilds of the peninsula. Barefoot and luxury romance at its best!
Limon – The adventure-seeking playground of the east, the Limon Province makes up the entire eastern (Caribbean) coastline of the country and is where active newlyweds find the very best adrenaline rushes. This lesser-developed side is a tropical dream, with the world-renowned Tortuguero National Park in the very north and uncrowded surfing beaches in the south. Inland is where you can raft and kayak the Pacuare River, undoubtedly the country's (and one of the world's) best whitewater rivers.
Plan Your Ultimate Costa Rica Honeymoon Adventure!
The Most Beautiful Honeymoon Resorts and Eco-lodges in Costa Rica
Droolworthy honeymoon resorts and eco-lodges are among Costa Rica's best calling cards. When this country puts in an effort to deliver 'magnificent paradise', it really doesn't hold back.
For that special indulgence on a once-in-a-lifetime trip, here are a few amazing options:
The Four Seasons, Papagayo Peninsula – Guanacaste Province
The Four Seasons Resort continues to lead the pack in a corner of Costa Rica that's absolutely replete with luxurious all-inclusive resorts. And what's not to love? With its incredible coastal views, an in-house wellness spa, gourmet dining, a private golf course and plenty of adventures on offer, this is the five-star honeymoon luxury everyone dreams.
Nayara Springs Resort – Arenal Volcano – Alajuela Province
Fancy your own private thermal pool right outside your exclusive villa? Nayara is where you'll find it. Ironically, this incredibly isolated resort is set within the most visited area of Costa Rica, but you'll certainly never feel its genially central location. A Forbes Magazine favorite, Nayara is an adults-only pocket of paradise, with world-class spa, dining and volcano views to match.
Origins Luxury Lodge – Upala – Guanacaste Province
Part of the Mantic Collection of lodges, Origins has redefined 'eco-friendly wellness retreat', boasting only seven super-deluxe villas, nestled amidst a luscious landscape of tropical wilderness. This all-inclusive eco-lodge was considered Costa Rica's best honeymoon eco-lodge almost as soon as it first opened just a couple of years ago. Geared primarily for couples, Origins oozes romance at every turn – just check in, unpack, soak in your own private hot tub overlooking the Pacific and get ready to be seriously pampered. This spot is dreamy beyond words.
Kura Boutique Hotel – Uvita – Puntarenas Province
Another brilliant adults-only choice that's tailor made for honeymooners, Kura showcases a modern elegance that belies its remote location. Nestled deep and high in the jungles above Uvita, along the beautiful Costa Ballena, the Kura experience is all about soaking up breath-taking sea views from the infinity pool, romantic and delectable sunset dinners, daily couple massages and star gazing long after the sun has set. A truly magical honeymoon experience!
Tiki Villas Rain Forest Lodge & Spa – Uvita – Puntarenas Province
Just steps from one of Costa Rica's most coveted beaches (Hermosa), Tiki is a Balinese-style luxury honeymoon lodge that boasts a jaw-dropping location. Framed by a pristine rainforest home to a cacophony of birds, Tiki boasts a drop-dead gorgeous pool and every room has stunning indoor and outdoor showers. The enchanting design, warm welcome and peaceful vibe make it the ideal spot for a stint of R&R on your Costa Rica honeymoon.
Plan Your Ultimate Costa Rica Honeymoon Adventure!
Beware the Pitfalls! What NOT TO DO on a Costa Rica Honeymoon
Now that you know all the fabulous things to do on your Costa Rica honeymoon, it's time to point out a few things you definitely will NOT want to do.
Don't book at the last minute – This is especially crucial if you wish to honeymoon here between January and April and you wish to spend a couple of nights in one of the country's best honeymoon lodges. These are the places that get booked out months in advance. Avoid having your options restricted and paying top-dollar for everything and book way ahead of time.
Don't pack too much in your itinerary – Many adventure-seeking newlyweds fall into the trap of trying to fit too much into their itinerary. Take a leaf from the expert's books and don't be tempted to explore more than two destinations per week. With slower-than-expected transfers and time spent checking in/out every day etc, you'll just end up exhausted and frustrated. The best honeymoon itineraries are ones that perfectly combine 'action' with romantic downtime, and you'll end up doing neither if you're moving from place to place every other day.
Don't fly into the wrong airport – Many people don't realize that Costa Rica is served by two international airports. Aside from the one in San Jose (the capital city), there is also a convenient airport in Liberia, which genially services the whole northern (Guanacaste) province. Choose the right airport for your chosen destination and, between arriving and departing, you could save an entire day of unnecessary transfers.
Don't mistake a surfing beach for a swimming beach – Costa Rica is renowned as a swimming and surfing paradise, but this doesn't mean you can do both on every beach. The best surfing beaches in the country are truly world class, which can make them dangerous to swim in. Know where you're headed and the beach you'll have access to, before you book in your plans.
Don't forget to pack your (eco-friendly) SPF and insect-repellent – Know what can totally ruin your honeymoon? Sunburn and a gazillion insect bites! Sunscreen is an absolute must in Costa Rica, especially if you're coming during the northern hemisphere winter months. The sun down here can be brutal, and so can the insects, so be prepared.
Don't skimp on the cultural experiences – Costa Rica's outstanding wilderness and wildlife always take center-stage yet it's quite priceless to delve a little into the rich local culture during your honeymoon vacation. Whether it's taking a coffee tour or a local cooking class, attending a festival, visiting a museum or enjoying a meal at a local soda, there are countless ways to tap into Tico culture during your visit.
Don't avoid rain season – Sure, you're likely to experience some torrential downpours if you visit between May and November but, on the other hand, you'll also save a neat bundle, see fewer tourists and more luscious wilderness, and experience much cooler temperatures. Overall, off-season honeymoons can be immensely rewarding, especially as you can pour those amazing savings into a longer itinerary.
Don't get hit with crazy roaming charges – Ouch! Roaming on your mobile in Costa Rica can incur steep fees so most visitors only access the internet when they're in their hotel. If you'd like to be connected on the go, pick up a local sim card at the airport on your way in. Read this handy Guide to Buying a Pre-Paid Sim in Costa Rica.
Don't avoid domestic flights – Domestic flights may be a little on the expensive side, but they can save you a ton of time if you wish to visit several remote areas. Keep in mind, however, that small regional planes have restricted baggage allowance, so this might dictate how much you can pack if you don't wish to pay expensive overweight fees.
Which brings us to the next section…
What to Pack for a Costa Rica Honeymoon
Minimalist packing is the way to go when honeymooning in Costa Rica – between the various transfers and activities you'll want to do, getting bogged down with heavy suitcases is the last thing you'll need.
First up: compression cubes are an adventure seeker's best travel companions. Not only do they save a lot of suitcase space (so you can take a smaller bag) but a set of compression cubes will curb your over-packing tendencies. Well, as long as you stick to the rule that you only pack what fits in your set, that is!
If you're wanting to spend most of your time in the great outdoors, rather than sightseeing in cities, your luggage should include mostly athletic clothing, made from breathable, quick-dry materials. You certainly don't need to drop serious dollars in new gear, mind you, just remember to have lightweight pieces that can be washed at night and will be dry by next morning.
Local Tico culture is very laid-back, so don't worry about being 'too casual' when out and about in Costa Rica, unless you are specifically heading to a fancy restaurant. In that case, just one lovely going out outfit will do. Don't forget to pack a swimsuit (a sporty once piece is better, given all the water-based activities) and something to relax in by the pool or beach.
You will probably change 2-3 times a day on an action-packed honeymoon, so pack enough sets of sporty clothing for 2-3 days. Then simply wash, dry and repeat.
For rain forest walks, we recommend long-sleeve tops, pants, and closed-toe shoes that dry quickly, such as Keens.
The Best Honeymoon Adventure Vacations in Costa Rica
Planning a honeymoon itinerary that combines the best Costa Rica offers is not as difficult as you might imagine. At Costa Rica Rios, we are your adventure vacation experts – we have created an array of amazing honeymoon itineraries and, best of all, offer bespoke planning services, so you get to Build Your Own Honeymoon. Simply tell us what you'd like to do and your honeymoon budget, and we'll do the rest.
The most hassle-free and unforgettable Costa Rica you could ever have?
You bet!