Had you traveled to Costa Rica  a decade ago, almost half the country would have been considered one colossal hidden gem. With the lack of modern infrastructure and paved roads, most of the gorgeous natural treasures were only accessible to those with a 4WD vehicle and nerves of steel.  Today, Costa Rica gems have been made more accessible to tourists looking to spot a once-in-a-lifetime spot that's just breathtaking.
Government initiatives over the last few years have aimed at bridging the gap between superlative five star eco-lodges and below par infrastructure.  It has gone a long way in making most of the country accessible, to most of the visitors. But does that mean that every single corner of Costa Rica has been developed and exploited? Not by a long shot.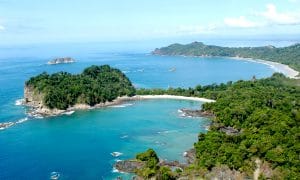 You can head here in high season and head to the Manuel Antonio National Park, and spend your days sharing the immense natural treasures with hordes of fellow tourists. Or…you can skip the crowds altogether and discover the side of Costa Rica which, despite the highways and resorts, seems to be utterly untouched by the passing of time.
Below are some of the best hidden gems in the country, which you'll find way off the beaten tourist path.
This most delightful wildlife refuge and ecolodge is set amidst primary and secondary forests along the Pacific coastline in central Costa Rica. Renowned as a nature and wildlife lover's paradise, Hacienda Baru offers the chance for innumerable treks right outside their charming bungalows and is ideal for anyone who wants to get back to the basics and forego epitome luxury for a truly organic experience.
Turtles nest on the shores to the west, a high canopy walk and platform satisfy bird lovers and platform tents are perfect for those who wish to simply get away from it all. The amenities are basic but certainly do the job, yet it's the outstanding setting which really sets this ecolodge apart from all others. If you wish to include a couple of days of bona-fide forest living then this spot is definitely ideal for you.
Nearby hacienda Baru is where you'll find Cataratas Nauyaca, a less hidden treasure perhaps, but an equally stunning one. Horse trek tours to the falls are popular with passing visitors, yet the somewhat arduous hour-long hike can be done independently and is extremely rewarding. The falls themselves are out of this world, with a 130 and 65 feet drops over tiered landscapes. The best part? That would be the glorious 10,000 square foot sparkling pool in which they cascade. Bring a packed lunch and your swimmers and spend an entire day here. It's heavenly!
One of the most overlooked national parks in the country hides a complex system of live caves which are thrilling to explore at length. The perfect destination for adventurous explorers, the caves at Barra Honda descend up to 780 feet underground, and showcase a breathtaking collection of stalagmites and stalactites. Amazingly, the flatness above ground belies the treasures hidden within. There are over 40 caves which have been discovered below, only 20 of which have been, mapped out. Visit Pozo Hediondo and its colony of 5000 bats and the magnificent Hall of Pearls. To explore the caves on your own, you must bring climbing equipment and register your visit. Alternatively, you could always join an organized tour.
The Boruca are an indigenous tribe in the Costa Rican south-Pacific region. This reserve was the first of its kind to be established (in the 1950s), and was aimed at protecting and nurturing the ancient lifestyle and customs of the country's indigenous population. Renowned for their arts, crafts, and incredibly colorful celebrations, the Borucas are a proud people who are always happy to welcome visitors into their village. If travelling to Costa Rica for New Years Eve, you can organize a personal visit to the tribe, where you'll witness the amazing 3-day long Fiesta de los Diabilitos, where the tale of fights between natives and conquistadores is told via dances, vivid and scary masks, music and much fanfare.
Those who have stumbled upon Samara Beach, just a short drive away from Nicoya town, will attest to it being one of the country's best swimming spots.
The town itself is gorgeous, without any major amenities (no ATMs) but with a smattering of cute B&Bs and lovely cafés. The shores are spotless and waters pristine, so if you're looking for that one 'heavenly' spot in which to end your tour of Costa Rica, in sublime peace and quiet, then consider your search complete.