(Infographic) Guide to Turtle Nesting on Costa Rica Adventure Vacations
January 21, 2020
Costa Rica is one of the world's best turtle nesting sites and its beaches are protective ground for six distinct species, namely the Olive Ridley, Atlantic Green, Pacific Green, Leatherback, Hawksbill and Loggerhead. Watching the spectacle of colonies of sea turtles nesting on a beach, or little ones hatching and rushing into the surf, is one of the most coveted 'must-do' experiences on adventure vacations in Costa Rica.
Interestingly enough, given the fact that both the Pacific and Caribbean coastlines of the country are prime spots for nesting, and also considering that different species nest at different times, there is actually a nesting and hatching event happening somewhere in Costa Rica, at any time of year you visit. However, whilst some sites are easily accessible and reliable enough to be considered 'prime turtle nesting watching spots', others are remote and, at times, completely inaccessible. To increase your chances of witnessing this incredible event, you'll want to set your sights on the most prominent spots.
Check out the infographic below, which highlights where each species of turtle is likely to be found.
https://www.costaricarios.com/costa-ricas-magical-arribada-olive-ridley-turtles/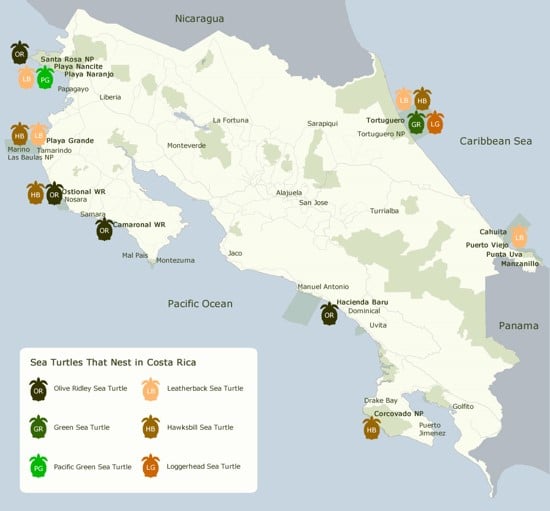 A quick glance of the above map highlights the three most prominent turtle-watching destinations in Costa Rica: Tortuguero National Park on the north-eastern Caribbean coast, and the north-western Pacific Coast, and the western coast of the Nicoya Peninsula, most especially on Ostional Beach – where current arribadas (mass nesting events) over the last week have been absolutely astonishing.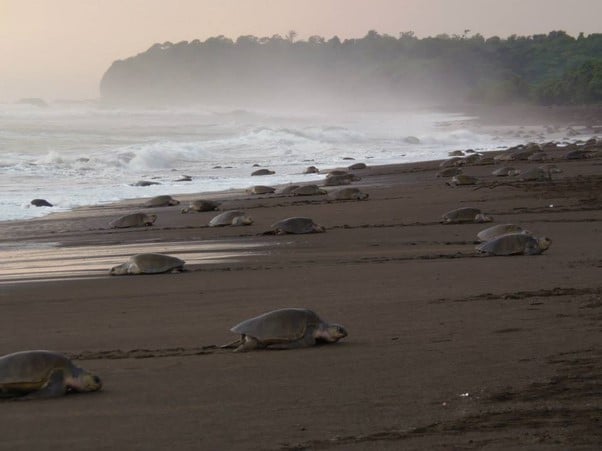 When it comes to arribadas, it's always worth mentioning that although nesting events are timely and dependable, they are still dictated by Mother Nature so there's never a way to actually guarantee a sighting. You can read more about the magical arribadas of Olive Ridley Turtles seen nesting above on Ostional Beach, where you'll learn that nesting instincts are still mysterious to scientists and that, although turtles nest in their favourite spot all year long, there are periods when they turn up, over a matter of a few days, in their thousands.
Here's a quick overview of the prime nesting (large turtle icon) and hatching (small turtle icons) in Costa Rica:
https://costa-rica-guide.com/wp-content/uploads/2015/04/Turtle-Nesting-Hatching-Calendar-Locations.png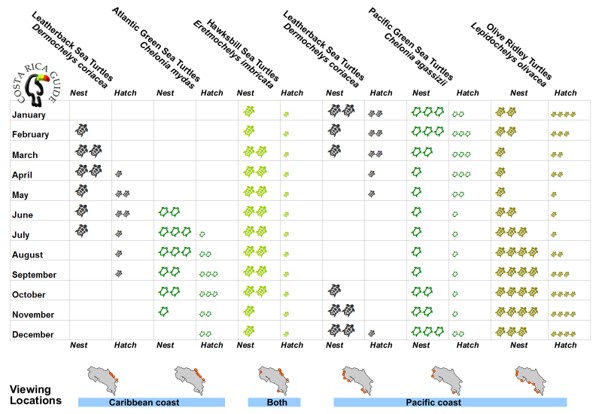 You can easily combine the info on the two graphics to ascertain when the best time of year is to see nesting of various turtle species. Considering that most visitors will probably not be too focused on a specific species – but rather the greatest chance of seeing mass nesting events of any turtle – the very best time to visit on Costa Rica adventure vacations is:
between August and November to see nesting on the Pacific side, for Olive Ridley Turtles, renowned for having the largest arribadas of all
in March and April (Leatherback) and again August and September (Green) in Tortuguero on the Caribbean side. Tortuguero boasts the largest nesting site for Green turtles in the western hemisphere
Adding a Turtle Nesting Visit On Your Adventure Vacation in Costa Rica
At Costa Rica Rios, we are experts at including incredible turtle nesting events to our itineraries, depending on the time of year you visit (and where) as well as up-to-date information we get on the ground. Although it is impossible to pre-plan a visit solely for the purpose of seeing an arribada (you could try but you'd want to stay in one spot for a few weeks!) we are constantly updated on current events, as they unfold, nearby our prime spots.
Witnessing turtle nesting events in Costa Rica is (and should be) a highly regulated affair, as overcrowding on beaches (by visitors) can have detrimental effects on the wildlife. Always visit a nesting beach with a guide and always follow their instructions. This way, you'll have the best and most rewarding experience of all: you'll witness one of nature's greatest spectacles and know your visit will not have any negative impact.
For this and everything else you'd like to know about adventure vacations in Costa Rica, contact us today.