Fabulous Family Adventure Vacation Ideas in Costa Rica 2021
With its abundance of wilderness adventures, outstanding (and sustainable!) tourism infrastructure, and a wonderful child-friendly culture, Costa Rica is one of the world's best destinations for family vacations. In 2021, the country also rates as the most convenient travel hot-spot for North Americans given the ease of travel – Costa Rica is open and welcoming of international tourists and does not require visitors to take a COVID-10 PCR test nor tackle any kind of quarantine.
If that's not enough, Costa Rica is also about to embark on its 'mini dry season' – a month-long gap during the Green Season when rain tapers off. Alongside cooler temps and lower tourist numbers, you and your family can also take advantage of special Green Season discounts on all Costa Rica Rios Family Adventure Vacations.
Start planning your bespoke adventure today!
Need more enticement to plan an epic 2021 family adventure vacation in Costa Rica?
Here are just a few ideas to get you started!
The Family Favorite – Manuel Antonio
Costa Rica's most visited destination is blissfully uncrowded and thoroughly enjoyable between June and September. The small and compact park can feel a little squeezy during the first four months of the year so visiting with kids in tow during the Green Season is an absolute win. In and around Manuel Antonio, the options for active fun are innumerable – you can enjoy miles of white sand, palm-fringed beaches, explore mangroves on a guided canoe trip, and immerse yourself in the rain forest wilderness on a guided hike in search of wildlife. The latter is perhaps the most rewarding for families – the park's exotic residents are more elusive when trails are busy so spotting them is a lot easier during the Green Season.
Start planning your bespoke adventure today!
What can you do in Manuel Antonio?
The beaches of Manuel Antonio are perfect for kids of all ages – there are calm waves and protected coves for little ones to frolic and amazing snorkeling, kayaking and surfing for active older kids and their equally active parents. But it doesn't end there!
In and all-around Manuel Antonio, you'll find a bevy of excellent adventures that will invigorate everyone. From SCUBA diving to zip-lining and whitewater rafting, jet skiing, parasailing and even sport fishing – these are just a few of the amazing outdoor adventures this exceptional area offers.
The Family Adventure Vacation Hot-Spot – Arenal Volcano
The iconic peak of Arenal is Costa Rica's most distinctive natural feature and its namesake national park bursts with super fun adventures for the entire family. The crown jewel might be this most photogenic peak but the stellar infrastructure and tourist offerings mean your options for outdoor Costa Rica adventures here are exhaustive.
What can you do in and around Arenal?
Much like Manuel Antonio, Arenal also offers land and water-based fun, with an abundance of walking trails, canopy tours with hanging bridges (so you can soak up the stellar scenery from above), thrilling zip-line tours, aerial tram rides, and oodles of lake-based sports. Here, you'll also find an excellent array of family-friendly hot spring resorts with all the amenities and comforts you'll ever need. Want to include adventures of a different kind when visiting Arenal on a family vacation? Then include a chocolate farm tour, visit a wildlife rescue mission or delight the kids on a classic ATV tour.
Start planning your bespoke adventure today!
Want to combine these two amazing destinations?
Manuel Antonio and Arenal are the two most popular destinations for adventure-seeking families visiting Costa Rica. Given their proximity to one another and the capital, San Jose, a two-for-one adventure is immensely enjoyable. Spend less time on transfers and more time on fun adventures like whitewater rafting, horseback riding, hiking, hot spring soaking and rewarding guided hikes in the most celebrated national parks in the entire country.
See how we combine these two gems on our aptly named Family Favorite Adventure Vacation
The Magical Family Getaway – Monteverde Cloud Forest
The ethereal cloud forests of Monteverde are a sight to behold and one of the most enchanting natural highlights Costa Rica offers. The world is a little different, up here – the temperatures are cooler and nature much denser than in other parks. Bird lovers from all over the world head here to glimpse the breathtaking resplendent quetzal during Green Season. Even if you're not an ornithologist, we bet you and the kids will be overawed by the cache of exotic birds (and other unique wildlife) these forests host.
What can you do in and around Monteverde?
The adventure park boasts suspended walking trails, a stunning hummingbird garden that captivates young and old alike, and one of the best and longest zip line courses in the world. Don't miss the night-time wildlife spotting tours and if your family is keen to try a horseback riding excursion, do know that Monteverde is about the best place in the country to do that! Monteverde is also genially located in the heart of adventure country, so if you'd like a few hard-core activities like canyoning and rappelling, there are plenty more options from which to choose.
Start planning your bespoke adventure today!
Have more time to adventure in Costa Rica?
Extend your visit to Costa Rica and you can easily combine these top 3 destinations – add Monteverde to your Manuel Antonio and Arenal vacation and enjoy a comprehensive 10-day Active Family Adventure you will never forget.
The Best Beach Family Adventure Destination – Guanacaste
Costa Rica's driest region is a hotbed of beach-bumming fun during Green Season and about the best place to head to, on the western Pacific coastline, if you wish to spend most of your time swimming, surfing and snorkeling on a gorgeous stretch of tropical beach. With its many charming seaside towns, clean beaches, clear water and calm waves, Guanacaste is considered the best spot for family beach vacations and is ideal to visit at this time of year.
Playa Samara is one of the most enjoyable Guanacaste beaches to visit with kids – you'll find a host of surfing schools offering beginner lessons and can rent boogie boards, SUP and snorkeling gear to keep the kids entertained all day long. Other exceptional Guanacaste beach towns to visit with kids are Hermosa near Playa Coco (arguably the best swimming beach with small kids) and Playa Conchal, with the most turquoise shallows you'll ever see. This is a top spot for snorkeling right off the beach.
Start planning your bespoke adventure today!
What can you do in Guanacaste?
If you love the idea of a beach family vacay in Costa Rica but wish for even more adventures, then let us guide you to Tamarindo. This gorgeous seaside town is set on the western shores of the Nicoya Peninsula but easily reached by car from the capital in just a few hours.
Once here though, you'll discover a whole other side to Costa Rica AND the Guanacaste province. We're talking the best of both land and sea faring adventures: zip lining, horseback riding, hiking and more on land, with equally awesome SCUBA diving, snorkeling, kayaking and sailing, just off the coast.
The Off the Beaten Path Family Adventure – Osa Peninsula
Adventurous families planning a unique experience in Costa Rica should look no further than the Osa Peninsula. This wilderness haven requires an internal flight once you've landed in San Jose, but this is the kind of travel 'effort' no family ever regrets.
The Osa Peninsula sits at the southwestern corner of Costa Rica and hosts the world-famous Corcovado National Park. This is the most bio diverse nature reserve in the country, home to its last remaining virgin rain forests. This destination is way off the tourist path and it is even more mesmerizing to visit during the Green Season.
Home to an abundance of wildlife and offering unmatched wilderness experiences, the Osa is all about slow-paced adventures immersed in pristine nature. The place you head to if you wish for your family to unplug from the everyday, wake up to the sounds of howling monkeys, and experience a truly life-changing journey.
Start planning your bespoke adventure today!
What can you do in the Osa?
With plenty of hiking, wildlife-spotting, snorkeling and boat trips to enjoy, not to mention a handful of sensationally remote eco-lodges in which to stay, the Osa Peninsula is perfect for any family who wishes to soak up the very best Costa Rica has to offer. There are also plenty of mountain tours, ziplining and outdoor sport options here too.
Why?
Because THIS is Costa Rica!
Enticed by a Costa Rica adventure way off the beaten path?
Costa Rica is brimming with innumerable hotspots that are lesser-known, lesser-visited yet as enchanting as the most famous. On our 9-day Family Adventure Off the Beaten Path, you can explore three of the most captivating remote areas in the country and experience the country's most unspoiled treasures.
Start planning your bespoke adventure today!
The Active Family Must Visit – Turrialba
If you have very active kids aged 6 and above, then Turrialba might just be your family's most unmissable destination. The adventure capital of Costa Rica and one of the world's best whitewater rafting hubs, Turrialba is where adrenaline-packed dreams are realized. Although renowned for its kick-ass extreme sports, the area actually offers a plethora of adventures that are soft enough for younger kids to enjoy too.
What can you do in Turrialba?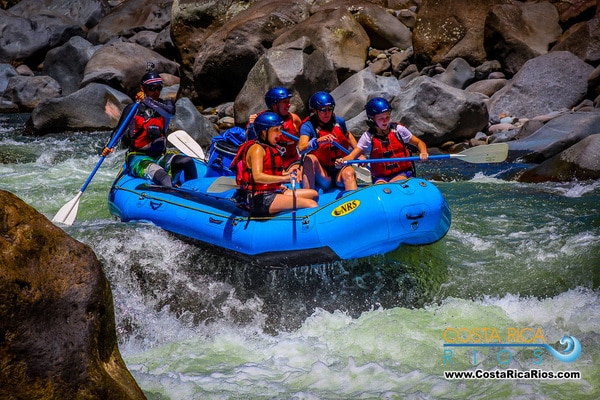 All of our Turrialba Activity Options, in fact, are tailor-made for active families. In this hidden and most jaw-dropping corner of Costa Rica, you can enjoy a spectacular 2-day extreme adventure with kids aged 12+, send your intrepid 6-year-old down thrilling rapids on a kayak (with a professional guide, of course), tackle a heart-thumping canyoning course with your 10-year-old and experience the thrills of a volcano mountain biking tour with your fearless 12-year-old.
If you've ever dreamt of a super active, spectacular and unforgettable family adventure vacation in Costa Rica, Turrialba is where you'll want to go!
Discover why Turrialba is Costa Rica's best adventure destination for active family vacations
Ready to plan your once-in-a-lifetime family adventure vacation in Costa Rica? We're here to help! At Costa Rica Rios, you'll find an array of ready-made itineraries for inspiration and an expert adventure guide ready to create a private and bespoke vacation that combines all the activities you love most.