Common Costa Rica Misconceptions Busted
April 03, 2018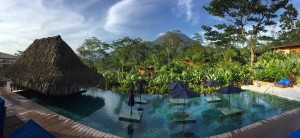 From the funny to the utterly weird, the unique and the most common, you'll be surprised to know that many first-time visitors to Costa Rica pack an abundant load of misconception along with their bathing suits and bug repellent when they visit. Whilst some are very valid (yes, you will encounter a lot of insects whilst traveling through this natural haven, even in 5* resorts) others are just downright off the mark and have the ability to turn people off visiting, which would be a colossal disservice both to the traveler and the destination.
To this end, we've collated the most common Costa Rica misconceptions we've heard over the years and busted them straight out of the warm, crystalline water.
Here are some of the most important:
Costa Rica is unsafe – MYTH!
Costa Rica is by far the safest country in Central America and one of the most idyllic for family adventure vacations. With a fervent love of children and strong family values, Ticos embrace children, all children, as if they were their own and this is one country where vacationing families finally feel like their children are valued and welcomed. Loads of fun activities, a wealth of fantastic wildlife and superb eco-lodges and resorts catering to families combine to make this a very safe and rewarding travel destination indeed.
You can save a ton of cash by staying in all-inclusive resorts – MYTH!
The best all-inclusive resorts in Costa Rica are exceptionally good value when compared with similar places back home but that's not to say that they are the best value here. The convenience of such resorts can't be overstated, that's for sure, but there are always restrictions as to how much you can eat, drink and do (most only offer inclusive non-motorized water sports, for example) so you will always have to spend extra to do, see, drink and eat more. And that little bit more will usually be offered at much higher rates than outside the resort door. Do your homework and research thoroughly when planning to stay in all-inclusive resorts: do it if they offer everything you need but don't assume you will spend less. In most cases, you will spend more.
Costa Rica is 'backwards' – MYTH!
Many first-time visitors are shocked to see how modern and avant-garde Costa Rica really is, most especially in the largest cities. With wifi, electricity, malls, sealed highways, top-notch hotels, great restaurants, fab malls and everything else you'd see back home, Costa Rica is certainly not lacking in modernity. On the contrary, the country's fervent passion to nurture its wilderness and wildlife is a true testament to how advanced it really is. With a literacy rate in the 90% bracket, world-class healthcare, affordable education and thriving tourism sector, Costa Rica is one of the most progressive countries you'll ever visit.
Costa Rican food is too spicy – MYTH!
We guess it's reasonable to assume that many think the local cuisine is similar to that of its neighboring countries. But, unlike many in the region – most especially Mexican – Costa Rican fare is much simpler and much, much milder. Locally-grown organic produce is available everywhere and food here is wholesome, delicious and enticing even to the fussiest child.
It doesn't rain in dry season in Costa Rica – MYTH!
It may certainly rain a lot LESS in Costa Rica during the dry season but this luscious country with abundant rain forests didn't get to be so verdant and fertile by suffering droughts for months on end, every year. Always pack a rain jacket and always expect a short but refreshing downpour, no matter where you go and no matter what time of year you visit.
All Costa Ricans look the same – MYTH!
Blonde, redheads, white skin or black: Ticos come in all shapes, sizes and skin colors due to the long-held immigration influx which has created an absolute melting pot of ethnicities, cultures and cuisines. It's one of the main reasons why Costa Rica is such a fascinating and enticing country to visit.
You can't flush toilet paper in Costa Rica – TRUE!
Ok, so here's a myth we can't (and would never want to) bust. The country's plumbing was never built to accommodate for excessive amount of toilet paper and, since many systems are septic or composting, you'll find 'toilet paper bins' in every toilet stall, all over the country. So…do the right thing…and pop it in the bin!
Costa Rica is only about beautiful beaches- MYTH!
The country's beaches are worthy of all the accolades bestowed but if you think all there is to this superlative country are endless stretches of pristine shores then you will be immensely surprised. A maze of almost 30 national parks combines to protect one of the highest concentrations of biodiversity on earth, with active volcanoes, raging rivers, sparkling lakes and several types of tropical forests all harboring a mind-boggling array of unique and endemic wildlife. On an adventure vacation to Costa Rica you could certainly enjoy a few days at the beach but you can also zip line, whitewater raft, kayak, mountain bike, hike, soak in thermal springs and go wildlife spotting galore. There is just SO much to see and do here…and enjoying the stellar beaches is just one small (yet delightful) component of any visit.
In Costa Rica, it's easy to rent a scooter and tour around independently – MYTH!
Possible? Sure! Easy? Not quite! Photos of Ticos getting around on their scooters have led many to believe that anyone can just visit and follow suit. But fact is, between the winding roads, long distances and sporadic traffic, getting around on a scooter – for foreigners – can be dangerous, most especially if you're not an experienced motorbike rider. Costa Rica is certainly not the kind of country you come to learn that skill. Many roads in the country are narrow and steep and boast no shoulder protection at all so unless you're a seasoned professional (ie. born here) best leave that option alone.
You can fly to Costa Rica with just your driver's license as ID – MYTH!
It's been many, many years since North Americans were able to get in and out of Costa Rica without a passport yet, somehow, this misconception still lingers. Those days are well and truly gone so, in order to avoid disappointment, renew your passport!
Costa Rica is an island – MYTH!
Given the above-mentioned misconception about our beaches it's also understandable to know that many think of Costa Rica as just one colossally beautiful island. But alas…it is not! Connected by land to Nicaragua in the north and Panama in the south, Costa Rica is part of that isthmus neck that joins North and South America. Framed by the Pacific Ocean on the west and the Caribbean on the east, the country does boast a mind-boggling stretch of coastline but it is, indeed, quite attached.
Fancy busting some common Costa Rica misconceptions for yourself? Why not come discover this perfect paradise we call home? Visit our CostaRicaRios Adventure Vacation page and see for yourself how fun, safe, rewarding and utterly unforgettable a trip to Costa Rica can be!