Whitewater Kayaking Season Is Almost Upon Us
August 26, 2014
Well it is that time of year again when you whitewater kayaking junkies start thinking about heading south for the winter to get your off season fix. At Costa Rica Rios we have been planning for your arrival over the past several weeks and our team is raring to go.
Boasting the largest fleet of whitewater kayaks in Central America, Costa Rica Rios is still the country's number one outfitter. Our guides have been busy over the last year with our four head kayaking leaders, Walter, Arnaldo, Davies and Daniel all gaining certification as ACA level 4 instructors. We are now the only kayaking company in the Costa Rica that has local guides with such a certification.
Next month will see us step up our preparations in earnest and we will be heading on scouting missions all over the country to see how our rivers have are. As many of you have paddled here in the past will know, our rivers change constantly with the amount of rain we receive in the rainy season. We're always one step ahead and by the time you get here we will have all the insider knowledge that comes with being based in-country year round.
This week saw our first kayakers of the season join us as part of their honeymoon. We spent two days on the Pacuare, with a compulsory overnight stop at the Pacuare River Lodge, before paddling out the next day. The river was a perfect medium flow and it allowed our honeymooners to kick off their first few days of married life together in adventurous style.
Our season is starting to fill up with January close to being full already. We still have availability on our October and November kayaking trips so for all guys starting to think of getting away this winter, now is the time!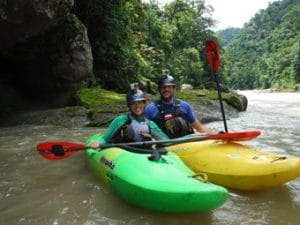 We can't wait to see all of our repeat guests this winter and we're looking forward to hosting some new faces down here in the tropics. Enjoy the rest of your paddling season up north and we'll see you all in a couple of months.
Pura vida!