WEEK OF ADVENTURES
HIGH SEASON
$2999
per person
GREEN SEASON
$2999
per person
Your Vacation At A Glance
Destinations
Turrialba
Pacuare River
Puerto Viejo
Includes
Accommodation
4 nights at Villa Florencia
2 nights at Eco Lodge
1 night at Cariblue
Activities and Adventures
Whitewater Rafting
Canopy Zipline Tour
Beginner Kayaking
Snorkeling
Canyoning or Mountain Biking
Meals
All Meals Included in the price
Transportation
All Ground Transfers Within Costa Rica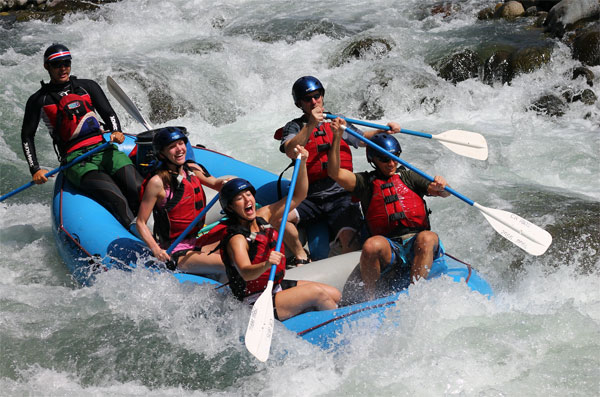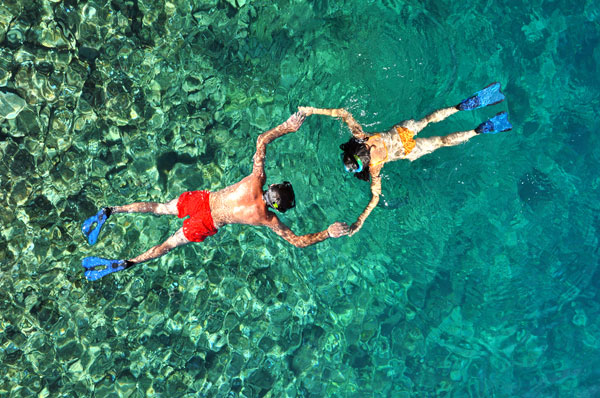 Arriving in Paradise
Your Costa Rica Rios guide will greet you at the Juan Santamaria International Airport in San Jose, Costa Rica (SJO) upon your arrival. Welcome to Costa Rica, your adventure vacation has begun! We'll begin the journey to Villa Florencia and our headquarters in Turrialba, about a two hour drive through orchards, small towns and beautiful coffee fields. Dinner included, as is everything else in this all inclusive package deal.
Welcome to Your Home Away From Home
Upon arrival in Turrialba you will settle into your home away from home: comfortable accommodation with tropical courtyard, volcano views, swimming pool, jacuzzi and relaxing hammock area. This evening you will enjoy a delicious and authentic Costa Rican meal prepared by the local chefs, and it's also a great opportunity to practice your high school Spanish, as you enjoy your head guide's company at dinner. The remainder of the evening is spent relaxing and getting ready for the week of adventures ahead. Get ready for the holiday of a lifetime!
Day 1
Learn the Basics of River Kayaking
After a filling breakfast and local Turrialba coffee, you are outfitted with river gear and prepare for your first day trip on the water. Using a unique practice site on a local river, you will become familiar with the kayak equipment, basic strokes and manoeuvres.
After some paddling instruction we'll tour down the Rio Pejibaye. The Pejibaye is a gentle class II/III river, perfect for learning. Most of the group is outfitted with inflatable kayaks.
More proficient kayakers may choose to use hard-shell kayaks, while others may help paddle an inflatable raft.
You will practice moving-water manoeuvring skills while keeping your eyes open for glimpses of Costa Rica's many beautiful birds and butterflies. Overnight Villa Florencia. Breakfast, lunch and dinner included in the cost.
Day 2
Overnight Tropical Rafting
Paddling Down a Tropical River
After enjoying another great breakfast, you are outfitted for the awesome three day and two night rafting trip on the world famous Lower Pacuare River – an adventure tour to remember! Today, enjoy 8 miles of challenging whitewater, and participate in riverside stops to hike up to secluded pools below tributary waterfalls .
Throughout the river trip there will be many opportunities for swimming or relaxing next to the river. This is the absolute essence of Costa Rica.
The Pacuare Eco Lodge
After some great hikes and wonderful rapids, the group arrives at the remote eco-lodge.
The Pacuare Eco Lodge is equipped with a full kitchen, showers, bathrooms, fully enclosed cabinas and the best vantage point of the beautiful river and jungle.
After settling in at the camp, you are free to practice in a kayak, swim, explore the jungle or just sit back in a hammock and relax. Tonight's dinner is prepared by your river guides, and consists of Costa Rican rice & beans, tropical fruit, vegetables and jungle chicken. Breakfast, lunch and dinner included.
Day 3
Zipline Canopy Tour & Tarzan Swing
Tarzan Would be Jealous
This morning we rise from our jungle lodging and enjoy a wonderful start to the day along the Pacuare River, observing and listening to the many species of birds. After breakfast, your guides prepare you to experience an adrenaline packed day in a rainforest canopy tour.
The group will harness up to experience the excitement of crossing the jungle canopy on ziplines and for the brave, the incredible Tarzan Swing. The afternoon is available to rest and relax in hammocks, spot birds and wildlife, swim in waterfalls or hike in the rainforest near the Pacuare Eco Lodge. Overnight Pacuare Eco Lodge. Breakfast, lunch and dinner included.
Day 4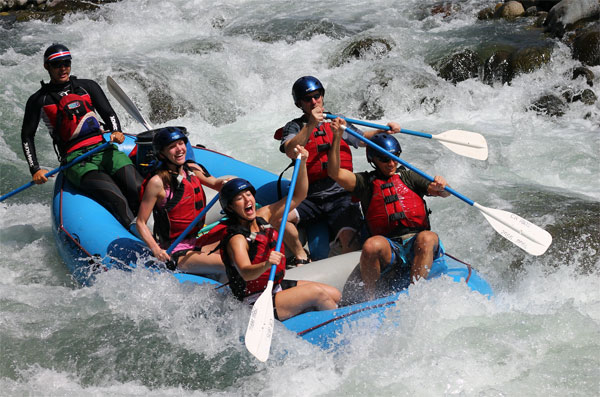 Challenging Rapids & The Beach
Jungle Wake-up Call
Those who enjoy the early morning will especially like a morning hike through the dense rain forest surrounding the lodge. After a hearty breakfast surrounded by tropical birds it's time to get serious about whitewater fun. Our rafting tour continues down the most challenging section of the Pacuare as class IV drops seem to be around every corner.
The spectacular river canyon and virgin rainforest create vertical walls of green, broken by waterfalls and hanging vines. This stretch of the Lower Pacuare River has been voted one of the top 5 commercially rafted rivers in the world by National Geographic, and will have you floating past primary rainforest, stunning waterfalls, steep canyons and fun class III and IV rapids. You will enjoy a sumptuous river picnic along the way before reaching the "take out" point in the Caribbean lowlands. Enjoying your holiday yet?
Experience Reggae Night
Our afternoon takeout allows time for a quick shower and change into dry clothes before we continue our journey to the Caribbean Coast of Costa Rica. You will enjoy a relaxing evening stroll along the beach, a spot of souvenir shopping, a delicious dinner and perhaps a beachside Caribbean dance club before calling it a night. Overnight Cariblue. Breakfast, lunch and dinner included.
Day 5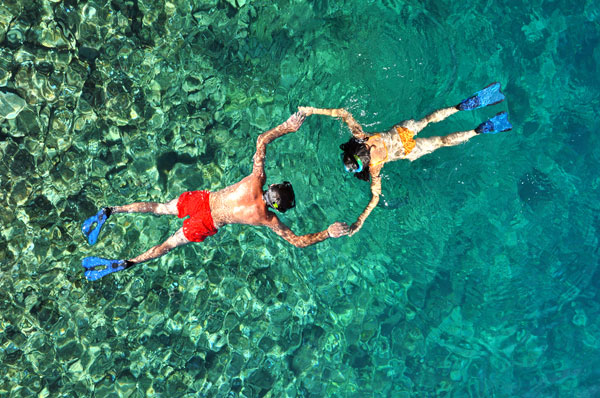 Snorkel, Beach & Wildlife
Beach Time
The white sand beach and clear blue ocean give us many choices today. Take an early morning walk along the beach and through the tropical jungle to spot howler monkeys, sloths and birds. After breakfast, you'll head to a beautiful Caribbean beach where we will take boogie boards and other fun beach toys. We take a break and enjoy a delicious lunch in a small local restaurant before going to the Cahuita National Park. After lunch we head out on a boat for a snorkelling tour adventure.
Tropical fish and coastal reefs await any snorkelers in the group or you can hike along the beach spotting wildlife in the jungle setting. Later we pack up and begin our journey through the flat Caribbean terrain, and up through the eastern slopes of the Costa Rica central mountains to Turrialba, where we will spend the night back at the base hotel. Overnight Villa Florencia. Breakfast, lunch and dinner included.
Day 6
Adventure Mountain Biking
The Crater Summit
For today's mountain biking adventure you select your bike in our bodega (the warehouse) and your guides will adjust the bikes to provide optimum comfort and performance for your journey down Volcan Irazú and through the cloud forest. The summit of Irazú is at 11,259 feet and offers spectacular views of the region and the volcano crater.
Prepare for an unforgettable mountain bike experience as you descend 9,200 feet to the town of Turrialba. Your route takes you through the National Park's lush cloud forest to the shoulder of the Turrialba Volcano and passes through small villages and hillsides laden with ferns and bromeliads.
We take lunch in a valley between the Irazú and Turrialba Volcanoes with a grand view of surrounding volcanoes. After a nice rest, we continue down into the valley and cruise back to the hotel in time for a shower and filling dinner. Overnight Villa Florencia. Breakfast, lunch and dinner included in the cost.
Day 7 Option 1
Canyoning
This is a full day canyoneering tour in a private reserve right in the heart of the rainforest.
You will have a local naturalist guide lead you along the trails before getting to the canyons.
From there it is a fun rock-scrambling, waterfall-rappelling day in a "leave no trace" environment. At each waterfall the guides will prepare the ropes as there are no permanent fixtures. You will enjoy a delicious typical lunch, cooked up by an older lady over a wood stove, with spectacular views down to the Turrialba valley.
You will also have the chance to see all sorts of wildlife during this part of the trip. It's a short scenic drive to the reserve past sugar and coffee plantations. You will get wet so make sure you have plenty of quick dry clothing with you. Overnight Villa Florencia. Breakfast, lunch and dinner included.
Day 7 Option 2
Leaving Costa Rica
Saying Goodbye!
We enjoy a great breakfast sharing our experiences. We say our good-byes at the airport and we start making plans for your return vacation to Costa Rica!
** Costa Rica Rios does its very best to adhere to the adventure tour itinerary listed above, but activities and locations may be subject to change due to a number of reasons beyond our control (i.e. weather, water levels and safety conditions).
Day 8