The Best Sightseeing in Costa Rica
Many people come to Costa Rica from all over the world to vacation in one of the most exotically beautiful and diverse places on Earth. From beaches, to forests, to lush rainforest terrain, the landscape offers something for everyone to enjoy. As one of the most stable, prosperous and progressive countries in Latin America, there are many sights to see while you are visiting.
It's important to note that 25% of Costa Rica is comprised of protected national parks; that's a higher percentage than any other country in the world. Costa Rica places huge value on protecting its diverse land and wildlife. While you are there make sure to check out the guided tours offered in these areas to truly get an idea of all Costa Rica has to offer.
The Monteverde Cloud Forest Biological Reserve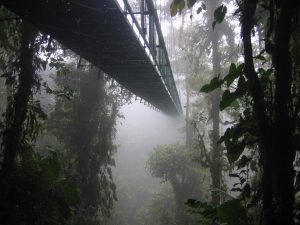 Monteverde is the undisputed champion when it comes to biodiversity. This park is home to over 100 species of mammals, 400 species of birds and too many plant species to mention. On a guided tour you will learn a lot about the region, the animals and the environments efforts in place to protect them. The tours are offered as hikes, horseback rides, canopy tours and even by zip line!
Tortuguero National Park

If you love sea turtles, and who doesn't, then you're going to want to visit one of Costa Rica's most popular national parks, Tortuguero. You can only get there by boat or by plane and the park closes at 6 pm each day (with after-hours tours available). While you are there you can see Hawksbill, Leatherback and Green Sea Turtles nest and lay eggs on the beaches.
Poas Volcano National Park
Switching gears, if you love the science behind how islands are created then you'll love a visit to Poas Volcano National Park where tour guides can inform you on all things volcano related! Also filled with exotic birds, this park is both educational and fun.
The beaches of Costa Rica offer serenity, sun and excellent sightseeing. Horseback beach tours are a wonderful way to experience Costa Rica. No matter how you choose to enjoy the scenery, you'll never be at a loss for something beautiful to look at!