Spotlight in Puerto Viejo and the Southern Caribbean Beaches
August 07, 2014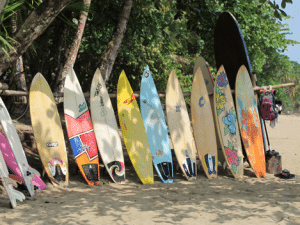 Puerto Viejo and Cahuita lie within the province of Limon and are the two main tourist towns of the southern Caribbean coast in Costa Rica. They are like a country within a country (think Texas) and you will feel like you crossed a border somewhere and ended up on a Caribbean island. The culture is very different than the rest of the country, with a more Rasta and Caribbean flair, unique cuisine emphasizing the use of coconut milk, curry and fresh seafood, and a laid back friendly pace of life. They celebrate Carnival, just like in the Caribbean Islands, and the whole province celebrates with a long weekend of partying, extravagant costumes, lots of music and delicious street BBQs.
Wildlife
The area is a natural habitat for a wide variety of exotic creatures and is home to the famous Sloth Sanctuary. There, they rehabilitate and care for injured or orphaned sloths and try to teach visitors about this extraordinary animals. There is also the Jaguar Rescue center in Playa Cocles that also helps needy animals and is open for morning tours, but in the afternoons they are busy taking the animals into the forest to see which ones are ready to fend for themselves in the "real world." There are also several national parks and reserves, with well kept walking trails to follow. This is where you will see an incredible amount of Costa Rican wildlife. I have never been to this part of Costa Rica without seeing many monkeys (howler and white-faced) and sloths, as well as tons of exotic birds, iguanas, turtles nesting, some snakes and more. If your Costa Rica adventure vacation is not complete without some wildlife, you should definitely consider a visit to this area.
Beaches
The beaches along this coastline are stunningly beautiful with the jungle touching the sand, which leads into the clear turquoise waters of the Caribbean Sea. They are almost always empty, giving you a feel of really getting away from it all. Rent a bike and ride up and down the coast until you find your own special piece of paradise. Our favorite beach is Punta Uva. It's a truly idyllic spot, with calm warm waters which are great for our young kids, some nice snorkeling, soft sand and just enough waves to boogie board sometimes. You can also rent sea kayaks or stand up paddle boards and explore the rocky outcropping that makes a natural boundary for the beach. Playa Cocles and Playa Negra are better known for their excellent surf. The world-famous Salsa Brava is an epic break that comes up in an easterly swell and can be massive! It's recommended for experts and pros only as the reef below can do some real damage to the unlucky.
Things to See and Do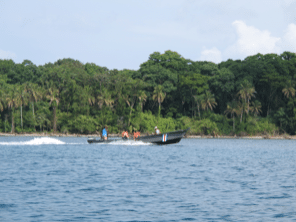 Although this area doesn't feel super touristy, there is still plenty to do. Learn about the indigenous people, swim in waterfalls, snorkel the Caribbean sea, take a surf lesson, rent a SUP board,zipline through the rainforest or go horseback riding. The hotels are mostly small boutique hotels with bungalows dotted around tropical gardens. They're perfect for couples on their honeymoon, intrepid travelers and families on their Costa Rican family vacation. We prefer to stay outside of the town for a quieter, more relaxed atmosphere.
Puerto Viejo has around 49 countries represented by the expatriates who call it home, which means there are a wide variety of restaurants to choose from. From authentic Italian to Thai to simple but delicious sandwiches on freshly made bread, you'll be able to get something to please everyone. Don't forget to visit Bread and Chocolate (open for breakfast and lunch) and try their delicious iced coffees and homemade organic chocolates.
So, if you are someone who likes to experience something a little different on your vacation, doesn't need 5-star all-inclusive resorts and likes to explore the less explored, then the Puerto Viejo could be a good place to finish up your Costa Rican adventure vacation or adventure honeymoon. Contact us today to see how it can fit within your itinerary.