How Much Does a Destination Wedding Cost in Costa Rica?
March 09, 2021
Wondering how much a dream destination wedding costs in Costa Rica?
Psssst: much less than you think!
Destination weddings in Costa Rica are a dream indulgence for many couples the world over. Yet what many don't realize is that this is also an exceptional way to enjoy a value-for-money celebration and unforgettable vacation all rolled into one. As far as buck-for-buck luxuries are concerned, Costa Rica offers incredible value.
Even if you were to spend exactly the same amount for a Costa Rica wedding as you would for a wedding back home, the result will certainly not be equal. Why?
Because you'll be having your dream wedding in paradise!
Plan your 2021 destination wedding today!
What drives the cost of a Costa Rica destination wedding?
As you might expect, the cost of a wedding in Costa Rica will highly depend on your personal desires. The four key aspects that determine price are:
WHEN you plan your adventure vacation
High tourist season (Dec – April) will naturally incur a higher price tag all-around for accommodation, venue, reception and all the little things you need like photographer/florist etc
WHERE you wish to hold your wedding
5* eco-lodge in an exceptionally remote corner of Costa Rica? Yes, this will cost more
HOW MANY guests you plan to invite
Self-explanatory, given you will also undoubtedly want to include a few extras outside of the actually wedding day for your guests
HOW luxurious you'd like the event to be
Once again, this point needs little explanation. The more extras you include in your wedding, the higher the price tag.
Costa Rica is a safe, glorious, warm, welcoming and drop-dead-gorgeous country, one where stunning wilderness and beautiful wildlife takes center stage. The beauty of a Costa Rica destination wedding, therefore, is that you don't NEED to impress your wedding guests with unnecessary extras.
The sheer beauty of Costa Rica is something they will NEVER forget.
And neither will you…
Plan your 2021 destination wedding today!
What's the average cost of a Costa Rica destination wedding?
Although no two weddings could ever be the same, there is an 'average' plan that helps you determine how much you should budget.
Most couples who head down our shores to tie the know will:
Come with a group of about 20 friends and family members
Stay either in one resort OR book a self-catering villa
Allow guests to pay for their own flights and share of accommodation costs
Hold the ceremony at their accommodation place and pay for all guest expenses on the actual wedding day (meals, open bar at the restaurant, activities etc)
Include at least one iconic Costa Rica excursion for their guests after the wedding day, like zip lining, rafting or a day of wildlife watching in a national park
NOT include things like flights and accommodation expenses for themselves into their wedding budget
Why the latter, you ask?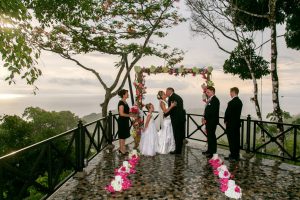 Because although you are getting married IN Costa Rica, you are essentially planning 1) a wedding and 2) a Costa Rica adventure vacation.
If you were to get married at home, you'd consider the honeymoon a separate expense, right? So, do the same with a destination wedding. This is really the only way to compare genuine wedding costs.
Plan your 2021 destination wedding today!
Given all the above, the 'average' Costa Rica wedding DAY costs between $300 and $600 per person for your entire wedding crew
From experience, we can tell you that aiming for the higher end of the wedding-day-budget is ideal. After all, you are asking your loved ones to (probably) forego their yearly vacation for adventures in Costa Rica – yes, they will LOVE you for it but yes, they will also expect a stunning affair. A budget of $600 per person will certainly deliver on that expectation.
If you are looking for truly amazing indulgences and unique experiences, Costa Rica also has you covered. Double that average budget and we're talking about aerial ballet performances, fire dancing and even private fireworks!
But do you REALLY need all that extra fancy bling-bling? Most couples don't think so.
The stunning aspect of a Costa Rica wedding, they say, is being able to walk down the sandy aisle with no shoes, enjoy the amazed looks on their loved ones as they exchange precious vows with the backdrop of a rain forest or the sapphire sea, and simply enjoy sharing a jaw-dropping experience in a beautiful land with those closest to them.
You can have a super luxurious wedding here, but a rustic, nature-infused wedding is actually a more authentic Costa Rica experience and something which also costs much less.
A win-win!
Plan your 2021 destination wedding today!
A Costa Rica destination wedding in 2021? That's PERFECT timing!
The COVID-19 pandemic has wreaked havoc all over the world, and although Costa Rica has been fully open to international tourism since last November, the country and its tourism industry are still obviously recovering.
This makes 2021 a fantastic year for a Costa Rica wedding!
Luxury resorts, holiday villas and wedding planners are eager to get back to business and offering some truly amazing discounts right now. We don't expect this to last for very long so if excellent value experiences are what you seek, this is an amazing year to get hitched in Costa Rica.
Plan your 2021 destination wedding today!
How to save even further on Costa Rica wedding costs
All-inclusive wedding packages might seem expensive at first glance, but they are a lifesaver when you're attempting to plan everything from abroad. There are a million little things that are a nightmare to organize from afar, like hair and makeup on the day, flowers, candles, photographer, menu and so much more. Most of the time, it is simply worthwhile choosing a resort, hotel or lodge with proven experience at holding small-group weddings for foreign visitors.
Select the right accommodation first – Resorts and hotels advertising 'wedding packages' offer amazing value and most weddings actually end up costing less than $10,000 for larger groups of 40 guests when taken outside the high season
Want a DIY wedding? A wonderful way to save money BUT you really should hire a local wedding planner at the very least. This should cost only about $500, and it's really not something you can or should do without.
Plan your 2021 destination wedding today!
Costa Rica Adventure Vacations – the best way to get married life off to a (zip)flying start
At Costa Rica Rios, we happily host countless newlywed couples AND their wedding party on adventure tours every year – be it on a week-long journey or single-day excursion wherever they are. Our aim is to provide safe and unforgettable adventures for thrill-seekers and their loved ones, tailoring every itinerary to meet the needs and desires of everyone.
Want to gift the single most cherished Costa Rica memory to your better half and/or your family and friends? Then why not chat to us about private, tailor-made experiences in the spectacular Costa Rican wilderness?!
As always, contact us to know more.