Best Places to See Adorable Sloths in Costa Rica
July 07, 2020
The funniest-looking, most adorable and most coveted wildlife species in Costa Rica, the curious sloth is one of the world's most unique creatures. It spends most of its life upside down (and even gives birth in this position) and is, as a consequence, literally built upside down too. Infamously slow and lazy, although the latter is a bit of a misconception, the Costa Rican sloth is one of the most rewarding animals to spot in the jungle and makes for a rewarding – and patient – photographic subject.
Planning your adventure vacation in Costa Rica and wondering about the best places to see them?
First, let us introduce you to the sloth species you're likely to see and then learn all about our favorite and very best places to see adorable sloths in Costa Rica!
Interesting Costa Rica Sloth Facts – What to Know Before You Go
Costa Rica is home to two of the world's six sloth species, namely the brown-throated three-toed and Hoffman's two-toed sloths. The former is distinguishable thanks to its much-darker fur around the face, most noticeably around the eyes and mouth, which gives it an adorable 'smile'. The latter, on the other hand, has much lighter fur on the face and a noticeably shaggier look, all-round; it also is decidedly larger in size than its three-toed cousin and boasts a longer snout
All sloths have three toes! But the two-toed species actually have two fingers (apparently, two-fingered sloth just didn't sound too endearing)
Three-toed sloths are diurnal so you're more likely to see them on day tours, whilst two-toed sloths are more active during the night (you know, relatively speaking) so they're best spotted on night wildlife safaris instead
Sloths thrive in Costa Rica's rainforests, including higher-altitude cloud forests. Although they are common and numerous in all major national park rainforests throughout the country, do not underestimate their ability to blend in. These are among the most difficult animals to spot in the wild so take a professional local naturalist guide on your tour to up your chances of a sighting.
Although both three and two-toed species are found in low-lying rainforests of Costa Rica, only the shaggier kind is found in the high cloud forests of Monteverde. Their much longer fur is what helps them cope with the at-times frigid highland temps
It can take up to a month for a sloth to digest a single meal and their super-slow metabolism is the main reason energy-preservation is their main aim in life. Surprisingly, sloths 'only' sleep about 15 hours a day, much less than what many envisage
Sloths mostly head to ground only when they need to defecate, something they do about once a week. According to some experts, their descent is a self-protection mechanism and is meant to protect their location from being discovered by potential predators (ie faeces dropping from high up a tree would make quite a sound when it hit the ground, potentially alerting predators to their whereabouts)
Sloth's fur runs in the opposite direction as all other animals (including humans). It grows away from their extremities so rain can wash over them. A layer of green algae forms over the fur of the animal which helps it camouflage on trees
Sloths are primarily solitary, only sharing trees when mating
When we said sloths were built upside down, we meant it: a sloth's lungs are located on its chest and, in fact, all their organs are attached to their bodies – this is what makes living an upside-down life possible and comfortable. Nothing gets squished when they're 'hanging' out!
Only discovered in the early 1800s, sloths were named after their 'slow and lazy' demeanour so, in this case, the animal was named after the adjective, not the other way around (as most people believe). In ancient times, sloths were believed to be over 23ft-tall. Interestingly enough, one of the earliest ancient-sloth researchers was US President Jefferson, who was in the thick of his biggest fossil research when he was appointed to office. An extinct ancestor of the modern sloth was named after him: the Magalonyx Jeffersonii
It probably won't surprise you much to know that sloths are super docile and don't get stressed out by face-to-face meetings with humans. It's just as important, however, to remember that these are wild creatures and should be treated with the respect and personal space they deserve. Never ever feed any wildlife you come across in Costa Rica and never visit any sanctuary that allows you to pet or even hug them. This is very much against the law, nowadays
Don't be discouraged by 'resident' sloths in parks and reserves: this has nothing to do with wildlife in captivity or zoo experiences! Unlike any other country you'll probably ever visit, Costa Rica is best described as one humongous wilderness reserve, given over one-quarter of the country is set aside for protection. This means that eco-lodges, adventure parks and sanctuaries are chock-full of native animals, like sloths, that live freely and happily. Hence, despite the fact that true wilderness encounters are both common and rewarding, you can enjoy a real close-up encounter with native sloths in some of the country's best refuges, resorts and sanctuaries
Best Places to See Slots in Costa Rica
National Parks
The most rewarding sloth-spotting parks in Costa Rica are undoubtedly Manuel Antonio, Tortuguero, Corcovado and Monteverde. Over on the Caribbean side, La Amistad near Puerto Viejo also usually delivers big on the sloth-spotting goods. All these regions receive a decent amount of rain, all year long, so the wilderness here is lush and fertile, facilitating life for an animal that eats seldomly but consistently.
Other parks and regions of Costa Rica that enjoy very dramatic dry seasons will consequentially be less than ideal. Remember the more annual rain a place receives, the higher the chances it'll be home to more sloths!
Generally speaking, the Caribbean side of Costa Rica, combined with the central and southern Pacific regions (but not the coast) offer the best chances of sloth spotting in the wild.
Wildlife refuges and sanctuaries
If seeing sloths is of the utmost importance then you really should visit one of the many wildlife and sloth sanctuaries scattered throughout Costa Rica. Due to their more varied diets, two-toed sloths are more commonly rehabilitated and easily homed in refuges, so this is the species you'll most likely meet.
Here are some of our favorite sanctuaries where you can meet sloths:
Proyecto Asis, Arenal – A wonderful wildlife rehab center near La Fortuna, Asis is one of Costa Rica's most respected sanctuaries and we think a visit is one of the best things to do in Arenal
Jaguar Centre, Puerto Viejo, Limon – A wildlife refuge and accommodation option, the Jaguar Center is a stunning place to meet some ridiculously adorable baby sloths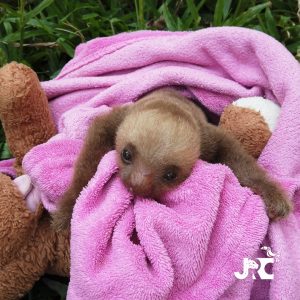 Gandoca Manzanillo Wildlife Refuge, Limon Province – Up the road from dreamy Playa Cocles near Puerto Viejo, this verdant wildlife reserve promises an amazing experience. Take a guide and your chances of sighting a sloth are just about guaranteed.
The Toucan Rescue Ranch, Alajuela – Like so many sanctuaries here, Toucan started as a dedicated refuge for very specific animals (toucans, in this case) and has evolved to cater for a host of other wildlife. Including sloths!
Adventure parks and eco-lodges
Wildlife preservation is an inherent part of life for a huge chunk of Costa Rica's adventure parks and eco-lodges and many are home to resident sloths who were rehabilitated but due to certain reasons, like a disability, were unable to be released in the wild. In an ideal world, of course, all sloths would live happily in the wild but given this isn't always possible, becoming a resident mascot of a glorious lodge or park set in a privately-owned reserve, really is the next-best thing
Here are a few of our favorite adventure parks and eco-lodges where you can meet adorable sloths:
Diamante Eco Adventure Park, Guanacaste – Gilbert, Mia and Lucy are Diamante's most popular attractions, despite the fact that the adventure park boasts the longest dual zipline in the whole continent! Daily feedings by the keepers are open to the public and this is the best chance for exceptional photographs
Sloth Sanctuary Buttercup Inn, Limon – We love to stay in this rustic, no-nonsense lodge and spend countless hours admiring Buttercup, the resident sloth of this well-established sanctuary.
Selvatura Park, Monteverde – This is one of our favorite hanging-bridge adventure tour destinations, with accommodation options and sloth sanctuary to boot
La Paz Waterfall Gardens, Alajuela  – An easy drive from San Jose, La Paz make for a fantastic day-tour from those who are short on time
Nayara Tented Camp, Arenal – An all-in-one nature-immersed lodge and sloth-haven, Naraya is the perfect sloth-spotting destination in Arenal. This brand-new addition to the Nayara scene, this luxury glamping lodge is drop-dead-gorgeous and set within a property home to over 300 Cecropia trees, the fave food-source of sloths
Tulemar, Manuel Antonio – A high-end vacation rental resort, Tulemar is one of Manuel Antonio's most unique places and guests can take a 'sloth walk' around the property with researchers from the non-profit Sloth Institute of Costa Rica, who regularly head here to study their favorite subjects
At Costa Rica Rios, we run award-winning adventure tour vacations in Costa Rica and even though we see plenty of wildlife in the remote and pristine rainforests we tour, we're always so happy to plan in a visit to a dedicated center.
Contact us, below, to know more

US & Canada: 888 434-0776 | UK: 0800 612 8718 | International: +1 920 434-7485