10 Great Tips to Help You Make the Most of your Costa Rica Adventure Vacation
March 27, 2018
Here at Costa Rica Rios, specialists in adventure vacations in Costa Rica, we are frequently asked a number of questions about Costa Rica by our customers in advance of either booking their vacation, or prior to their arrival.
As a consequence, we decided that you might appreciate this short and handy downloadable eBook which provides some really useful facts about the country and some additional snippets of information to help you make the most of your trip once you are here.
Of course, we know that each of you may have your own personal questions you need answers to, and we'll be glad to provide them, just send us a message and we'll get straight back to you with the answers.
Languages Spoken in Costa Rica        
The official language of Costa Rica is Spanish, though it is a Costa Rican Spanish. English is spoken by approximately 10% of the population, and all Costa Rican guides who work alongside Costa Rica Rios are fully bilingual.
Along the Caribbean coastline a Creole-English language, Jamaican patois (also known as Mekatelyu), is spoken.
There are five indigenous languages spoken depending on what region you are in, including Maléku, Cabécar, Bribri, Guaymí, and Buglere.
To reassure you, with the importance of ecotourism to Costa Rica, English is spoken by the majority of those who work in the tourist industry, and a good number also speak German and French.
Currency and Money in Costa Rica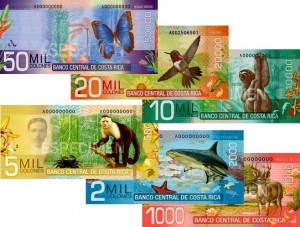 The main currency of Costa Rica is the colón (pl. colónes) or CRC. As of February 2018, the exchange rate for the colón was approximately US$1.00 : CRC570.00, UK£1.00 : 810.00 and euro/€1.00 : 710.00. You can check the current conversion rate here.
U.S. dollars are readily accepted in most larger establishments and often in smaller ones. Canadian dollars, the U.K. pound and the Euro are not accepted as currency in Costa Rica. If paying in U.S. dollars, expect change to be in colónes.
To make life as easy as possible for everyone, it is best to have colónes handy to pay for taxis, drinks in bars or food from sodas, and of course tips. Most major credit cards are accepted in hotels, hire car companies, larger restaurants, etc. but check with the establishment first.
A friendly piece of advice – if you have forgotten to exchange some money before heading off to the airport, don't panic and change a load of currency at the airport as you will get a terrible rate of exchange. Get enough colónes for a taxi at the other end, a drink and a few tips, but go to any bank in Costa Rica to exchange your money once you have arrived. You need to take your passport with you, but you will get a far better rate of exchange than at the airport.
The Cost of Regular Items in Costa Rica
The cost of living in Costa Rica is roughly 23% lower than in the USA and the U.K.
As this eBook is intended to provide quick answers to your questions, we found this brilliant website that provides a regularly updated list of 40 of the most common purchases made by vacationers in Costa Rica – Numbeo.com
The list ranges from the cost of a bottle of water or a bottle of beer, the price of a meal for two, to the average cost of taxi fares, car hire and the price of petrol. It will help you budget for 'spends' on your vacation…
The website also includes some additional information for those of you who are a little more curious, such as the cost of property rental (in case you decide you don't want to go back home!), property purchase prices, the cost of clothing and the cost of utilities.
Time Zone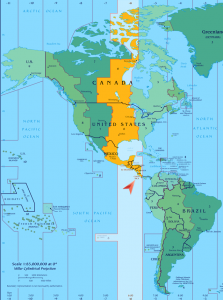 The time in Costa Rica is based on Central Standard Time, but it does not change for daylight saving, unlike the U.S. or U.K.
Excluding daylight saving, the time in Costa Rica is the same as the Central North American states.
Internationally, the time in Costa Rica is GMT-6.
The Climate and Seasons in Costa Rica
Owing to its proximity to the equator, there are no major distinctions between the seasons in Costa Rica, and the average daily temperature ranges between 70oF and 80oF. Consequently, there are only two seasons in Costa Rica, the 'Green Season', which is the rainy season running from May through to November, and the 'High Season', which runs from December through to April.
Though having average temperatures, the country also has numerous microclimates,having coastline on both the Pacific Ocean and also the Caribbean, while changes in elevation also affect the weather and temperature. For example, visit the highland town of Monteverde and you'll be surrounded by a cool mist and fog at least part of the day for most of the year. Alternatively, the Pacific coast around Guanacaste is hot and dry, absolutely perfect conditions to enjoy many of the beaches in the area.
In the rainy season from May to November, the average rainfall in Costa Rica is roughly 100 inches, though in some areas in Costa Rica's mountains annual rainfall can be as much as 25 feet!
The Caribbean coast has its own microclimate thanks to continual trade winds that keep the climate hot and humid, with rain (not continual!) throughout the year.
Emergency Telephone Numbers
Ambulance – 128
Fire – 118
Police – 911  If you need to contact the police for a non-emergency, dial 2222-1365 or 2221-5337
Medical Insurance, Medical Assistance and Vaccinations
If you are coming to Costa Rica on an adventure vacation, then check with your travel insurer. Many insurance companies are very good at having a list of exclusions in the contract small print which may exclude activities such as ziplining or whitewater rafting. Tell your insurer what you intend to do on vacation to ensure you have adequate insurance cover.
The standard of healthcare in Costa Rica is very good, to the point where medical tourism (predominantly cosmetic procedures) accounts for 15% of international visitors to the country.
If you are taken ill during your vacation and need to see a doctor, contact your local embassy to obtain a list of approved physicians. If you have booked your vacation through Costa Rica Rios, get in touch with us straight away and we can advise you on who to see locally.
In general, a local health clinic or EBAIS offers free treatment for minor vacation accidents, while a trip to a doctor with an appointment may cost somewhere around US$50.00 / £30.00 / €35.00
It is advisable to keep details of your travel insurance with you at all times.
As of 2014, no inoculations are necessary for North Americans to travel to Costa Rica. However, the CDC and WHO recommend the following vaccines for Costa Rica: typhoid, hepatitis A, hepatitis B, rabies, measles, mumps and rubella (MMR) and influenza. We would suggest you discuss which vaccinations you should have with your physician or doctor and arrange to be vaccinated eight weeks before your vacation begins.
Dengue fever and chikungunya, two mosquito-borne diseases, are also present, though very rare in Costa Rica. Take proper precautions to avoid mosquitoes and mosquito bites by using insect repellents and netting.
If you are going on an activity vacation, it makes sense to put together a basic first aid kit for those inevitable bumps and scrapes – band-aids, pain relievers, tape, scissors, bug spray, sunscreen, and diarrhea medicine may come in handy.
Drinking the Local Water and Eating Local Food
In general terms, tap water in urban and well-populated places is safe. However, in more rural areas of Costa Rica caution is advised.
In 'out of the way' rural places, drink only bottled water or beverages from cans or bottles. Always ask for bottled water to remain unopened so you can check for yourself that the seal is intact. Local beer is safe to drink. Avoid asking for ice!
Food is generally safe to eat in Costa Rica, mainly because so much of the produce is local and fresh. Local sodas (small cafés/restaurants/snack bars) are great to eat at and food hygiene good. Best advice to follow is eat where other people are eating, that's usually a good sign!
Car Hire in Costa Rica, Driving and Road Conditions
To hire a car in Costa Rica you will need your current driver's license. Most car rental companies have a minimum age requirement of 25, but a few will accept drivers who are 21 and over.
A substantial deposit is usually required – use your credit card for this as then the payment will be 'held' but the transaction not completed. If you use a debit card, your account will be immediately debited, and you will have to wait a month for the deposit to be returned.
Many major credit cards offer free car hire insurance. However, check the small print or contact your card provider to ask about car hire in Costa Rica. Because many of the roads are only paved single track or gravel, insurance from your credit card company may be invalid.
Insurance is obligatory and there is only one insurance company in Costa Rica that covers car rental insurance, making collision coverage (CDW) and liability coverage mandatory in Costa Rica for all drivers.
Because of the generally poor condition of roads, your best bet is to hire a 4×4 vehicle, unless you only intend to do a little sightseeing during the High Season when it is dry. Distances may look short on a map, but when you are traveling at only between 30 and 45kph, everywhere takes a little longer to get to, especially on winding country roads.
Car hire may seem costlier than you might expect, but remember that because of the state of the roads in Costa Rica, vehicles have to be replaced more frequently.
The drink/driving limit in Costa Rica is 75mg of alcohol per 100ml of blood. There are heavy penalties which include a big fine, invalidation of insurance and possibly jail time, so our advice is not to think that you'll be okay as you are vacationers. Don't drink and drive, take a tax instead so you can all really relax and enjoy yourselves.
Seat belts should be worn at all times, it is the law.
Make sure that you always have you driver's license with you. Though not compulsory, it will put you in a better position if you are stopped by the police if you also have a copy of your passport with you, your car hire documentation and clear evidence that you are insured by the car hire company.
In more rural areas, if you are stopped by the police for an infringement, you may be asked to pay a cash fine to make the charge 'go away'. This is normal for Costa Rica, so don't make a fuss, just pay up and put it down to another memorable experience while you were on vacation!
Personal Safety in Costa Rica
Costa Rica is a country in Central America, so do not expect the same levels of police presence. Opportunistic theft is always going to be something you should guard against, and use plenty of common sense – you may be on vacation, but those of a less benevolent nature are not.
Crime is certainly not a problem in Costa Rica, so do not get the wrong idea!
The following is a list of standard precautions to take:
Never carry your valuables around with you, keep them locked in your resort or hotel safe
Only take as much cash as you need with you
Pack copies of your passport and any other important documentation, you can prepare before your trip
Advise your credit card company that your card will be used in Costa Rica
Lock anything of worth out of site in the trunk of your rental car when going out and about, especially to the beach
Keep smartphones and tablets out of sight when not in use – take your photos, but then tuck your phone safely away in a bag rather than carry it around in your hand
Tipping in Costa Rica
There is no expectation of tips in Costa Rica. While in many restaurants the taxes and tips are usually included in the price. If you see "taxes not included" or "impuestos no incluidos" then expect the bill to be higher than expected and to leave a tip.
Wages are not high in Costa Rica and many workers are dependent on tourism, so we tend to suggest that if you have received good service, a tip will always be welcome and appreciated, as opposed to expected.
We hope this information has been helpful to you, answered any of the most pressing questions you have about Costa Rica, and also answered a few that you hadn't even thought of asking.
Of course, there may well be a number of other questions you may want answering before traveling for a Costa Rica vacation, hopefully to enjoy an action-packed adventure vacation with Costa Rica Rios. Just send us a message with your inquiry and we'll get back to you as soon as we can.
We look forward to seeing you soon!
Jane and Fraser Tyrrell
Costa Rica Rios
Apartado 43-7150
Turrialba
Costa Rica
US & Canada Freephone: 1-888-434-0776
International Tel:: ++1-920-434-7485
UK Freephone: 0800-612-8718
Costa Rica Office: 2556-8664