The Most Impressive Snorkeling Spots in Costa Rica
August 23, 2016
The most impressive snorkeling spots in Costa Rica take in the very best the country's superb waters have to offer. From world-famous sites like the Cocos Islands, to remote and lesser-visited gems like Junquillal, Costa Rica offers lovers of the sea (and sea life) a nearly endless array of pristine sites best explored with a mask, snorkel, and fins.
So pack that sunscreen, grab your underwater camera, and come discover the magical underwater world that awaits you in Costa Rica.
Cahuita National Park, Limon Province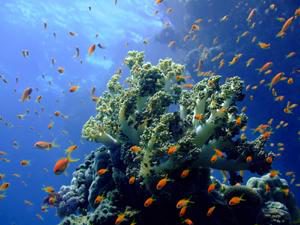 On the southern Caribbean coastline is where you'll find the most extensive coral reefs on the eastern coast of the country. The Cahuita National Park, adjacent to the quaint town of Cahuita, is a nature lover's dream, with plenty of options for hiking through the wildlife-rich forests, and snorkeling its superb and inviting waters.
Whether on a 3-hour snorkel trip or full-day snorkel and hiking trip, your senses will be absolutely overjoyed. The colorful coral and endless schools of fish are superb, and you can also expect to see larger creatures like giant barramundi, reef sharks, and sting rays. The waters are blissfully calm making snorkeling ideal here, and very relaxing. Do note that most day trips are one way, meaning that you'll either have to catch a lift back into town or, a much better option, walk back for two hours through the Cahuita National Park. Visit this region of Costa Rica between August to November during the driest period of the year, and visibility will not be spoiled by heavy rain.
Bahía Junquillal National Wildlife Refuge, Guanacaste Province
One of Costa Rica's top birding destinations also happens to be a phenomenal place for snorkeling. Found on the north-western corner of the country, the Junquillal refuge was designated a protected reserve over two decades ago, in order to protect the immensely flora and fauna rich coastal mangroves.
With idyllic weather all year round (the rain up here is quite minimal) this is the place to head to if you're after a natural paradise that's tranquil and crowd free. Bring your own snorkel gear and explore the underwater wonders of this sublime and off the beaten path destination.
Marino Ballena National Park, Puntarenas Province
The Marino Ballena is to the Pacific that Cahuita is to the Caribbean: the largest coral reef system of all. Over 13,00 acres of protected marine park host an abundance of underwater creatures, including manta rays and turtles.
Do note that many people make the mistake of thinking they can simply snorkel from the beach, but due to the crushing waves, it is simply not possible. On a guided boat trip, however, you can visit all the best snorkeling spots, most of which are around Isla Ballena, just 2 miles from the coast.
Caño Island Biological Reserve, Osa Peninsula
The ultimate diving spot in the whole Osa Peninsula, Caño Island Biological Reserve is a dreamy speck of an island just 10 miles off the coast. The entire island is covered in pristine rain forest, home to a plethora of flora and fauna, and the waters off its coast are equally enriched with wildlife.
When you visit on a day trip, not only will you have great chances of spotting dolphins and whales on the boat ride, but you'll spend hours floating above colorful soft and hard coral, spotting schools of fish at every turn. The waters here are calm and protected, making this an ideal snorkeling spot for beginners as well as experienced snorkelers.
Cocos Island National Park, 300 miles off the east coast
The UNESCO heritage listed Cocos Islands, 300 miles off the coast of southeastern coast, are not just Costa Rica's premier diving and snorkeling site, they are arguably the best in all of Central America. Often dubbed 'The Galapagos' of the region, the Cocos are brimming with fantastical wildlife both in and out of the water.
With more than 1,500 marine species and a magnificent coral system to admire, this is one place you'll never want to leave. What can you expect to see on the Cocos? Everything! Manta and sting rays, moray eels, crazy schools of hammerhead sharks, as well as parrotfish, angelfish, wrasse, damselfish and a million more unique and colorful species. Make no mistake, this is truly a bucket-list worthy destination. Week-long liveaboard trips are the best way to soak up the magic of this place, so whether you're an avid snorkeler or a diver, and wish to see the best underwater treasure in Costa Rica, put this at the top of your list.
Snorkeling is also an exciting activity on your Costa Rica Honeymoon to add to your romantic adventure.
Itching to set off on the snorkeling trip of a lifetime? Ask us how we can help you plan an adventure filled vacation in Costa Rica and let us tailor an unforgettable experience that'll combine the very best treasures this mesmerizing country has to offer.