Whether you wish to enjoy a superb adventure-filled honeymoon or simply dreaming of a romantic vacation, Costa Rica is your incomparable destination choice. But don't just take (admittedly subjective) word for it!
PerfectHoneymoons.com rates this tropical Caribbean gem as the 3rd most-popular destination in the world, after Italy and Hawaii, for love-filled getaways. And what's not to love? With its magnificent nature, array of luxury resorts, eco-lodges and indulgent retreats, not to mention the idyllic year-round climate and utterly unique 'exotic' charm, Costa Rica is the obvious choice if you want to steer clear of run-of-the-mill love-do's and get more value for your hard-earned holiday funds.
Truth be told, the whole country is chock-full of incredibly beautiful places that are ideal for a romantic getaway, yet some are just a little more ideal due to their proximity to the capital (for that dreamy long weekend), smattering of high-end eco-lodges (for that one-a-kind splurge), stunning beaches (because if you don't go home with a tan then you're doing something wrong) and variety of fun and exhilarating activities.
Here are just of the amazing options for your romantic Costa Rica vacation:
Manuel Antonio National Park is arguably the most popular destination for active romantic vacations and honeymoons, as it's only a 2-hour drive out of San Jose and is, above all else, a superlative natural haven. Brimming with wildlife and offering a multitude of options for adventure-filled days, Manuel Antonio is the kind of place where you can enjoy a thrilling white water rafting trip in the morning, enjoy a delectable gourmet lunch in an exclusive lodge, delight in a romantic afternoon horse ride on a pristine beach, and end the day with a swoon-worthy candle-lit dinner under a canopy of stars.
Not to be outdone, dormant Arenal Volcano offers an equally outstanding backdrop for soaks in therapeutic hot springs and indulgences in superb 5* spa resorts. This is Costa Rica's tropical lusciousness at its very best. Waterfalls galore and plenty of fun pursuits are the cornerstones of the Arenal region, yet it's all the spectacular thermal springs which hold the ultimate appeal for romantic holidays and Costa Rica honeymoons.
Lovers of the sun and surf will do well to check out the stellar options along the Guanacaste coastline. Here is where you can spend endless days playing in the waves, snorkeling, diving, surfing and lazing around on some of the world's most coveted sandy stretches. The sand glistens, the sunsets WOW and the romance spills at every turn. The Gulf of Papagayo, along the north-western shores of Costa Rica, is where you'll find the largest collection of exclusive and all-inclusive 5* resorts. Just a short drive from the Liberia Airport, the Gulf of Papagayo is arguably the favorite among honeymooners and makes for a brilliant base from which to explore Costa Rica.
Want to feel like there are just the two of you in the world? Then the Nicoya Peninsula is your honeymoon destination of choice. You'll find fewer people here, fewer tourists in general, and a much more remote and exclusive experience awaits you. Remote and spellbinding, the Nicoya is idyllic for couples who want to get away from the rest of the world, for just a little while. Outstanding resorts are set amidst verdant hills, overlooking sapphire and emerald waters. Quiet coves, endless stretches of pristine beaches and oodles of isolated dream spots is what makes the Nicoya Peninsula a top choice for those seeking romance and intimacy.
Costa Rica Weddings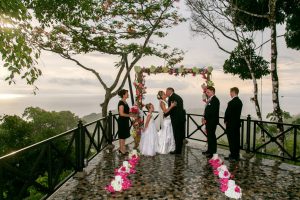 In case you didn't already know, Costa Rica is one of the most popular wedding locations on the planet, attracting couples and their delighted loved ones from every corner of the globe. The affordability and sheer uniqueness of Costa Rica weddings is a huge incentive for many couples, who can enjoy an unforgettable wedding and honeymoon in one of the world's most coveted destinations, for only a fraction of the cost of a wedding at home. Exceptional luxury, an incredibly well-planned wedding day and a mesmerizing holiday to boot? I do!
Getting married in Costa Rica isn't nearly as complicated as you may think, most especially when you consider most resorts will put you in contact with a wedding planner who will look after you from beginning to end. Here are a few guides to help you get started:
Costa Rica Destination Weddings: Everything You Need to Know
Costa Rica Wedding: How to Time it Right
How to Find the Best Planner for Your Costa Rica Wedding
All-inclusive Costa Rica honeymoon packages are undoubtedly the best value-for-money deals you'll find anywhere, and it is something in which Costa Rica Rios specialize. After the vows have been exchanged, cake has been cut and teary hugs have been shared, let us propel you into an adventurous week of 'love + adrenalin' to get your married life off to a heart-pumping start.
Part I: Costa Rica Vacation – Getting Here is Now Faster…and Cheaper!
Part II: Costa Rica Vacation Accommodation to Suit All Tastes and Budgets
Part III: Costa Rica Vacation – Family Adventure Vacation