Life is all about compromise, and never is this more apparent then when you're trying to book your dream honeymoon and adventure. He wants rock climbing, you want relaxation; he wants to jump off waterfalls and you want a full-body mud wrap, sea salt exfoliation and coconut oil holistic massage. Not too much to ask now, is it?
Not if you're planning an adventurous honeymoon to Costa Rica!
Costa Rica is an ideal honeymoon destination, especially if you're dreaming of doing a little more than just lying on a stunning, tropical beach. Mind you, there will be plenty of that…but also so much more. The wonderful thing about this incredible country is that you can have adventure and romance, all the while basking in luxury and enjoying every comfort imaginable. Because everyone likes to rough it every now and then, but when you're traveling to celebrate the beginning of your wedded bliss, bush camping in a tent just ain't going to cut it.
Want to know how insanely fun, energizing and romantic your days can be?
Have a look at just some of the amazing itineraries you can plan on your Costa Rica honeymoon.
Rio Savegre: White-water rafting by day, massages by night
Arguably the most popular combination of all, the 'white-water rafting plus massage' would have to be one of the most enjoyable, rewarding and blissful days you could ever include on your Costa Rica honeymoon. Destinations for this abound here, as this country is known not only for its superlative rafting but also for its array of top-notch relaxation spas. Check out the Rafiki Safari Lodge, set along the shores of the dramatic Rio Savegre. This striking lodge offers a priceless chance to immerse yourself in the heart of the Costa Rican wilderness, all the while offering a plethora of active pursuits (like rafting and kayaking) as well as plenty of relaxing treats, like the delectable chocolate massages.
Manuel Antonio: multi-sports by day, wildlife spotting by night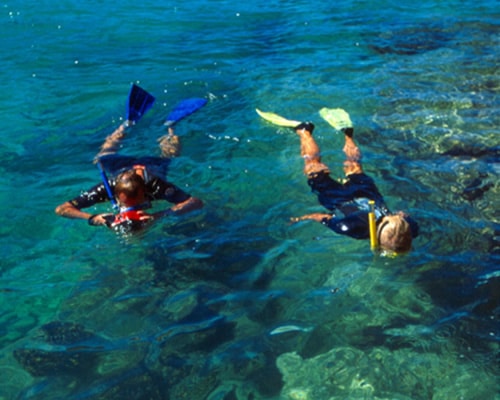 The Si Como No Resort, Spa & Wildlife Refuge is a luxurious and romantic resort just a few minutes' drive away from Manuel Antonio National Park and its glorious beaches. Here, you can spend your days snorkeling, kayaking, hiking and horseback riding (among many more activities) and spend your evening on a private wildlife Night-time Nature Tour. Round off your evening with a romantic sundowner and dinner for two at the stunning Claro Que Seafood Restaurant or, if you want a super delightful splurge, ask your concierge to organize a private beachside dinner. Complete with elegantly set up dinner table, tiki torches and an ocean of candles, the beachside dinners at the Manuel Antonio beach come straight out of a fairytale storybook.
Tabacon: Canopy tour by day, thermal pools by night
Costa Rica is renowned for being one of the best countries on earth where you can enjoy extensive and adrenaline-pumping zip-lining. Of course, this is greatly boosted by the fact that here we have some of the largest and best tropical forests as well. Channel your inner Tarzan – and Jane – and spend a whole day meandering your way through pristine jungles at the Sky Adventures Arenal Park. In the evening, head to the Tabacon Hot Springs (you can get a half day pass) and spend a few hours soaking with your beloved, in one of the country's most romantic places. Hike to the adults-only section up the top and, if you stay away of a weekend, there's a good chance you'll score a whole natural pool all to yourselves.