A land of natural extremes and a kaleidoscope of landscapes, Costa Rica is a wicked destination for anyone who wants to be immersed in pristine wilderness for a few days. Renowned for its striking volcanoes and volcano hikes, a Costa Rica vacation can be an adrenaline rush like no other.
This is a country brimming with active and extinct volcanoes and offers a multitude of rewarding hikes of varying duration and levels of difficulty.
In the mood to stand on the rim of a volcano and shout 'I'm on top of the world?'  Then include a visit to one of these beauties on your next Costa Rica vacation.
Rincon de la Vieja, Guanacaste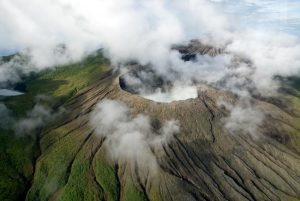 Arguably the most popular volcano climb of all, Rincon de la Vieja offers a spectacular and somewhat hard-going climb to the rim, as well as several shorter ones if the weather isn't cooperating or you wish for a more subdued workout. At 6,286 feet in height and with intermittent activity, Rincon is a firm and exhilarating choice. The trail to the rim has closed intermittently over the last two years, so check the latest info on the ground before heading up. The climb itself is breath-taking (for both beauty and hardship) and you'll experience a steady and mesmerizing change in scenery. From the lush tropical rainforests of the base, through to dry forest half way up and finally a scramble over volcanic rocks for the last ascent. On a clear day the views are out of this world.
A round-trip hike up to the top is an all-day affair (8 hours on average) so pack plenty of water and snacks, and make sure you pack cold and wet weather gear. The hike is not suitable to do with children, the elderly or anyone with health issues, as the weather can be unpredictable and the path (especially towards the end) steep, treacherous and narrow.
Tenorio, Guanacaste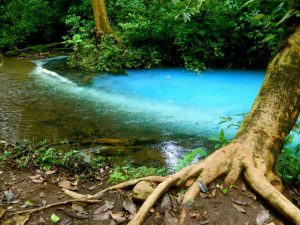 Perhaps the most exciting up-and-coming hiking destination, Tenorio and its stupendous National Park is a delightful hub of stellar experiences. There are hanging bridges to cross, sparkling waterfalls and colourful lagoons, verdant rainforests, natural hot springs and, to top it off, even a crater rim hike. The trail to the rim is accessible through a private property (Heliconias Lodge) and it's a hard-core hiking feast that's steep and muddy, but extremely rewarding for those who go to the effort. The lodge can also help you organize a guide with an expert local, as this is a near-inaccessible part of the national park and getting lost is not difficult.
Poás, Alajuela
Just shy of 9,000 feet, Poás is as vertiginous as it is extraordinary, and also very popular due to the ease of access of its rim. You can actually drive (almost) all the way up! From the parking lot it's merely a 5-minute walk to the rim, making this accessible to just about anyone. Poás has not erupted since the 1950s yet recent minor events have led experts to predict an impending – rather big – eruption. Due to weather concerns at this height, we suggest you head off early and plan to be at the rim no later than 9 am. Spend a whole day exploring the Poás National Park, where you'll find picturesque lake-filled craters, dramatic landscapes and beautiful vegetation.