Costa Rica is one of the world's most rewarding hiking destinations with a plethora of trails found on every province and to suit all fitness levels. From flat and scenic walks you could enjoy as a family, to challenging multi-day adventures set to invigorate the soul, this incredibly varied country has something to offer everyone.
Here are just a few of the best and most rewarding hikes in Costa Rica. All of them offer you the chance to delve deep into the country's formidable wilderness and, whether by seaside, mountain side or volcano-side, will reward your hard work with utterly spectacular views.
Cahuita National Park – Beginner
If you're more of a relaxing walker rather than a die-hard hiker, the trails in the Cahuita National park will be just perfect for you. Tracks here are flat, well maintained, and easily accessible at any point from the Caribbean seaside.
Along the whole way you're never more than 300 feet from a sparkling white sandy beach, so you can spend an entire day walking through thick verdant forests brimming with howler monkeys, and come out at will to splash in the refreshing sea. The months of February and March, as well as September and October, are ideal for hiking Cahuita.
Corcovado National Park – Variety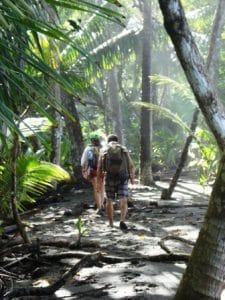 One of the most visited national parks in all of Costa Rica, Corcovado boasts a dense rainforest, sandy shores and swamplands home to a plethora of fauna and flora, including a healthy population of scarlet macaws and monkeys. The fabulous thing about this park is that it offers a lot of options, thus making it suitable for beginner and experienced hikers alike.
You can choose to overnight in Drake Bay and tackle a single day hike, or shoulder a backpack full of camping gear and set off for a multi-day adventure. There are ranger stations and camping facilities allotted through the park, as well as marked trails. Do note that multi day hikes, like the Los Patos to La Leona trail, which is a 15 mile jungle trail, can be quite strenuous and so you should be well prepared for all eventualities, most especially when visiting in rain season.
Carara National Park – Short on Time
If you're short on time and wish to find a perfect half-day excursion into nature, then the Carara National Park will be your best bet. The trails here are superbly scenic and as the park is jam-packed with exotic fauna, it also makes an ideal destination for animal lovers.
From one hour to four-hour long loop-trails, you'll find a plethora of options here. Animals to look out for are spider monkeys, scarlet macaws, and keel-billed toucans. This is the central region's only remaining primary rainforest and is, for very good reasons, extremely popular. You can visit at any time of year, but do make sure you beat the crowds and start your walks at first light.
Arenal National Park – Ancient Lava Flows
Costa Rica's postcard destination is a phenomenal choice for walkers, hikers and even rock-climbers. The trails abound and are all very well marked and the great majority consisting of relatively flat ancient lava flows.
Ever-looming Arenal Volcano will keep you company along the way, and although it has not erupted for a number of years it is still very thrilling to hike along the base of an active volcano. Some of the trails require a bit of bouldering so gather all the info you need before you head off, so you'll know what to expect. The variety of ecosystems in this park, which includes primary and secondary rainforest, as well as lush savannahs, makes this arguably the most rewarding hiking destination of all. Dry season here falls between January thru April.
Rincón de la Vieja National Park – A Little Remoteness
If you wish to get away from the tourist trail yet still experience the best of Costa Rica then Rincón de la Vieja is where you should be headed. If coming from San Jose you should plan on spending at least two nights here and you'll definitely need a 4WD rental to even reach the park.
The remoteness of this location means that you'll find far fewer hikers here, so if it's solitude you're after this glorious spot will definitely tick your box. The trails at this park will guide you through an array verdant forests, crater lakes and stunning waterfalls. There are trails to suit all fitness levels, so whether you wish for a gentle hike or a more strenuous endeavour, you'll find the trail that's right for you. The months between November and April are best for this region.
Monteverde Cloud Forest – Comprehensive Hiking Adventure
Monteverde's popularity comes as no surprise: this gorgeous cloud forest makes for an ideal day trip from the capital, San Jose, and offers plenty of adventure and awe-inspiring sights along with plenty of hiking trails. Zip-lines, suspension bridges and boardwalks make an outing here a truly unforgettable adventure. Experienced hikers can also get their fill, with multi-day adventures through swamps and rainforests, and past striking waterfalls, also easily accessible. The best time to hike in Monteverde in between January and May.
No matter where, when or for how long you wish to hike, do note that some kind of preparation is always a great idea. The most important essentials you should pack are water (for the entire duration of your intended hike), insect repellent, a rain poncho and sunblock, hat and sunglasses. High humidity, heat and sudden bursts of rain are common in just about every region, at any time of year, although note that our recommended hiking months are the driest, on average. It's also wise to pack a map of your route and advise the staff at your lodge of your hiking plan before you head out.