As more people heartily adopt a greener lifestyle, choices are going beyond recycling and reusing: curbing carbon-emissions when travelling and making sensible choices abroad are all becoming part and parcel of our sustainable dream. If we all do things just a little better, and a little greener, we'll be able to enjoy living in this magnificent planet of ours for much, much longer.
Eco-friendly honeymoons are the latest trend to hit the tourism scene and, as far as we're concerned, it's one of the most worthwhile 'fads' that's ever been concocted. Costa Rica being one of the world's foremost eco-tourism destinations is naturally at the forefront of most people's minds, the sheer number of sustainable tourism initiatives, lodges and activities offering adventure-seekers plenty of guilt-free pleasures.
What is an eco-friendly honeymoon?
Adventure honeymoons are nothing new yet eco-honeymoons take the journey one step further: this is about having the absolute thrill of a lifetime, in pristine nature, whilst leaving as minimal a footprint as possible. In essence, it is to honeymoon responsibly in a stunning place, where your visit directly benefits the wellbeing of the local population and helps protect the environment.
Here are a few ways you can plan your own eco-friendly honeymoon in Costa Rica:
Eco-lodges and eco-resorts abound in Costa Rica: go small and go local
Costa Rica boasts a variety of accommodation options and this includes oversized all-inclusive resorts that can take over entire towns. Although there are certainly benefits to larger resorts (which hire many locals and buy large quantities of local produce) mega-resorts can also place a great amount of stress on the local environment. Moreover, they can also afford to offer greater saving (given the sheer number of rooms) so they tend to make local lodges less competitive, and that's the biggest downfall of all. Some are also foreign-owned, which means the largest chunk of profits is taken out of the country.
Smaller, family-owned eco-friendly lodges abound in this amazing country, many of them constructed in a section of private wilderness reserve. They're usually built of sustainable material, are totally self-sufficient and place very little stress on the environment, bar their initial construction. The kind of sustainable practices smaller lodges can implement are simply not sustainable on a very large scale and, besides, they also help spread tourist crowds over a much larger area.
The benefits of impact-spreading are several and are easy to understand this is imagining a lone beach crammed with 500 tourists looking out for nesting turtles, versus 50 separate beaches, each with only 10 spectators. A lone beach can absorb the impact of 10 visitors with ease whilst no beach can cope with 500. 'Spreading out the love' is better for the environment and its endemic wildlife, as was made obvious during the overcrowding events of 2015.
Keep your travels to a minimum, once you arrive
On an eco-friendly honeymoon to Costa Rica, you'll want the emphasis to be on the wilderness, so you may want to choose to stay near one of the major national parks or wildlife reserves. A very effective sustainable option is to minimise your carbon emissions by choosing to explore one region thoroughly, rather than visiting several regions and driving or flying between them.
Plan an all-in-one destination wedding and honeymoon vacation
Destinations weddings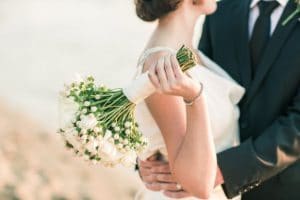 have been popular in Costa Rica for years and, for very obvious reasons, it's a great option to extend the vacation to include an adventure honeymoon whilst here, rather than fly somewhere else. Not only is this a brilliant way to cut costs but it also greatly reduces your carbon emission and that of your closest friends and family members, as many will coincide their yearly vacation to fit in with your impending nuptials. An all-in-one deal for you and the environment!
Offset your carbon footprint before you fly to Costa Rica
Air-travel has been recognised as a huge contributor to climate change but your Costa Rica honeymoon need not be riddled with guilt if you offset that amount of carbon emission you just can't help create. Aside from these 20 Ways to Offset Your Carbon Emission, you can calculate your trips' carbon expense and purchase carbon offset credits from an accredited provider. You'll find all the details in the link.
Costa Rica's proximity and short flight-times are another great reason to choose this as your eco-friendly honeymoon destination. Rather than taking a long-haul flight, you could be in a matter of a few hours, not only avoiding jetlag but also reducing your overall travel footprints.
When in Costa Rica, eat only locally produced food
The longer an ingredient has to travel, the larger the carbon emission so it figures that eating local food is about the best decision you could make on your Costa Rica honeymoon. Luckily, Costa Rica is a truly delicious destination, with an abundance of fresh produce grown in just about every region. You'll certainly find imported goods in all major cities and tourist centre but if you avoid the imported goods, you'll help entice local shopkeepers to only stock and serve local fare.
Eating local, in Costa Rica, is anything but boring.  Scour our culinary archives for fantastic gastronomic inspiration.
Shop wisely – the most sustainable souvenirs to bring home
Yes, it's lovely to bring home 'only memories' but, sometimes, we want something a little more tangible. Eco-friendly choices include local produce (vacuum packed for travel), wooden artefacts (made of sustainable materials, of course) and anything that is hand-carved, hand-weaved and hand-made. Steering clear of mass-produced gear in large-scale markets and buying treasures directly from the artisan will ensure your souvenir is made locally. Find more tips here.
Think small: sometimes, small gestures can have the biggest impact
Packing a few cloth shopping bags will help you avoid the ubiquitous plastic bags that seem to be the bane of our planet. Not all destinations in Costa Rica have great recycling facility so leaving packaging behind isn't necessarily helping the environment – that's just leaving more rubbish behind. What would help is if you had a few bags of your own to store fruit, souvenirs and whatever else you buy along the way, thus avoiding having to collect an unmentionable number of plastic bags. It's also worthwhile to bring your own water bottle: tap water may be unsafe to drink in many places but most lodges and hotels will have filtered taps from where you can refill your daily stash.
When honeymooning in Costa Rica – buy less, do more
Aside from sustainable souvenirs, there's probably no need to pack your suitcase with stuff you neither need nor will ever use, so why not spend your time (and holiday funds) on immersive experiences instead? Costa Rica is home to amazing sustainable farms and wildlife refuges that are open to the public and they gift unique experiences. You can get a behind-the-scenes look at local organic farming and enjoy up-close animal encounters, all the while directly helping local business owners trying to do right by their land and wildlife – a real win-win.
Moreover, you can enjoy a plethora of stunning adventures in nature, be it ziplining, whitewater rafting, kayaking, horseback riding, hiking, mountain biking and more – all sustainable activities that promote the country as a superb adventure destination but aren't causing overwhelming stress on the environment. This is particularly true of more remote locations, away from the most visited hubs like Manuel Antonio and Arenal.
Take guided tours – learning is part of the eco-tourism movement
Many consider 'learning' part and parcel of eco-tourism: alongside fun and adventure, there needs to be some kind of enlightenment to make the whole trip worthwhile. Education is key in sustainable tourism because only through a spread of awareness can issue be tackled, head-on. The latest disastrous fires in the Amazon, and the ensuing backlash, have been an excellent example of this: speak out and loud and we'll collectively force governments to act to protect our planet!
Choosing guided tours means you'll learn a whole lot more about the places and people you meet than you otherwise would, were you to travel independently. Moreover, you'll have access to a host of off-the-path destinations, events, cultural experiences and culinary discoveries thanks to your local contact. This is why those farm and wildlife refuges are important to visit, not only rewarding: you won't just see attractions but you'll learn so much about them too.
Why choose Costs Rica Rios?
We get frustrated and disappointed by greenwashing as much as everyone else and have seen, first-hand, how so many enterprises have no sustainable practices to show for all their flamboyant claims.
At Costa Rica Rios, we have always been committed to sustainable eco-tourism, before the whole 'trend' ever took off. We operate our business out of Turrialba (away from the most visited and developed region of the country), only purchase produce from local growers and help support the local recycling efforts, which are quite impressive in their own rights. We also employ local guides and only use lodges and hotels with proven track-records of sustainable practices. We also understand that, sometimes, it's about the little things: the biodegradable soap to launder our gear, the recycled paper in our offices and the obsessiveness with which we clear our picnic sites on each and every excursion.
At the end of the day, we appreciate that a single person (or agency) will not change the world but, together, we have a shot at protecting its future. Every sustainable choice will help us all get there.
See our collection of Costa Rica Rios Honeymoons and contact us to know more!