Snorkeling in Costa Rica – ALL You Need to Know
December 17, 2019
With more than 800 miles of spectacular coastline consisting of coral reefs, volcanic beaches and pristine forests that tumble into the ocean, Costa Rica is unsurprisingly rated one of the best diving and snorkeling countries on earth. Framed on the west by the cool Pacific and the east by the balmy Caribbean, the tropical country also offers quite distinct underwater experiences. Where you go snorkeling will determine the kind of treasures you'll get to see, and the time of year you visit will determine just how good the underwater visibility will be.
Here are some of the most commonly asked questions in regards to snorkeling adventure vacations in Costa Rica.
Can You Go Snorkeling Anywhere in Costa Rica?
Not quite. The country's coast may be long and inviting yet not all of it is accessible to snorkelers. The eastern (Caribbean) side is notoriously remote, which is gorgeous in one way but also means that, essentially, there are only a few choice spots for exceptional snorkeling. Mind you, these few select spots serve up exceptional sights, with a multitude of tropical fish, reef sharks and even eagle rays making regular appearances for (very delighted) snorkelers.
When you get to see THIS, do you really need to go anywhere else?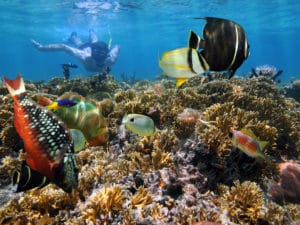 Over on the Pacific side, the sea isn't as calm – in fact, this side is revered for its surfing waves – and the movement of sediment means that sometimes visibility can be a bit hit and miss. Luckily, however, the Pacific coast also boasts a few spectacular islands offering sublime snorkeling galore. When the coastal waters seem a little murky, just hop on a boat trip to one of the islands, you'll likely find much better visibility away from the coast.
Where to Find the Best Snorkeling Spots in Costa Rica
Generally speaking, the best snorkeling spots in the country offer world-class rewards although to really see the best, you will need to join a boat excursion. Free-shore snorkeling, whilst still very good and genially convenient, still doesn't offer the kind of amazing sights you'll get when you explore uninhabited areas that have never been built up.
For all these reasons, few people head to Costa Rica solely to snorkel. That's the primary reason multi-adventure vacations are so popular here. On a week long adventure, you can snorkel a couple of exceptional places PLUS enjoy zip-lining, whitewater rafting and kayaking, canyoning, horseback riding and so much more.
This is, after all, what Costa Rica does best.
What Can You See Snorkeling in Costa Rica?
From sea turtles to rays, starfish, reef sharks, dolphins, whales and thousands of colorful tropical fish, the seas lapping Costa Rica host an abundance of marine life. Pick the right place at the right time of year, and snorkeling in Costa Rica really is unparalleled.
Best Time to Visit Costa Rica for Snorkeling
Underwater visibility is hampered by rain so it reasons that you'll want to head to Costa Rica during the driest months (the first four of the year) when seas are calm and the sky crystal clear. This bodes well for snorkeling excursions on the Pacific side (December to April) whilst, on the Caribbean side (renowned for receiving a lot more rain, all year long) the driest months are usually September and October. All that gorgeous tropical rain forest is nourished by copious rain so you should actually expect some rain at any time during your adventure vacation in Costa Rica. Chances of it being a downpour, however, are very low during these drier months.
Sea temperatures are consistently warm although consider renting a wet suit if you're heading out for a long time or to an island lapped by colder seas.
Can Anyone Go Snorkeling?
Generally speaking, yes. Snorkeling doesn't require any special skill set although whether you'll feel immediately comfortable floating face down with a mask on your face and a snorkel in your mouth is a subjective matter. It's fair to say that snorkeling just feels 'weird' for everyone at first but, after a bit of trail and error, 90% of people get used to the feeling of it very quickly. Being able to see outstanding underwater life is a wonderful incentive!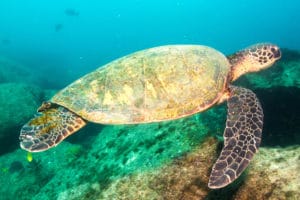 Costa Rica is perfect to master the art of snorkeling – If you're not a confident swimmer and have never even tried snorkeling, you may want to give it a go somewhere with exceptionally calm seas or even take a private class with an instructor. Sometimes, it helps to not be taught by your travel partner and, instead, take a time-out with a professional. Taking that pressure off your shoulders by spending an hour or so with an instructor will likely make you relax in the water a lot more and that's what will help you get the hang of snorkeling. When heading out into the sea on a snorkeling excursion, it is always imperative to let your guide know if you're new to snorkeling, this way they'll keep a special eye out on you, tell you about the best places to practice and bring a floatie vest along.
There's an ideal snorkel spot for everyone here – In our list of favorite snorkeling spots in Costa Rica detailed below, we offer an array of destinations suitable for all sorts of skill-set and highlight a few very special places you can reach right off the beach. Whilst it's true that some of the most special snorkeling spots in the country are remote and only accessible on a boat trip, there are still plenty of 'local' secret spots that cost no money to reach at all. You know, aside the rental car and gear rental fee! Moreover, given that it's highly unlikely you will visit Costa Rica only to snorkel, we've divided our list by region (Pacific, Caribbean and island-based) to make it even easier for you to home in on the closest best snorkeling spot depending on where you intend to vacation.
Best Snorkeling on Costa Rica's Pacific Coast
Manuel Antonio National Park – It's crazy to think that the most-visited national park in Costa Rica is also its smallest yet if there's a wilderness haven that proves size isn't everything, it would have to be Manuel Antonio. Ultra-rich in biodiversity, the park cascades into the sea – this is the kind of place where you might spot a sloth or monkey just hanging on a tree overlooking the beach. That very beach, called Playa Manuel Antonio, boasts marine-enriched rocks on its southern end and is particularly revered for its large schools of fish. The only downside is that the seabed is prone to sediment movement after rains so, unless the sky has been bone-dry for days on end, you may not be able to see much. If you're visiting the park and staying around the Central Pacific region, this really is your best free-shore snorkeling bet.
Marino Ballena National Park – Home to the largest coral rock reef on the Pacific coast, this spectacular southern belle attracts sea turtles, rays and fish galore. Although it's not possible to snorkel right of the beach here, you can join a boat trip to the closest island that's part of this marine reserve, and snorkel from there. This is the most spectacular snorkeling destination in the southern Pacific coast and about the best place to see whales in migration – fantastic visibility usually lasts from December all the way to July but the earlier in the dry season you go, the better.
Bahía Junquillal National Wildlife Refuge – Mostly renowned as a birdwatcher's paradise, Junquillal is actually an off-beat snorkeler's dream. Lesser-visited, peppered with coastal mangroves and bursting with sea (and land) life, the reserve is a gorgeous place in which to spend a whole day drenched in nature. Just an hour's drive from the Liberia Airport, the refuge boasts virgin wilderness, a tranquil vibe and a stunning 1.5-mile long sandy beach where you can swim and free-snorkel at leisure.
Calzon del Pobre Beach – This secluded, white sandy beach is on the southwestern end of the Bahia Hermosa, and its turquoise waters are a haven for angelfish, damselfish, butterflyfish and porcupine fish. The water is consistently translucent during dry season and the fact this section of the bay is totally wild (so pack a picnic lunch and everything you'll need for the day) just adds to the appeal. Occasionally, you'll have visitors on snorkeling boat trips popping in for a visit, but head here in the morning, snorkel right off the beach and enjoy having this paradise all to yourself.
Best Snorkeling on Costa Rica's Caribbean Coast
Cahuita National Park – The largest coral reef on the eastern coast of the country is a vibrant canvas of colors, home to a startling number of fish, rays, reef sharks and amazing coral, as well as calm waters that suit novices to a tee. Remember to head here in September or October for the best visibility of all and enjoy spending an entire day exploring this incredible 3.5-mile-long treasure-trove of underwater wilderness.
Gandoca-Manzanillo National Wildlife Refuge – A gorgeous maze of walking trails leas visitors to sublime remote beaches, from where you can snorkel to your heart's delight. The idyllic waters attract turtles, fish and dolphins and is one of three places in Costa Rica that is a sanctuary for the endangered West Indian manatee, the gentlest elephant of the sea. Just note that if you can hear any kind of motorized boat, you will probably not see a manatee anywhere near it, so keep an eye out if the park is particularly quiet during your visit.
Best Snorkeling on Costa Rica Islands
Avid snorkelers and SCUBA divers who want to be blown right out of the water (pun intended) ought to plan a boat trip to one (or several) of Costa Rica's islands.
It is right here that the underwater magic happens.
Cocos Island National Park – UNESCO-listed Cocos is what put Costa Rica on the snorkeling and diving world-map and if you're looking for that 'ultimate' snorkeling destination, then you can stop looking, right now. Over 300 miles off the Pacific Coast of the country, Isla de los Coco is rated the best dive and snorkel site in Central America and attracts explorers from all over the world. The downside is that you can only visit Cocos on week long live-aboard boat trip since the island is not developed. The upside is that the island is not developed (ha!) and it is, essentially, a paradise for the wildlife both in and out of the water. We're taking way over 1,000 species of marine life and jaw-dropping coral. Revered for attracting scalloped hammerhead sharks, Cocos is a bucket-list snorkel spot that's only suitable for experienced snorkelers.
Islas Santa Catalina – This cluster of islands off the Pacific Coast attracts all marine life great and small, including whales, dolphins, turtles, reef sharks, octopus and at least half a dozen species of rays. These spectacular rocky islets are world-known, attracting international experienced divers and snorkelers to Guanacaste every year who find it an astonishing alternative to the Cocos, mentioned above. These islands are easy to reach from Tamarindo.
Islas Murciélagos – The Bat Islands of Guanacaste are nearby Santa Catalina and offer equally rewarding snorkeling. Given the strong currents, snorkeling in both archipelagos is really only advised for experienced divers and snorkelers.
Caño Island Biological Reserve – The prime snorkel spot in the wild Osa Peninsula is a blink-and-you'll-miss-it gem just a few miles off the coast. Brightly colored coral frames the shores, teeming with a cacophony of fish. This is the spot where beginners can also have a field day as waters are calm and inviting.
Isla Tortuga – If you're after a family-friendly snorkeling spot in Costa Rica, then consider Turtle Island your ideal escape. Hop on a boat from Montezuma on the Nicoya Peninsula and explore the calm waters here, brimming with a wealth of tropical fish. Take a whole-day boat excursion and you can soak up whale and dolphin watching on your way there, plus plenty of swimming and time on the glorious beaches.
Snorkeling is just one of an amazing array of water sports on offer in Costa Rica. Combined with plenty of land-based adventures, your Costa Rica Honeymoon, Family or Adventure Vacation will be like nothing else you've ever experiences. Ask us how to help you plan the absolute trio of a lifetime.